Archived Outdoors
Nine years yields new state forest: Headwaters State Forest will offer landowner education and primitive recreation
Wednesday, September 12, 2018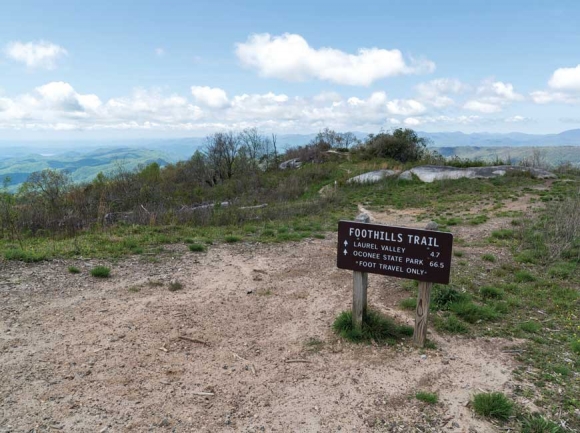 The new state forest includes 9 miles of the 76-mile Foothills Trail.
North Carolina got a new slice of public land last week when Headwaters State Forest was opened to the public Thursday, Sept. 6, the first large tract to be added to N.C. Forest Service lands since acquisition of DuPont State Forest began in 1996.
Headwaters State Forest — so named because it contains the headwaters of the east fork of the French Broad River — encompasses 6,730 acres in Transylvania County south of Brevard abutting the South Carolina line and contiguous to the Jocasse Gorges Management Area, the Greenville Watershed and the Mountain Bridge Wilderness Area. It contains three named waterfalls and 25 waterfalls in total, as well as 9 miles of the 76-mile Foothills Trail. Until Headwaters was created, that was the only stretch of the path not in public ownership.
"There's no one reason why it's a good project," said Justin Boner, director of North Carolina real estate for The Conservation Fund. "It checks a lot of different boxes for public benefit."
The conservation process
Getting nearly 7,000 acres of previously private land into public ownership hasn't been an easy process, however. Any conservation purchase requires time and money to achieve — to agree on a price, to come up with purchase funds and to officially transfer the property from the landowner to the land trust to the final owner, which in most cases is some government agency or another. When the property in question is more than 10 square miles in size, though, the challenge is magnified.
Luckily, The Conservation Fund — the nonprofit that took the lead on the conservation project — had an extremely cooperative landowner to work with. All of the newly conserved property was previously owned by former U.S. Rep. Charles Taylor, R-Brevard, who bought the 8,000-acre tract from longtime owner Champion International Corporation.
"Congressman Taylor was kind enough to allow us to purchase property from him whenever we had the funds available to do so," Boner said. "He was never really expecting we have a single closing on all 8,000 acres. Everyone knew that just wasn't feasible. So over the years we had 12 different acquisitions or phases where we purchased land from him."
The conservation project has been ongoing since 2009, when Taylor approached Conserving Carolina, then called the Carolina Mountain Land Conservancy, about the possibility of purchasing the land for conservation. It was a pretty big project for a small land trust like Conserving Carolina to take on, so the group contacted The Conservation Fund to help out. Since 2009, the two nonprofits have worked together to apply for numerous grants in hopes of coming up with the money to buy the land.
"This was the largest privately owned property left out there for conservation," said Michael Cheek, assistant regional forester for the N.C. Forest Service. "It is pretty significant to be able to conserve and pull into that working forest model this large of a landscape-type property."
Headwaters State Forest has three named waterfalls and 25 Headwaters State Forest has three named waterfalls and 25 waterfalls total. Steve Orr photos
The first purchase was about 800 acres along the Foothills Trail, which runs along the ridgeline and state line of North and South Carolina.
"We all thought that was the most important piece to protect," Boner said. "We wanted to ensure it stays in public use forever."
Around 2012, the group started finding some real success in the grant-writing department, and 2013 became "kind of a banner year" for the project.
"At least 2,000 acres went into state ownership that year," Boner said.
In all, Taylor received $28.9 million for the land, $18.2 million less than the fair market value of $47.1 million. A $3.7 million private donation from Fred and Alice Stanback helped pay for the project with grant funding totaling $25.2 million. Grants included $14.7 million from the N.C. Clean Water Management Trust Fund and the N.C. Natural Heritage Fund and $9.3 million from the U.S. Forest Service Forest Legacy Program, which is funded by the federal Land and Water Conservation Fund. The LWCF will expire Sept. 30 unless Congress acts to extend it.
While the state celebrated completion of the forest last week, its acreage could continue to grow for some time. Taylor's property totaled 8,000 acres, and the state currently owns only 6,740 acres. Another buyer did purchase 1,000 acres of the 8,000-acre property, but there is still some Taylor land potentially available for addition to the state forest, as well as some owners of neighboring properties expressing interest in adding their lands. At the ribbon-cutting event Sept. 6 Taylor signed a contract for an additional 120 acres.
"That's something we'll be working on in the future going forward is adding to it where it's appropriate," Cheek said.
Plans for the future
The Conservation Fund is winding down its involvement with the project, but on the Forest Service end it's just beginning. Now that the forest is officially state property and listed as an N.C. State Forest, it will be Cheek's job to see that it's managed and developed to meet the goals set out for its use.
"We plan on keeping it as a working forest and really focusing on stewardship, multiple-use principles of management — managing the forest, managing the wildlife, providing for good water quality," Cheek said.
The land has been used as a working forest for years, with Taylor and Champion International before him using it to grow and harvest trees. The state plans to continue that tradition, using the property to demonstrate different methods of forest management to aid in landowner education efforts. Signage explaining those various methods is in the works, so that all users — not just forest landowners — can gain a better understanding of forest management as they explore the property.
"We're really trying to promote dispersed recreation, backcountry wilderness experience," Cheek said. "Try to not focus people in one area but spread them out and enjoy the backcountry setting across the property."
As is, the forest has three access points, with plans to develop a few more including small parking areas sufficient to hold five to 10 cars — no larger lots are planned, and there are no amenities such as bathrooms, trash cans or cell service. Hunting is allowed, as is hiking and backpacking.
There's only one named trail — that's the Foothills Trail — but the property has about 25 miles of road from previous hunting and logging activities.
Justin Boner (left) and Michael Cheek examine a map of the forest.
"It's got a large road system there, so we're not planning to build additional trails," Cheek said. "There is quite a bit of work we need to do on the road system that's there to work on the sedimentation issues that are occurring."
The hope is that keeping the experience at Headwaters backcountry-focused and primitive will alleviate some of the pressure on nearby DuPont State Forest, which sees substantial visitation and is an important part of Transylvania County's economy.
"There are days that DuPont State Forest is overflowing. So, it's great news that we're adding more public lands, offering different kinds of outdoor experience," said Conserving Carolina in a Sept. 7 Facebook post about the opening of Headwaters State Forest.
"DuPont's already bringing hundreds of thousands of people to Transylvania County every year, and we think this is an opportunity to alleviate some of the pressure on DuPont," Cheek added. "That primitive experience doesn't quite exist at DuPont anymore. This property will fill that niche."
Check it out
No detailed maps of Headwaters State Forest are available yet, but more information about the forest is available at www.ncforestservice.gov/headwaters. More information will be added to the website going forward.