Archived Reading Room
Tyler delivers another delightful novel
Wednesday, September 12, 2018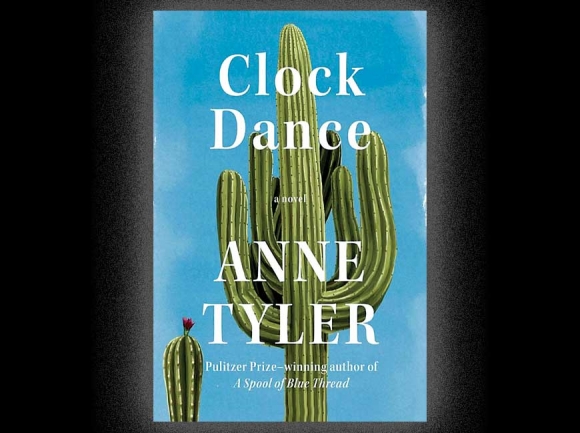 Years ago, my wife and I belonged to a Waynesville book club in which a couple would act as host every month and select the book for discussion. Once when our turn rolled around I chose Anne Tyler's Dinner At The Homesick Restaurant. The other members seemed to enjoy Tyler's novel, though at one point one of the women mentioned that she thought Tyler's characters were too eccentric.
"But aren't we all eccentric?" I asked.
She thought not. We debated the point a few minutes, and then moved on to other topics.
During that debate I contended that we are all eccentric or quirky. We all have our different odd habits and ways of thinking, though we may not go to the lengths of Uncle Billy Bob, who wears his trousers pulled to his chest, collects bottle caps, addresses everyone as "Boog-a-Loo," and has written weekly for 40 years to whoever is the current president of the United States.
But the fact is that we all possess idiosyncrasies, many of which we conceal if we are wise. Maybe we eat our meals one item at a time — chicken, peas, potatoes. Maybe we dislike the number 13 or knock on wood for good luck. Maybe we feel compelled to do certain actions that to others appear nonsensical. (I once knew a millionaire who stopped and plucked a forlorn penny from the pavement of a parking lot. "Sorry," she said, looking mildly embarrassed. "I just can't stop myself." From that point on, I have never passed by a dropped coin without picking it up, so some eccentricities may be infectious.)
I still contend we are all eccentrics in our own ways.
And Anne Tyler is the queen of eccentricity.
In her latest novel, Clock Dance (Alfred A. Knopf, 2018, 292 pages), Tyler tells us the story of Willa Drake. We first meet her in 1967 when she is a girl living with a weak but loving father and a mother who flies into a rage over trivialities. We then jump to 1977, when Willa, now in college, brings the young man home whom she will eventually marry. In 1997, her husband dies in a road rage accident he himself instigated, leaving Willa to fend for herself.
And in 2017, Willa, now remarried and living with her husband Peter, a semi-retired lawyer, in Arizona, receives the news from Baltimore that Denise, her son's former girlfriend and mother of a nine-year-old girl, Cheryl, has been shot in the leg. The caller, a stranger named Callie, mistakes Willa for Cheryl's grandmother, and asks her to come and care for Cheryl until Denise is released from the hospital.
After this phone call, Tyler then tells us: "Of course Willa couldn't go. That would be crazy. She would have to call Callie back and confess she wasn't the child's grandmother. But first she spent an enjoyable moment pretending that she might really do this."
By pretending, Willa makes up her mind to fly to Baltimore to serve as caretaker and substitute grandmother, accompanied by a reluctant husband who is half-convinced his wife has gone round the bend. As Willa settles into the routine of the Baltimore house and begins finding delight in the neighbors, all of whom know each other well — Peter never accepts this situation and eventually returns to Arizona ahead of Willa — she finds herself transformed. Mother of two sons whom she rarely sees, and with no grandchildren on the horizon, she finds herself enjoying her role as faux grandmother to Cheryl. She takes pleasure in getting to know the neighbors — and yes, they are all "eccentric" — and soon feels closer to them than those few people she knew in the golfing community in Arizona.
The rest of Clock Dance tells of Willa's immersion into the lives of Denise, Cheryl, Callie, and others. They take her into their confidences — she is one of the first to learn who shot Denise, and why — and Willa blossoms in her changed circumstances, feeling for the first time in years as if she had again found her purpose in living.
Though Tyler has often used Baltimore as the background in her novels, she also has many ties to North Carolina. From age 7 to 11, she lived in a commune in Celo near Burnsville, working and taking lessons from a correspondence school rather than enrolling in public school. When her family moved to Raleigh, she attended public school, graduated at age 16, and entered Duke University, where she was taught by Reynolds Price and shared a classroom with Fred Chappell, both of whom became renowned North Carolina authors. Later, after a year of Russians studies in New York City, Tyler would return to the university, meet her future husband, and set her first novel in North Carolina.
Aware of the criticism that she writes about eccentrics, Tyler once remarked " People are always saying we understand you write about quirky characters, and I think, isn't everybody quirky? If you look very closely at anybody you'll find impediments, women and men both."
There are numerous reasons to read Clock Dance: the characters, the sometimes surprising plot twists, the fine writing that we have come to expect from a writer who has written 22 novels, one of which, Breathing Lessons, won a Pulitzer.
But a main reason why I used to read Anne Tyler, and why I now intend to go back and read some of her novels I've missed over the last decade, is because she is, quite simply, a delight. In spending time with Anne Tyler, we learn more about our fellow human beings, and ourselves.
What more can you ask of an author?
(Jeff Minick is a writer and teacher. This email address is being protected from spambots. You need JavaScript enabled to view it..)