Archived Arts & Entertainment
This must be the place: In pitch dark, I go walking in your landscape
Wednesday, September 12, 2018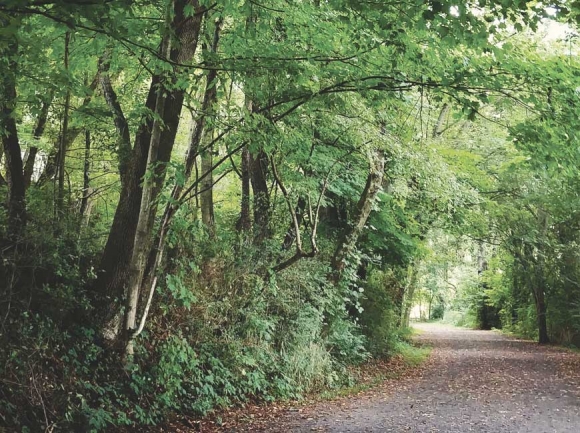 With a slight jog around an empty basketball court at the Waynesville Rec Center last Monday evening, I dribbled the ball with a little more confidence with each bounce.
Heading up to the top of the key, I took the first shot from my "sweet spot" on the three-point line. Swish. Next shot from the free-throw line. Swish. But, before I could feel pretty confident that "I still had it," I missed the next five shots. Such is life, eh?
It had been years since I stepped on a basketball court, a place that was like second nature to me growing up, whether it was endless games underneath the rim next to the barn of my childhood home, surrounded by endless cornfields of Upstate New York, or running my butt off up and down the court when I played for my high school.
The fall of 2001 was the last time I was really competitive with basketball, trying out and making the varsity team during my junior year. And with each dribble at the rec center, I kept reminiscing about that time and place in my life. Like all y'all old enough to remember, our daily realities forever changed that fall following the collapse of the World Trade Center towers on live TV as we watched in horror.
Right around Labor Day 2001, my grandmother passed away — the beloved matriarch of our jovial Irish family. Carrying her casket into the Catholic church that I was raised in, I took my place in the nearby pew and stared up at the ceiling, admiring the intricate designs depicting biblical scenes intended to strike lawful obedience and universal wonder into the congregation.
Skip ahead a week-and-a-half, and I'm strolling into second period social studies class. Ms. Trudeau. A few minutes into the lesson, our principal, Mr. Mosso, walked in with a stern look on his face. He whispered something into her ear, gazed at us gravely, then simply headed straight back out the door to the next classroom.
We all can vividly picture where we were on Sept. 11 when those two planes not only took down the World Trade Center, but also blew open a Pandora's box of fear and isolation, of division and chaos that seemingly has never left our personal, societal and political consciousness (and subconscious, too).
I, like many of you reading this, felt like the world was going to end that day. I drove straight from high school to my girlfriend's house the next town over. We sat in front of her TV, held hands and watched 24/7 coverage of a smoldering Manhattan.
Seventeen years ago. Has it been that long? Feel more like 17 days, doesn't it? The whirlwind of our country and the greater world seems more like a time warp than an actual ticking clock of truth and consequence. Like Sept. 11, 2001, this year's remembrance also falls on a Tuesday. Though that Tuesday 17 years ago was blue skies and sunshine in my native New York, while this year is one of dark clouds and a slight drizzle in the mountains of Western North Carolina.
Leaving the rec center, I kept thinking about how far flung we all are, whether we realize it or not, since Sept. 11 occurred. Where is all the camaraderie of building a brighter tomorrow — in the here and now — together? Variety of opinion, ideology and religion is a great thing, for it provides a platform for a true democracy.
Why do we nowadays all of sudden shutdown when someone disagrees with us? I find I learn more about myself and what the word "compromise" means when I engage in a genuine conversation with someone from a background I might not understand or even realize is a reality for others. Stop shutting down, embrace differences and find common ground. This is the only path back to normalcy and respect among our fellow citizens — of America, and of the world.
After the rec center, I went to the bar around the corner from my apartment to drink a beer and watch "Monday Night Football." Started some small chat with the dude next to me. Turns out he's a Southern Baptist preacher down in Georgia. Up in our neck of the woods for a retreat at Lake Junaluska. Ended up in a 45-minute conversation about religion, politics, and how to solve the world's problems.
He's a self-proclaimed "progressive Baptist," to which we talked excitedly about how diversity in opinion and background is vital to our country, and how the word "compromise" is a lost art that needs to find its place in the 21st century. He champions local media, and makes sure his congregation knows that division and poisonous buzzwords do more harm than good.
"We're all in this together, man," he said. When I got up to leave, I shook his hand and said, truthfully, "Well, we are friends now. It was great to talk with you, brother." Though I've always remained optimistic about the future of America, I walked away from the conversation with a slight kick in my step, knowing that there are folks from all walks of life trying to make their backyard a better place, myself included.
Life is beautiful, grasp for it, y'all.
Hot picks
1 The annual Youth Arts Festival will be held from 9 a.m. to 3 p.m. Saturday, Sept. 15, at the Jackson County Green Energy Park in Sylva.
2 The "Woofstock" fundraiser for ARF and the Humane Society of Jackson County will be held from 3 p.m. to close Saturday, Sept. 15, at Soul Infusion Tea House & Bistro in Sylva.
3 Whiteside Brewing (Cashiers) will host Isaiah Breedlove & Scott Low (Americana/folk) at 5:30 p.m. Friday, Sept. 14.
4 The Smoky Mountain Rollergirls will continue the 2018 roller derby season with a double header Saturday, Sept. 15, at the Swain County Rec Department in Bryson City.
5 Boojum Brewing Company (Waynesville) will host Ol' Dirty Bathtub (Americana/bluegrass) at 9 p.m. Saturday, Sept. 15.