Archived Arts & Entertainment
'Women Songwriters Showcase'
Wednesday, September 12, 2018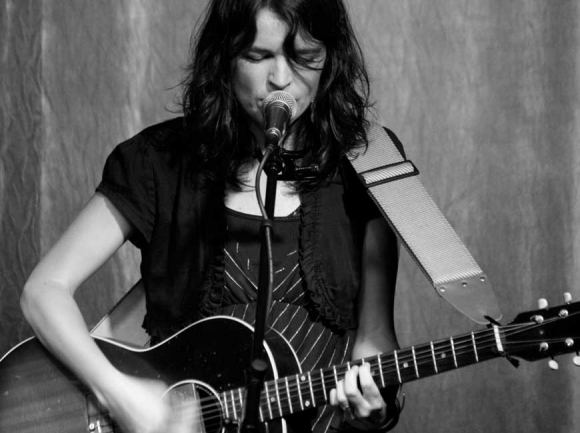 Angela Faye Martin.
There will be a "Women Songwriters Showcase" held at 7 p.m. Friday, Sept. 21, in the Macon County Public Library Living Room in Franklin.
Performers include Angela Faye Martin, Diane Chermer, Melinda Pennington, Linda Metz and Rachel Stewart.
Martin is a singer-songwriter, artist, and naturalist living in the historic Cowee community. She has written and produced an EP and two LPs. She recently wrote and narrated the award-winning documentary, "The Sad and Beautiful World of Sparklehorse."
Chermer began playing and singing about six years ago back in Ohio, where she lived most of her life. She began playing autoharp with a small group, took piano lessons for a couple of years and decided to pick up the mandolin. She played and sang folk and early rock-n-roll with two local bands. She's also a member of Franklin Overdrive.
Pennington grew up in Southeast Missouri in a small farming community on the Mississippi River. She moved to Louisiana to go to college and lived in Baton Rouge for many years. Franklin has been her home now for nearly three years. At the age of 61, she bought her first guitar. After learning a few chords, she found that songs started coming to her and she began playing those songs for family and friends. One thing led to another and now songwriting is her obsessive hobby. Her song, "Whiskey Voice" has been recorded by the local band Paradise 56, and is featured on their latest album. She was recently commissioned by Suminski Family Books to write a children's song, "Annie's Song," to accompany their book, Cowee Sam Rides Again.
Metz, a flutist, singer and songwriter, was born and raised in the Carolinas in a home where music was central. She took up flute at age 10 and it quickly became a part of her. Years later, she finished up her formal studies with degrees in Music Ed, Flute Performance, and Divinity. A graduate internship in Ghana (West Africa) fueled her love for ethnic music, an influence which can be heard on her albums with Native American flutes and penny whistle. Her professional work includes over 25 years of private flute teaching, church music directing, solo concerts, and gigging. She also has produced two albums of her original music.
Stewart is an up-and-coming musician/songwriter from Franklin. She has a style of light, acoustic pop/rock, with a lot of Christian influence in her writing. Right now, she's doing performances around town, and is working on booking more venues to play and possibly doing some recording in the near future.
The event is free and open to the public.