Archived Travel Guide
For the love of the arts: Macon County Art Association
Wednesday, September 12, 2018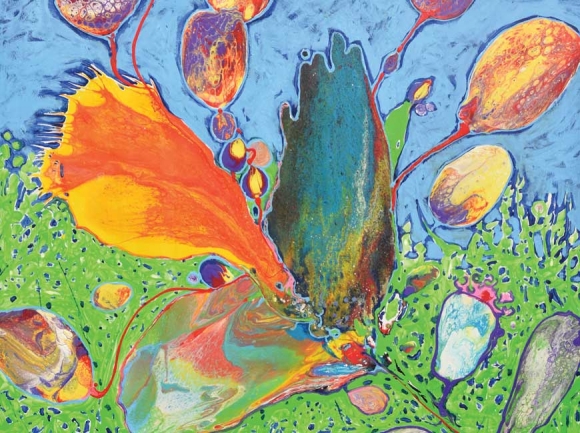 Following the passing of her husband last year, after a lengthy illness, Betsey Sloan was looking for an outlet, something in her community that would nurture her creative and spiritual soul.
"So, I decided to get into my car, come here, get out, and say, 'Hi, can I join?'" Sloan smiled. "And I've made such great friends here. The people here are wonderful, always helping me out and encouraging me in whatever it is I want to pursue."
"Here" is the Uptown Gallery on Main Street in Franklin. An artisan cooperative owned and operated by the Macon County Art Association, the nonprofit gallery has been an integral part of the community for over a half century, with a physical presence in downtown for the better part of the last 25 years.
The Uptown Gallery is located in downtown Franklin.
"It makes me feel very good to say that, 'I'm a member in a local art gallery and part of an art community,'" said Sloan, an acclaimed gourd artist. "I enjoy being here on the days I work the register and meet the public, telling them we're a cooperative, and helping visiting families and leaf peepers get a real feel for our town."
Currently, there are around 30 members in the MCAA. Known as "hanging members," they have their work hanging in the first-floor showcase space. There's another 20 or so "partner members," folks who donate funds to the MCAA and participate in the vast array of events, activities, workshops and classes offered by the organization.
"It's important for any community to have art as one of its centerpieces, whether that's music, art on the wall, classes in the schools," Sloan said. "I mean, I always had that growing up, and I can't imagine today's kids in school not having access to that because of budget cuts. We need to keep people focused on their hometown, rather than going out of town to Asheville to do your shopping — check out local, it's important."
A painting by Macon County Art Association member Rod Hardeman.
But, like most community art organizations across the country these days, it's hard to keep the lights on. With cuts in state/national funding and a cash-strapped general public that puts buying art toward the bottom of its list of priorities, the fate of the MCAA is yet to be seen. But, in terms of financial difficulties and a diminishing membership, the hardships are definitely being felt.
"We're having a real hard time getting ourselves known. With those involved, the numbers have dropped off, especially with the summer people. I think, because in most cases, they were elderly and couldn't get out as much anymore, or other passed away," said watercolor/jewelry artist Jean Blackmer, president of the MCAA and gallery director. "I guess we had a member back in the day that donated around $50,000 to us. We were down to around $5,000 and I had to go to the bank last week to take out $500 to put in the checking account to pay the bills."
With rent, utilities and so on, Blackmer noted that MCAA total monthly overhead costs hover around a couple of thousand dollars to keep everything open.
"Last summer, we needed a new air conditioner, so our rent was raised an extra $100 per month, which is killing us," Blackmer said. "And we're not making big bucks when we sell our artwork. We can't put high prices on our artwork because it won't sell in this area, well not like the galleries in Asheville do."
Works by the Cowee Pottery School.
That monthly operating cost takes a big chunk out of the gallery's 20 percent commission sales, especially if there are days — and there are many days — when nothing gets bought.
"We're lucky if we can even sell enough to pay the bills," Blackmer said. "We have a lot of days where there are no sales at all. Today, there has been no sales. Yesterday, there were some sales, mostly little things. People just come in, they look, and they walk out."
"The artists here have such great talent, beautiful talent," added photographer/painter Cheryl Binnall, a four-year member of the MCAA and its director of maintenance. "And a lot of people that come in here aren't looking for art, more so something simple — cash and carry, that's it. We might as well just have painted magnets. [Laughs]."
"We're struggling the same as everyone else on Main Street," Sloan noted. "People I've talked to, community organizers and other merchants, are all struggling. The numbers aren't there — people are staying home and holding onto their money."
But, aside from all the hardships and choppy waters the MCAA has been navigating lately, what's just behind the curtain of the nonprofit is a group of determined artists and residents, all of which possess an iron will to not let their beloved organization get sunk and go under.
A silk painter and member of the MCAA since 2015, Maryellen Tully — who will also be co-director of the gallery next year — maintains the organization's Facebook page.
"We're a viable need here in the community. It's just that I don't know how to get the word out that we're here. Running the Facebook page, I don't know how to get more 'likes' on my page," Tully admitted solemnly. "It's my goal every month to get 50 'likes' for our page, and we only have 200 "likes" right now. 'Like and follow me' is what I say whenever I meet new people."
But, Tully's attitude immediately shifts to one of hope and optimism when asked about the importance of the MCAA to Franklin and greater Macon County.
"It's a great asset for our community. It fosters so much creativity and camaraderie. I think it also gives kids a different point of view to succeed in another venue. I know sports is a big thing, but so are the arts — it's STEAM versus STEM," Tully said. "The arts do foster creativity and innovative ways of thinking about problems and problem solving. And it gets people to meet people. You have to find a passion to keep going. That's the key to longevity — finding your passion."
Every Tuesday night, Tully heads down to the gallery and is part of the free open studio session. Attracting folks from all walks of life and backgrounds, Tully sees the class as a worthwhile endeavor for any and all, even if you're never created in the name of artistic discovery.
"It's like anything else, you're not going to be an expert the first time you do something. It's all about having fun and meeting new people, and learning something new about yourself," Tully said. "I love it because I love the camaraderie of working with other artists. The community is welcome to come in. We paint, we critique, we talk about the artwork and the mediums — it's a nice fellowship."
Binnall sees the challenges facing the MCAA as similar to the challenges facing the town itself — how you get tourists to not just stop for gas while heading to somewhere else, but also enter the shops and, perhaps, make a purchase?
"It's more touristy, the clientele coming in. You've got to know the customer, so as an artist I'm constantly shifting and figuring out what the customer is looking for," Binnall said. "We're a small town and some of the people are just passing through. They're looking more to Asheville or Highlands, just coming through for lunch before they carry on. They walk through here after lunch to see what we've got and move on."
"I hope it survives, because the core of this association has over 50 years of history. And I'd hate for the gallery to be one of those business that, 'Oh, they finally closed up because of X, Y and Z reasons,'" Sloan added. "You can see things on the streets in Franklin, a new business comes in and three months later their windows are covered because they've gone out. And I would hate to see that happen here. But, I'm going to do everything I can next year to gain local support of this association."
It's also a tug-of-war, it seems, to even get locals into the MCAA, let alone the downtown corridor.
"People, whether they're tourists or locals, need to know that 'there's art in them there hills,'" Binnall chuckled. "Art brings the beauty from the outside in here for people to see, the shine in here of what's out there in the mountains. You look at the art and see what this town is all about. Come in and just look, come see the beauty your neighbors are creating — it doesn't cost a fortune."
Aside from an increasing presence in the community with its workshops and classes, the MCAA is hard at work on a master plan for the future, and also aiming to make a big push to create more partnerships and collaborations with other organizations and institutions in the area.
That said, Binnall will be the first, and certainly not the last — as seen by the steadfast and resilient nature of the MCAA — to say she isn't walking away.
"We're always trying to put the word out, wherever we go or whatever we're doing. The more talent we can bring in, the better this would be," Binnall proudly stated. "The community needs this association. It's a great thing, because if it wasn't, I wouldn't be here, I'd just quit — but I won't."
Want to know more?
For more information on the Macon County Arts Association and a complete schedule of upcoming events, workshops, classes and paint parties at the Uptown Gallery, visit www.franklinuptowngallery.com, call 828.349.4607, email This email address is being protected from spambots. You need JavaScript enabled to view it. and/or "Like" them on Facebook.