Archived News
Hurricane prep begins in Western North Carolina
Wednesday, September 12, 2018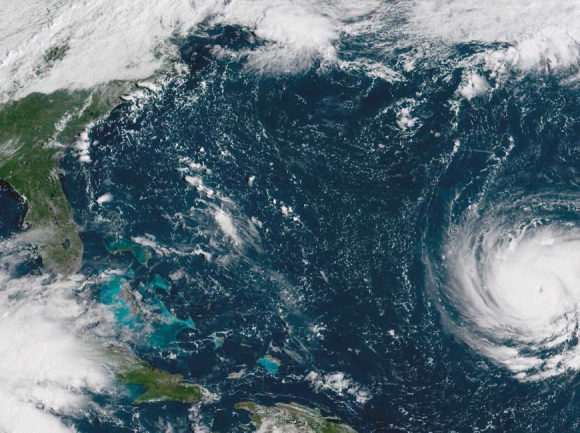 Hurricane Florence will soon make its way to the eastern seaboard. NOAA photo
As The Smoky Mountain News went to print Tuesday, a potentially catastrophic storm was barreling down on the Carolinas, with North Carolina poised to bear the brunt of it.
Even though the coast is some 400 miles east — and several thousand feet below — the mountains of Haywood County, preliminary reports show that if the storm continues on its present course, several inches of rain, high winds, downed limbs and landslides could come with it by the weekend.
"I just got off the phone with a hotel operator, and he said he was originally full for this weekend, but now some people have cancelled their trips because of the storm, but others who are fleeing it have gone and filled those vacancies," said Haywood Chamber of Commerce President CeCe Hipps.
Hipps is no stranger to storms — almost immediately after starting with the chamber in 2004, she experienced back-to-back hurricanes that made their way west and caused widespread flooding in the area.
Even two years ago, during Hurricane Matthew in October, thousands fleeing the coasts made their way to Haywood County's hotels, motels, cabins and vacation rentals.
Although it's still early in the game in regard to where Hurricane Florence will make landfall, Haywood County could see an influx of refugees again this year no matter where that occurs.
Hipps also serves on the Western North Carolina Duke Advisory Board, and said Sept. 11 she'd just been to a meeting where emergency preparedness was discussed.
"I've received several emails from Duke Energy as well as the Rural Center and also emailed [Haywood County Emergency Services Coordinator Greg] Shuping and we're all king of getting everything together," she said. "There's always a sense of urgency."
Hipps said the chamber would be on hand to dispense advice to people who call, especially on lodging. One issue she noted was that with the World Equestrian Games currently underway in nearby Tryon, the supply of hotel rooms in the region is already low.
"So Brevard, Hendersonville, Asheville, the probability that their hotel rooms are already booked is pretty high," she said. "Haywood is the next county over. From who I've spoken to — and this is from around the state, too, I think overall the business community senses that something's different now with this particular storm," she said. "There's a lot of traffic, there's lines at the gas station."
Already callers have begun asking Hipps about hotels in the area.
"We've even received some phone calls from people that want to know if they're going to be safe here," she said.
That question can probably best be answered by the town of Waynesville's mayor and department heads.
At 10:23 p.m. Sept. 9, Mayor Gavin Brown sent out an email to a number of town staffers — the gist, "Are we ready?"
Just two minutes later, Police Chief Bill Hollingsed replied, "Yes Sir. Hurricane/Tropical Storm Plan in place and ready to adjust shifts as needed."
Little more than half an hour later, a minute before 11 p.m., Fire Chief Joey Webb also responded.
"Yes sir," he said. "We are monitoring through the state agencies and are ready to respond to whatever needed."
With governments and residents mobilizing in anticipation of whatever comes, Hipps said the Haywood Chamber will continue to be a resource, communicating with governments, business owners and the public online, on the phone and in person.
"Everyone knows about the Chamber of Commerce and they know it's a valued resource for information," said Hipps. "They know we're going to pick up the phone. People feel like we know everything, and if we don't we'll try to find the answer."