Archived News
SCC health building gets $2 million grant
Wednesday, September 12, 2018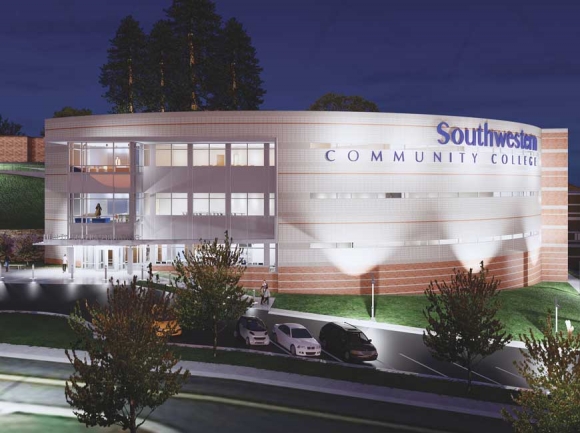 A graphic rendering from design company LS3P shows what SCC's new health sciences building will look like upon completion in 2021. Donated image
Southwestern Community College's planned health sciences building has earned recognition for its economic development potential — with dollar signs attached.
Jackson County recently found out that it landed a $2 million grant from the U.S. Economic Development Administration to help fund the project, which is expected to create 236 new jobs within SCC's service area of Jackson, Macon and Swain counties, and the Qualla Boundary.
"We are honored and excited that the EDA chose to help fund our project," said Don Tomas, Ph.D., SCC's president. "Our new health sciences building is a huge economic development opportunity for our region."
Jackson County Manager Don Adams announced the grant award during a Sept. 4 commissioners meeting that began just 22 minutes after he received an email informing him that the county had landed the grant.
"Your county attorney and your finance director spent a tremendous amount of time on this and did an excellent job of working with the EDA council and grant awards, having multiple meetings and phone conferences," Adams told commissioners. "Two million dollars is a lot of money."
That's true, but the $2 million grant will pay for only about 10 percent of the total project cost. The 55,411-square-foot building is expected to cost between $19.7 and $21.8 million, not including associated expenditures such as new furniture, classroom equipment and audio-visual equipment. Funds from the N.C. Connect Bond voters passed in 2016 will provide $5.4 million and Jackson County will pay the remaining cost through proceeds from the quarter-penny sales tax voters approved in June 2016.
With the grant award decided, SCC is now ready to move forward with the project and plans to put it out to bid within a month. The college hopes to break ground sometime this fall and is on schedule to complete the building in the spring of 2021. As planned, the three-level building will house 23 classrooms and labs, with many programs offering free community clinics.
"We're training people for jobs that can change their lives," said William Brothers, SCC's vice president for financial and administrative services. "Our graduates will find fulfilling careers, and they'll be able to provide for their families while remaining in this beautiful region we call home."
Upon completion, the building is expected to allow SCC to admit 144 additional health sciences students in each of the first two years after it opens. It will allow those programs to escape the constraints of the Balsam Center, which was built in 1988 to accommodate four health care training programs. SCC now has 15 health sciences programs and hopes to create three more — surgical technology, opticianry and speech language pathology assisting — pending state approval. The average starting salaries for all 18 programs exceed the state's poverty level for a family of four, Brothers said.