Archived Outdoors
Like an old friend: Two decades of rock climbing getaways build friendship, identity for Sylva woman
Wednesday, September 05, 2018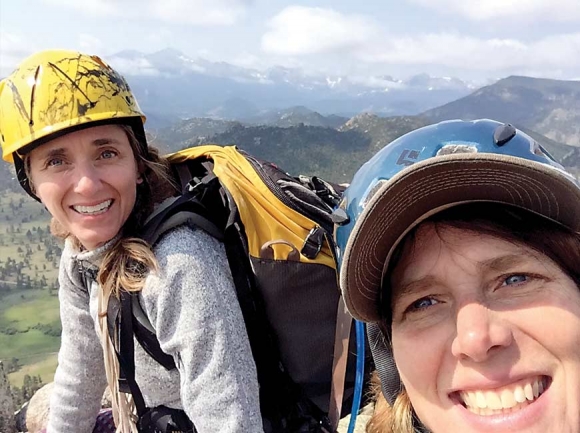 McManus (left) and Miller finish a climb in the mountains near Frisco, Colorado. Donated photo
Twenty years ago, Erin McManus and her friend Amy Miller were 22-year-olds fresh out of college, with no jobs, no boyfriends and a love of adventure. So, they did what many have dreamed of doing — they outfitted McManus' little Mazda pickup truck with a loft bed and kitchen set-up, packed up their rock climbing gear and hit the road. For six whole months.
"It was the best time of our lives," said McManus, now 42. "We weren't quite yet worried about getting jobs. We weren't worried about boys. We weren't worried about our careers. We were just living day by day, climbing, experiencing new towns, seeing the West."
They drove through the Red River Gorge of Kentucky and up through Champagne and Urbana in Illinois, then all the way to Chicago, across North and South Dakota and down through Wyoming and Colorado, mostly sleeping in hospital and Walmart parking lots — "Our moms told us that would be safest," McManus said — using maps and books to navigate their way to climb sites and keeping in touch with their families only through weekly pay phone calls.
Twenty years have passed since the women returned home from their big adventure, and life has changed in countless ways. McManus, of Sylva, is now married with two young children, ages 4 and 6, and works as the director for Full Spectrum Farms, a nonprofit that works with people with autism. Miller, too, has a career that keeps her busy out in Boulder, Colorado. They're no longer footloose 22-year-olds who can disappear from day-to-day life for six months at a time.
But that hasn't stopped the two women from continually working to recreate the magical experience of 1998. Every year, they carve some time out of their busy lives and go climb western rockfaces together.
"I feel like it re-centers me as a person, as a spouse and as a mom," McManus said. "Every year reminds me of who I am, which I feel like in turn makes me better in those roles that I play."
Erin McManus (left) and Amy Miller explore Grand Tetons National Park in Wyoming in 1998. Donated photo
Rock climbing requires 100 percent focus and attention, free of any absentminded nonchalance. There's a calmness that comes with that, McManus said, a corralling of the thoughts that typically run through her constantly busy mind into the single task at hand — to scale the wall, and scale it safely, the hands of a close friend her only lifeline.
"We have each others' lives in our hands, so it's the greatest trust-based relationship that I know above a spouse," she said. "And so there's an intimacy in that, and that has maintained for 20 years."
That mutual trust has gotten Miller and McManus through tough and easy climbs alike. On McManus' highlight reel is definitely a 20-pitch climb the two conquered in 2013, between the birth of her son and her daughter. It was a hard, long day near Frisco, Colorado that took more than 12 hours to complete. And after conquering the first pitch, they discovered that Miller's water container had leaked — they were down a whole person's water supply for the day. Still, they decided to forge ahead.
"We were in that far already, and I think we each had a sense of trust in each other," McManus said. "We shared my water, and we knew we had to move forward quickly throughout the day, and we knew each of us could move more quickly to get through it."
Get through it they did, filling up on beer and pizza afterward. When they were done with dinner, they found that they literally could not stand up, their legs were so sore.
McManus (left) and Miller finish a climb in the mountains near Frisco, Colorado. Donated photo
That sort of profound soreness is something they wouldn't have experienced as 22-year-olds. The women find themselves needing more rest days, more ibuprofen, than they did then. They're more careful, too, knowing that the interconnected nature of their lives these days means an injury would hurt more people than just them.
"Last year Amy said, 'Getting old is really going to stink,'" McManus laughed. "But we are bound and determined that we'll keep it up as long as we can possibly get out there to do it."
They've changed, but so has the world around them.
"Like everywhere, it's just crowded," said McManus. "On the rockfaces, crowded on the approaches. And I think the culture around rock climbing has changed somewhat. We're kind of the old ladies watching the world change."
It's no longer quite the wilderness experience it was 20 years ago, when the two young women fumbled their way through remote mountain roads, searching out the climbs using a limited supply of books and maps. There are cell phones and GPS directions now, and good coverage even out in middle of the woods. Where they used to sign off and not contact their families but for that weekly pay phone call, now they're constantly in touch with the folks at home.
"I think we were so present in us and our own friendship and whatever was happening in front of us, and now we can be connected to the world even when we're hanging thousands of feet in the air," McManus said.
Of course, that's not all bad. She wants to know what's happening with her kids and her husband while she's gone, and in an emergency situation having the ability to call 911 is pretty important. The phones are great for photos, too.
"There's some solace in that safety, but it's also hard because it takes so much away from the spirit of what you're doing," McManus said.
That connection could be one factor in how many more people there are on the rockfaces these days. According to The Outdoor Foundation's annual Outdoor Recreation Participation Report, participation in outdoor climbing sports such as traditional climbing, ice climbing and mountaineering increased by 27 percent between 2007 and 2017, going from 510,000 participants to 762,000. Various outdoors magazines are also reporting that an increasing share of those rock climbers are women, something that McManus said rings true from her anecdotal experience.
"The sport has changed so much over the years," she said. "We used to be the only all-female team out there, and now there are several."
She's also seen more couples as teams, with one man and one woman climbing together.
While outlets including Climbing Magazine and Gear Junkie have reported a rise of women in rock climbing, exact statistics are difficult to find. However, the gender-based breakdown of participation in natural rock climbing contained in the 2004 Outdoor Recreation Participation Report does show the sport to be a traditionally male-dominated one. According to that report, in 2003 only 24 percent of rock climbers were female, a share that actually represents a decrease over the five-year period beginning in 1998, when 33 percent of rock climbers were female.
While much has changed, two things have not — the connection between Miller and McManus, and the feeling of being on the rocks.
"By now, in 20 years, we get to the rock and it's just second nature, which is just awesome," McManus said. "It's like that old friend that you just fall right back in step with."