Archived Mountain Voices
'Ironfoot,' the hermit of Island Park
Wednesday, September 05, 2018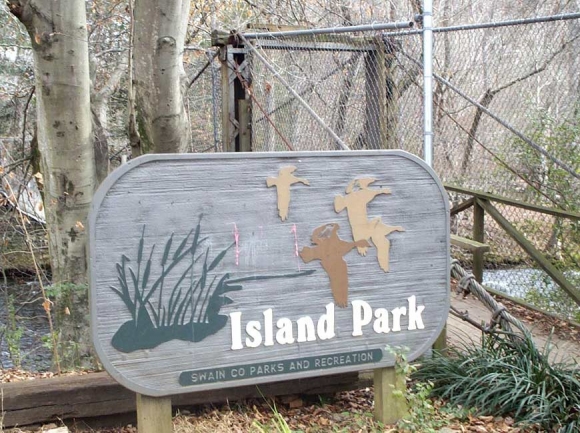 Editor's note: This column first appeared in a September 2014 issue of The Smoky Mountain News.
I generally enjoy working in my office, which is situated off the town square in Bryson City. But I find that it's sometimes worthwhile to get away, if only for a few minutes. Just shut down the computer, turn out the lights, lock the door, and take a walk. Get away, as they say, from it all.
My footsteps often lead north up Everett Street and across the bridge over the Tuckasegee River. I almost always pause and look down into the water. When it's clear, you can catch glimpses of the occasional red horse, smallmouth bass, bream, or trout hovering in eddies over the sandy bottom. It's sort of like looking down into a natural aquarium from above. Very soothing.
Next, I generally turn east down a side street on the far side of the river. A short stroll takes me to a seven-acre tract now known as Bryson City Island Park situated near the railway depot. The island — maintained by the Swain County Parks and Recreation Department — is presently accessed via a 150-foot long swinging bridge that traverses a side channel of the Tuckasegee River.
There's a loop trail on the island that meanders beneath very large holly, oak, tulip poplar, and sycamore trees. Most of the time I have the entire island to myself. I feel fortunate. After all, not many people can leave their office and within a few minutes escape via a swinging bridge to the solitude of a nearby island.
I wouldn't, in fact, mind living on just such an island. That's not possible, of course, as it is publicly owned. But a man — a hermit of sorts — did live here in a shack during the early years of the 20th century. At that time the island didn't have a name or a swinging bridge. I like to think from time to time about that hermit and his island home here in the mountains of Western North Carolina.
His name was Ironfoot Clarke. Not too much is known about Ironfoot. I became aware of him some years ago due to vague allusions circulating among old-timers in Swain County. I talked to many of those older folks, mostly now deceased, and scribbled down the following notes regarding Ironfoot.
"Yes, that's correct," Buddy Abbott recalled, with a twinkle in his eye, "old Ironfoot did live on that island. I saw him, but I don't remember his real given name. He had an artificial foot. That much is certain. The story goes that he was a part of the James Gang and rode with Jesse James. That's what I heard as a boy growing up.
"Ironfoot got his foot shot off in a train robbery was what they said. Then he came here to Bryson City and lived on the island. That's the story. I didn't camp out there until Ironfoot was gone, and even then I was apprehensive."
Other long-time residents added bits and pieces to my Ironfoot file. Hazel Fry Sandlin came to town from the Nantahala Gorge in 1914 as an 11-year-old girl. She recalled that Ironfoot's last name was Clarke, and that he was buried "west of town." (I haven't been able to locate Ironfoot's last resting place.)
"Oh yes," she said, "he had a saddle stirrup attached to his leg where he'd lost that foot. Mr. Clarke never gave anybody any trouble, but our parents didn't want us near the island because of the dangerous currents, so they told us tales about Ironfoot that made you stay on solid ground. No, I've never set foot on that island even though I can see it from my front porch right now."
At the time I was conducting my Ironfoot investigations, Virginia Freck lived in the house in which she had been born that was, as she put it, "within spittin' distance" of the island.
"Ironfoot lived by himself over there in a house that people these days would call a shack," she recalled. "It was his home. People said he had been an 'engineer' for the James Gang. I supposed that maybe he sometimes drove the trains they robbed, if need be. That sort of engineer. I don't know.
"Mr. Clarke was all right. Some times he would get flooded out of his shack by the river. Then he'd have to climb that big tree over there in order to save himself. Folks would send him food across the water on a wire that was especially attached to the tree for such occasions. He would remain in the tree until the water subsided. Then he would come down and go about his business, whatever that was."
I've never discovered what Ironfoot's "business" was either. My best guess is that he didn't have any "business" except that provided by living on a semi-isolated island in the mountains. To my way of thinking, it was a pretty good "business." One could do worse.
(George Ellison is a naturalist and writer. He can be reached at This email address is being protected from spambots. You need JavaScript enabled to view it..)