Archived Arts & Entertainment
Like a river we grow as we roll
Wednesday, September 05, 2018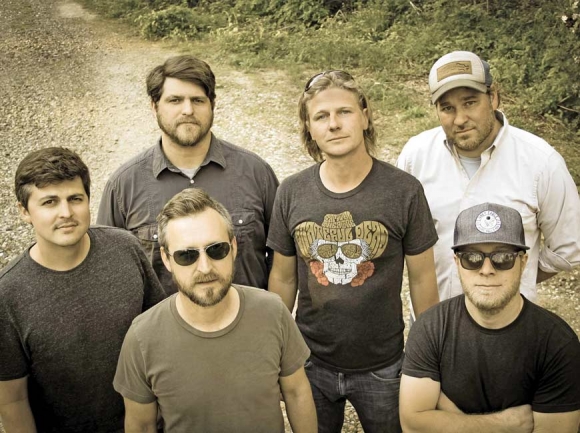 Sanctum Sully.
If change is the only constant in life, then Sanctum Sully is the epitome of change.
Celebrating a decade together this summer, the Asheville-based band has always been hard to pindown in description, and in stage presence. Initially a rag-tag bluegrass and Appalachian music act, they've shed as many layers of their sound as they've conjured. The group has meandered along like a river through a deep holler, heading in whatever direction feels most comfortable and exciting at that moment in time.
It's about pursuing the unknown possibilities presented before you in the presence of other creative minds looking to break down genre walls in the name of euphoric, melodic discovery. And with its latest, self-titled EP, Sanctum Sully lays down a thick tone soaked in the whiskey heartache and redemption that is southern rock.
The current state of Sanctum Sully is a seamless marriage of electric and acoustic instruments (akin to Widespread Panic and The Allman Brothers Band), all swirling around multiple vocal harmonies. But, it's also a crossroads where the sound is always within earshot of its origins steeped in that "high, lonesome sound."
Even with the hundreds of shows played over the last 10 years, the endless miles of sleepless nights rolling along lost highways, Sanctum Sully itself is a testament to what it takes to create something from nothing, and to have multitudes of folks joyfully embrace your message of compassion and camaraderie — an honest sense of self aimed squarely at never losing the passion to create, a constant urge to do what you love, and to chase after the avenues where those dreams reside.
Smoky Mountain News: The new album is quite the departure from the last release, in terms of sound and attitude. What brought about this change, and how has it been serving the band since?
Justin Powell (keyboards): A few years ago, the band was asked to open for Todd Nance of Widespread Panic. Since it was a rock and roll show, the guys decided that instead of doing a bluegrass set, they'd put together a full band show. About a year later, Leftover Salmon asked us to open. Since the full band show went over so well with the Todd Nance crowd, we decided to do it again. We re-worked some of the older bluegrass style tunes, but were really wanting to move in more of a southern rock/jam direction. Several members in the band, including myself, have had kids in the last few years, and all of us have experienced loss of some sort. The joy of our growing families, coupled with the pain of those losses is where the new music comes from. It's kind of a dichotomy on the new album that comes through in the writing and playing.
SMN: And how has the intent for the band, professionally and sonically, changed or remained the same in this transition?
Jay Franck (singer/mandolin): Since 2015, most of us have had a kid or two and being there for our families is important to us. Gigging over 100 times a year doesn't quite have the same appeal it may have used to. However, while we certainly play out less, and travel less, than we used to, our commitment to creating music together hasn't wavered. I love getting together with these guys — that's never changed. We've been refining our sound since then. While we've mostly departed from bluegrass, our Southern Appalachian roots still find a way to shine through on most tunes.
SMN: Sanctum Sully. Where does the name come from?
JF: We were just sitting around my living room brainstorming and my girlfriend — now wife — was thumbing through a book I had on southern colloquialisms. She came across "Sanctum Sully," which means "whiskey that drinks mighty easy." At the time, being a rough-around-the-edges young bluegrass band, well, this sounded perfect to us. Sanctum Sully has kind of become this thing that brings the crew together, not just band members, but friends and extended family, too.
SMN: Onstage, when each member is finding their pocket for improvisation, where do you go in your mind and your playing?
JP: When the band is communicating telepathically and totally present in that moment, there's nothing sweeter than that. It's really an amazing thing that can bring you a lot of joy — being present, not carrying the weight of the world, which we all seem to have to these days. There are few moments in this day and age that we can all be present and not distracted. That, to me, is the greatest gift music brings — appreciation of the present moment.
Want to go?
Rock/blues outfit Sanctum Sully will hit the stage at 9 p.m. Saturday, Sept. 8, in The Gem downstairs taproom at Boojum Brewing in Waynesville.
Admission is $5. For more information, visit www.sanctumsully.com.