Archived Arts & Entertainment
This must be the place: 'A little before she left me, I asked her what it's all about'
Wednesday, September 05, 2018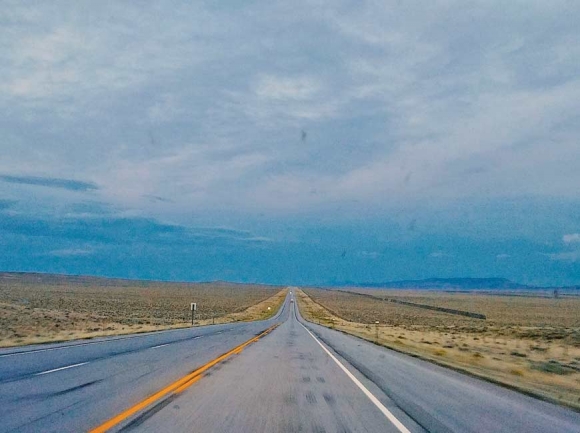 Wyoming highway. Garret K. Woodward photo
Hello, from the "Mile High City."
Sitting here in Denver, onward back to Asheville tomorrow morning. This summer has been quite the physical and emotional odyssey. The fog in my heart and soul is slowly lifting, disappearing into the cosmos. I went north in July and out west in August to find myself once again.
Honestly, I felt pretty lost a couple months ago. It's been a rough road peeling back some deeply held layers within. But, it had to be done, and was way overdue to be done. It took a lot out of me to admit I wasn't where I was supposed to be in my thoughts and actions. But, I'm starting to regain my balance.
I set out for Maine sometime around late July. Solo drive through southwestern Virginia to cover a music festival, then stops to visit a high school friend in Long Island, an old friend in south-central Connecticut, a college friend near Boston, and my family (parents, sister and 4-year-old niece) while they were on vacation along the Maine coast.
And I think fondly of how my toes wiggled, my feet leaving temporary footprints on the white sandy beach near my parents' rental cottage, the waves of the mighty Atlantic Ocean crashing onto the shore, the sun tucking in the lazy evening behind tall trees and a vast New England forest. It was the exact same scene, place and feeling as when I was a toddler, child, adolescent and young adult strolling that beach, wondering just what tomorrow would bring.
There were girls I would think about while moseying the ancient, serene beach. Middle school crushes. High school sweethearts. College soulmates. Adult femme fatales. All I figured I would end up with at one juncture or another in my existence, in some haphazard fashion. And yet, here I am, 33 years old, trying to turn around and just make sense of the trail I've blazed from my childhood home in Upstate New York to where I currently stand in Western North Carolina.
Toward the end of August, after I circled back to Haywood County for a couple weeks, I hopped on a plane to meet up with my folks in the Grand Teton Mountains of Eastern Idaho and Western Wyoming. It's my mother's most favorite place on this earth, and she wanted "to see them one more time" for her upcoming milestone birthday. It's also my most favorite place on this earth, and I wanted to see my old friends and stomping grounds of when I lived there in 2008. Ten years ago, where has the time gone, eh?
I reconnected with beautiful souls out there in the high desert prairie, many of which I hadn't seen since I last rolled through there some nine years ago. Those people — those dear friends — always made me feel loved and welcomed when I was out there, a 23-year-old rookie journalist whose family and all things familiar were on the other side of the country. We reconnected like it had been nine days, and not nine years, since we last shared a laugh, a drink, a salute to another day in this wild, wondrous universe.
You can do a lot of thinking while driving from the Grand Tetons down to Denver. And that's exactly what I did. The desolation is incredibly moving, and also inspiring. It makes you realize just how small you are in this world, a single dot roaming around, buzzing and vibrating with a zest for adventure in the presence of innumerable other dots of humanity, all trying to search and find just what you're looking for, too — to love, and to be loved.
That girl I loved, and still love (will always), is somewhere out here in the Wild West. I know she's also finding what she's looking for, whatever that may be, though I'll never stop missing her, the way she'd smile at me, and the way she made me feel like I could conquer any obstacle in front of me, and us. Especially us. She deserved better, a version of me I once knew, that was lost years ago, only to be found randomly on the side of a silent western highway, my true and honest soul sticking out its thumb for me to slow down, stop, and pick it back up.
You know, it's funny how poignant and absolutely surreal music can be, how it always seems to find you just when you need it the most. As I began writing this column, I threw the streaming service on a shuffle, randomly coming across Dan Hicks & His Hot Licks 1969 album "Original Recordings." I've listened to his music before, but not this record. Maybe I wasn't supposed to hear it until now. Who knows, huh? I dove deep into the record. My body relaxed into the chair, my soul at ease, if but for one glorious moment.
The evolution never stops. But, you must push ahead with your best intentions amid yourself and your interactions.
Life is beautiful, grasp for it, y'all.
Hot picks
1 Rock/blues outfit Sanctum Sully will hit the stage at 9 p.m. Saturday, Sept. 8, in The Gem downstairs taproom at Boojum Brewing in Waynesville.
2 Western Carolina University's Mountain Heritage Center is hosting an exhibit on William A. Barnhill, a photographer who documented early 20th-century regional craftsmanship, through Sept. 14.
3 The 13th annual "Music at the Mill" celebration will be held from 10 a.m. to 4 p.m. Saturday, Sept. 8, at the Francis Grist Mill in Waynesville.
4 The "Summer Music Series" at the Lake Logan Conference Center will continue with craft beer by Ecusta Brewing at 3 p.m. Saturday, Sept. 8, and music by Devils in Dust at 5 p.m.
5 The Haywood Arts Regional Theatre will present the hit musical "Ghost" at 7:30 p.m. Sept. 6-8 and at 2 p.m. Sept. 9 in Waynesville.