Archived Opinion
What happened to true conservatives?
Wednesday, August 29, 2018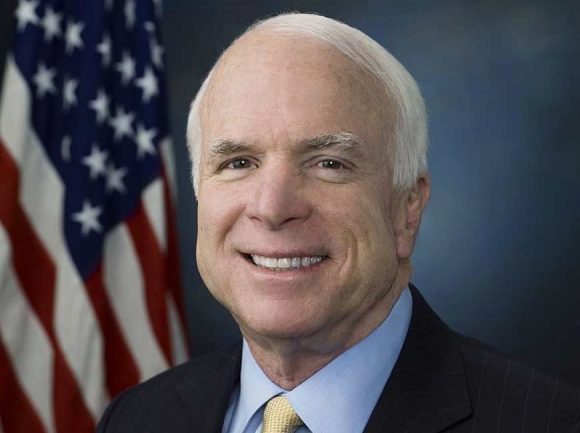 The late Senator John McCain.
By Martin Dyckman • Guest Columnist
The two most abused and misused words in America are "conservative" and "populist." Politicians and the media are the grossest offenders.
Safire's Political Dictionary defines "conservative" as "a defender of the status quo who, when change becomes necessary in tested institutions or practices, prefers that it come slowly, in moderation." It also came to stand for resistance, sometimes rational, sometimes not, to taxes and regulations. What all American conservatives shared, however, was a healthy concern over the potential abuse of political power. They also venerated the Constitution and all of our fundamental institutions.
None of those traits apply to a president and Congress who subject the nation to trillions of dollars in new debt for the sake of a flimflam tax bill. It is hardly a conservative president who works at undermining NATO and the World Trade Organization, institutions that we helped to build to keep the peace, improve everyone's economy and lift the free world above the rivalries that had fed two world wars. The greatest threat to provoke a third world war, the Soviet Union, disintegrated in the face of Anglo-Canadian-American-European unity,
No politician who flouts that history, whether from ignorance or something worse, can be considered conservative. No citizen who supports such reckless politics can truly claim to be conservative.
No genuine conservative can tolerate Vladimir Putin's subversion of our last election or Washington's indifference to the continuing danger from him. China's economic rivalry is not as great a threat as Russia's instinctive empire building.
The late Sen. John McCain was on the money when he called out Putin's thirst for rebuilding the Soviet empire. In his last book, The Restless Wave, McCain noted that people who expected better of Russia after the Soviet collapse misled themselves with a "short view of Russian history." In reality, McCain wrote, "resentment and insecurity had been powerful drivers of Russian history for centuries."
An American president who grovels before the Russian empire rebuilder and who denounces the agencies of his own government which are trying to protect us is so far from conservative as to be out of sight. So are Rep. Mark Meadows, R-Asheville, and other members of the misnamed "Freedom Caucus" who are eager to help Trump cover up what Donald Trump is plainly desperate to hide. We need to hear more from Sens. Richard Burr and Thom Tillis about how wrong this is, especially now that McCain's voice is stilled.
An American president who interferes in his own party's state-level primaries is no conservative. Anyone who welcomes that interference is no conservative; he or she is fostering a cult of personality that would sicken any genuine conservative.
An American president who attacks the free press as "enemy of the people" repudiates the Constitution. He is no conservative.
An American president who's bent on repealing all the environmental and consumer protection progress under eight of his predecessors is, by definition, no conservative. Nor is he anything resembling a populist.
Safire defines "populist" as someone "attuned to the needs of 'the people.'" He illustrated that with history: the early populists — a coalition of farmers and workers — demanded regulation, even public ownership, of railroads and telephone systems, the graduated income tax, direct election of senators and cheaper money.
Our so-called "populist" president, on the other hand, relentlessly attacks regulations that protect the people from corporate greed. The only "need" he recognizes is the human appetite for scapegoats.
In the South, some professed populists were intensely racist. That's the only respect in which Trump is a populist.
Why do so many self-described conservatives support — even applaud — him? Why has the Republican Party become a cult of his personality?
With some, it's because Trump hates the people they hate. Others rationalize that whatever he does is an acceptable price for the "conservative" Supreme Court justices who, he tells them, will repeal Roe v. Wade.
That begs the question, however, of whether Brett Kavanaugh, the nominee of the moment, is truly conservative or an extremist — a more polished one, to be sure — like Robert Bork, who dashed his Supreme Court candidacy by admitting that he did not recognize a constitutional right of privacy.
Kavanaugh believes that the Supreme Court was wrong when it forced President Nixon to surrender the voice recording that proved him guilty of obstructing justice in the Watergate scandal. While a sitting federal judge, he wrote that the court erred again when it compelled President Clinton to submit to a civil lawsuit that led to his impeachment. He has written that a sitting president should be immune from even criminal investigation — in other words, that he should be the one citizen among 300 million to be above the law and the Constitution itself.
How is that even remotely conservative?
To be so worshipful of unbridled presidential power is as distant from true conservatism as the South Pole is from the North. Kavanaugh will, no doubt, make all sorts of unctuous promises to the Senate about separating his own views from the law, but can we afford to trust him?
Every one of these issues is a litmus test of whether someone who claims to be conservative is actually something else. An opportunist? A hypocrite? An extremist? A radical? A reactionary?
Take your pick. But let's reserve the noble word "conservative" for the dwindling few, like the late Sen. John McCain, who still deserve it. Let's save "populist" for people like Elizabeth Warren, who really are.
(Martin Dyckman is a former journalist and the author of several books on Florida politics. He lives in Western North Carolina and can be reached at This email address is being protected from spambots. You need JavaScript enabled to view it..)