Archived News
A seat at the table: Organized labor remains strong in Haywood County
Wednesday, August 29, 2018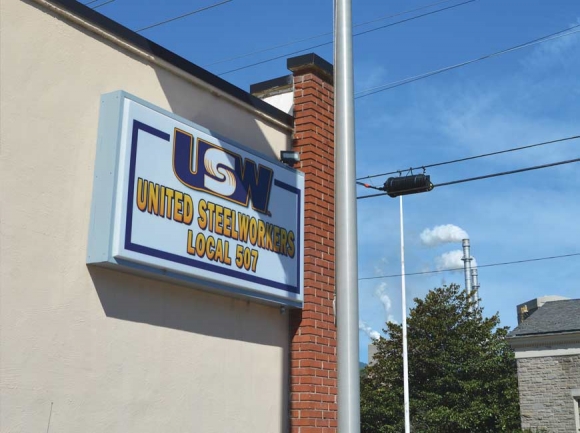 For the past half-century, United Steelworkers Union Smoky Mountain Local 507 has been just as integral to Canton as the century-old paper mill. Cory Vaillancourt photo
For more than a century in the tiny Haywood County town of Canton, the sun has risen and set — literally and figuratively — on the sprawling paper mill located in the heart of town.
Founded in 1906 as the Champion Fibre Company, "the mill" — as it's been called through several ownership changes — spawned that same year a Labor Day parade that's billed as the South's oldest.
Some 60 years later, it also resulted in the creation of a labor union that, despite relatively dramatic reductions in the mill's workforce, relatively dramatic increases in overseas competition and the continuing proliferation of so-called "right to work" states — of which North Carolina is one — persists to this day.
Workin' for a living
Labor unions can trace their origins to medieval craft guilds — loose confederations of crafters like carpenters, cobblers and masons. These guilds not only established a monopoly on labor by protecting members against competing workers, but also cared for members in the event of illness, incapacitation or old age.
Members of these guilds, however, had to practice apprenticeships for half a decade or more, and then served as journeymen indefinitely until they produced the quality of work demanded by the guild, whereupon they were promoted to "master."
Journeymen could demonstrate their proficiency by creating their "master piece," which gave rise to the term itself.
In the United States, organized labor gained a foothold during the industrial revolution and expanded greatly after the Civil War. Through the 1930s, unions benefitted from left-leaning policy like the National Labor Relations Act, part of President Franklin Delano Roosevelt's "Second New Deal" legislation.
Measured by percentage, union membership in the U.S. peaked around 1945, with an estimated 25 percent of workers belonging to a union. Not long after that, union organizing began in Canton.
"Champion was a privately owned deal, and they looked at going public back in the 1960s. I think that led to the folks here looking at, you know, we need to look at an avenue to protect ourselves," said Keith Jenkins, a four-decade, third-generation employee of the mill.
Like his father before him, Jenkins is also the president of the United Steelworkers Union's area chapter — Smoky Mountain Local 507, located in Canton.
"I sort of grew up knowing, watching him, listening to the things that he would be doing. I found that very interesting, so I chose that path as well. And I'm very proud of that," said Jenkins. "I also have a brother-in-law that was president."
First elected as executive vice president in 2000 and then as president in 2002, Jenkins served two terms through 2006.
"Additionally," he said, "I was re-elected again in 2015, and I'm still here."
Jenkins and local 507 may still be here, but many unions are not; today union membership in the U.S. hovers just above 10 percent of the workforce.
Automation and declines in American manufacturing during the 1970s and 1980s contributed to the decrease of union membership across the country — not so much in Canton, but still, the union's seen a steady loss of members since then.
"We were actually thriving during those times," Jenkins said. "We had a lot of people that worked here at this facility [but] through the years, we've experienced some curtailments of that nature. As a matter fact, when I first came to work 38 years ago there was 2,300, maybe 2,400 employees. Now we are looking at right about thousand or less."
According to a 2017 U.S. Bureau of Labor Statistics report released in January of this year, California, New York and Illinois have the most unionized workers, with 2.5 million, 2 million and 830,000, respectively.
With 145,000 union members, North Carolina ranks No. 25 in the amount of union members, but by percentage, N.C. ranks 49th, with less than 4 percent of its workforce unionized. Only South Carolina comes in lower at 2.6 percent, with states like New York and California averaging 15 to 24 percent.
Not surprisingly, union membership in the South has always lagged behind the more heavily-industrialized North and Northeast. At least some of that is due to counter intuitively-named "right to work" laws.
USU Local 507 President Keith Jenkins works at his desk in the downtown Canton union hall. Cory Vaillancourt photo
The Labor Management Relations Act of 1947, passed in Congress over the objections of President Harry S. Truman, repealed parts of the 1935 NLRA and gave states the ability to outlaw union-only shops.
In 27 U.S. states, statutes or constitutional amendments effectively allow non-union workers to benefit from the presence of a union without paying their fair share of dues that fund the unions.
The entire South — from Texas up through the Virginias — vast swaths of the West, and even traditional union strongholds like Indiana, Michigan and Wisconsin are all right-to-work states. Not surprisingly, states without the statutes, like the entire Northeast and the west coast rank as having the most union members.
"Right to work, it's a struggle. We continually have conversations about that very thing. I think as a country, it's tough to get the folks that matter — the politicians of the world — to see just how difficult it is to operate under that venue. It's tough," said Jenkins. "It's tough, it is, because the unfortunate part is, folks can actually work here at this facility and acquire the gains, the benefits that we have the ability to bargain over, and not be a participant. That's sad, because the theory is, the more united you are, the better off you are at the end of the day."
Those benefits, according to Jenkins, are acquired through collective bargaining agreements with employers.
"I can't stress enough how important it is to have the ability to bargain with the company over issues — wages, benefits, working conditions, safety. We believe strongly in all those things," he said. "At the end of the day I do believe that most folks acknowledge the fact that they are able to say with pride and dignity, 'I have a very good job,' and I think a lot of that's due to the local being here."
Unions like Steelworkers Local 507 act as an intermediary between workers and employers, especially on issues of attendance, compensation and discipline.
"Through the ability to collectively bargain with a grievance procedure, we handle issues on a day-to-day basis from that standpoint," he said.
The parent organizations of most unions also engage in legislative advocacy on national and international issues, representing workers at the highest levels of government. In a highly competitive global concern like the paper products industry — the mill makes a variety of packaging stock, including paper for cups for Starbucks — constant vigilance is the rule, rather than the exception.
"I think a lot of the issues we have to deal with is overseas stuff, especially in the paper industry," said Jenkins. "I'll be glad to say as well, our international union, United Steelworkers, they do a lot of political stuff to ensure that our jobs are maintained."
That advocacy includes fighting "dumping" of paper products from overseas — an illegal practice whereby a company floods a market with inferior products at lower or negative profit margins with the sole intent of driving competitors out of business.
"I think we're very fortunate," he said. "There's a lot of paper mills in this country that have closed down. We're still here. That's a good thing. We still have the ability to make a very comfortable living right here in Canton, North Carolina. That's huge."
Over the past year, President Donald Trump has ventured into a protectionist trade mentality with respect to overseas competition. Tariffs imposed on a variety of products to include Canadian paper are driving up production costs for anyone who uses it, especially newspapers.
In theory, those tariffs should result in more domestic paper production, but it's still to be seen if and when that may happen, especially as Canada has understandably retaliated by imposing tariffs on imported American paper products.
For now, Jenkins thinks both the mill — now known as Evergreen Packaging — and Steelworkers Local 507 are on solid footing.
"You can look out the door right now," he said from the union's downtown Canton office, just a stone's throw from the mill. "The company is actually spending some money. They're upgrading some things. I think that goes a little bit in the way of, at least they have somewhat of a long-term plan for this. I think as well, labor, I think it will make a comeback at some point in time. We currently have about a 90-some percent membership rate. In a right to work state, that's a good thing."
And as the sun again sets over the heart of this blue-collar mountain milltown where generations of workers have held the kind of solid manufacturing jobs that some say are a relic in today's digital economy, there's still considerable sentiment that the sun also rises.
"I think slowly but surely, hopefully, folks see that at the end of the day it's about the American Dream — in a small town, in Canton, North Carolina, you can do that right here and you do that because of the local union. If you don't have your seat at the table," he said, "then, you're the meal."