Archived News
Speir, Cats excited about 2018
Wednesday, August 29, 2018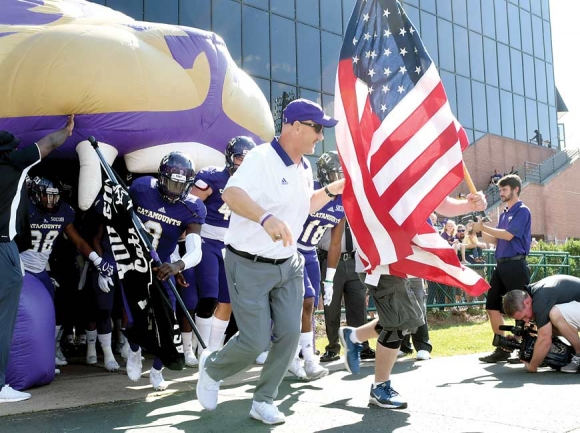 Western Carolina University football coach Mark Speir shows his Catamount spirit coming out of the tunnel.
By Todd Vinyard • Special to The Smoky Mountain News
Taking over a football program coming off five wins in the previous three seasons before you arrived as coach would certainly require a plan and changing the culture. Mark Speir has relied on both in his past seven years as the head coach at Western Carolina University.
From improvements in scholarship numbers to creating a positive atmosphere, Speir and his staff have relentlessly focused on making the Cats better. WCU had its third seven-win season over the past four seasons last year while being nationally ranked much of the year and in contention for a playoff spot.
"It is amazing what has been accomplished not just by our football program, but by our entire university since we've been here," Speir said. "Our team is strong in academics. We led the Southern Conference in attendance last year. We had two players (Detrez Newsome with the San Diego Chargers and Keion Crossen with the New England Patriots) on NFL rosters. I'm just proud to be a part of all of it."
Nathan Dalton, a redshirt senior offensive lineman from East Flat Rock, said it has been quite a ride to see a new culture being created for Catamount football.
"I started school in 2014 and I can really tell a difference in the program," said Dalton, a second-team preseason All-Southern Conference selection. "Coach Speir is so straightforward and he keeps things simple – do your job and win the next game. We try to keep things under the microscope instead of the telescope and take it minute by minute doing the things we are supposed to do."
Dalton also talked about the Cats having a more player-driven culture, which is exactly what Speir and his coaches have worked to created in Cullowhee.
"When we first got here it was a coach-driven team," Speir said. "Our first year eight guys came to summer school to be ready. Now everybody comes. We had to teach them. At first they were just doing what we told them to do. Now we have a player-driven team. The players are teaching young players and setting goals. All the great teams I've been fortunate to be a part of have been player-driven teams. It is exciting to see that happening here."
Spier is also excited about the upcoming season that starts Sept. 1 at home with Newberry. The Cats will return seven starters on offense while having to replace eight starters on defense.
"It will be an interesting mix with this team," Speir said. "We're a very heavy freshmen and sophomore team. We have a lot of players hungry for competition. It has been a fun preseason. We do have some older guys who have been teaching players the Catamount Way. Downside with younger players is there is nothing like experience. That is our job as coaches to grow them up. We can have a really good football team."
Offensively, several pieces from a unit that scored a school-record 389 points return under the leadership of redshirt junior quarterback Tyrie Adams.
The Cats backup quarterback Will Jones adds an extra weapon to the WCU offense along with an experienced offensive line. The wide receiver and running back units have plenty of depth.
"We can be as good as we've ever been on offense," Speir said.
On defense players like senior linebacker Jacquez Williams are working to make something special of a unit with a lot of new faces.
"We are young and it is a good thing to see people working so hard," said Williams, who recorded 21 tackles and a sack in a road win at Chattanooga last year. "We are energetic and we want to come out and have a good season. We are family here and it is the truth. We care about each other."
Speir's work to build a family atmosphere in Cullowhee had challenges along the way, but the coach has stuck with the plan and a Bible verse, Galations 6:9 — "Let us not become weary in doing good, for at the proper time we will reap a harvest if we do not give up."
"I had to keep reminding myself of the 'at the proper time' part," Spier said with a smile. "I knew how good the people here were. We'd didn't try to build it fast, we wanted to build this for the long haul. This is where I want my last coaching job to be. Our Athletic Director Randy Eaton and Chancellor (David) Belcher bought in to it and believed. We were all on the same page and the support has been fantastic. We know there is more to do. I have that mule collar on the wall next to my desk to remind me to keep plowing and it will come."
Spier is glad to see that his team is hungry for more.
"Randy (Eaton) and I were talking recently about how good it was to see our players talking about how they wanted to do more this year," Speir said. "We won seven games last year and sometimes we would have just been really happy with that. But we've raised the standards for our program. We're a young football team, and we will make mistakes. But we're a hungry football team that believes and works to get better each day. The leadership and culture change we've had will be very important this year."
WCU Football Schedule
Sept. 1 — NEWBERRY at E.J. Whitmire Stadium / Bob Waters Field, Cullowhee 6 p.m.
Sept. 8 BYE WEEK
Sept. 15 — at Gardner-Webb, Boiling Springs, N.C. 6 p.m.
Sept. 22 — VMI at E.J. Whitmire Stadium / Bob Waters Field, Cullowhee 3:30 p.m.
Sept. 29 — at Furman, Greenville, S.C. 2 p.m.
Oct. 6 — at Samford, Birmingham, TBA
Oct. 13 — Chattanooga at E.J. Whitmire Stadium / Bob Waters Field, Cullowhee 3:30 p.m.
Oct. 20 — at Mercer Macon, Ga. 4 p.m.
Oct. 27 — at ETSU, Johnston City, Tenn. 3:30 p.m.
Nov. 3 — The Citadel at E.J. Whitmire Stadium / Bob Waters Field, Cullowhee 3:30 p.m.
Nov. 10 — Wofford at E.J. Whitmire Stadium / Bob Waters Field, Cullowhee 3:30 p.m.
Nov. 17 — at North Carolina, Chapel Hill, NC.

TBA