Archived Arts & Entertainment
Voicing the truths of Southern Appalachia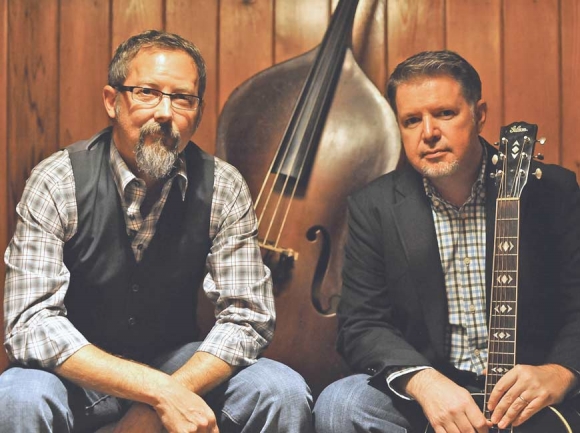 Buddy Melton and Milan Miller.
In the digital age that is the 21st century, and in many aspects of this modern era, the culture and history of Western North Carolina and greater Southern Appalachia is disappearing.
Whether it be an old-timer passing down their wisdom or listening to a well-aged recording of someone long gone from this earth, or vast shelves of often forgotten books gathering dust at your local library or historical society, how one tracks down the essence of who came before us, and who will surely come after, resides in the annals of storytelling.
If face-to-face communication is a lost art these days, which it is increasingly becoming, then storytelling is rapidly vanishing from not only everyday life in these parts, but also from the consciousness of every single one of us. It's a consciousness that needs to nurture its heritage, where an urgency resides to preserve the oral traditions of this region. Simply put, you must preserve the past to make sense of the present, and to ensure the future.
At the forefront of this urgency are the finely detailed efforts and events put forth by Folkmoot in Waynesville. Well-known for its cultural exchange of song and dance every July around Western North Carolina, the nonprofit organization is also making great strides to pay close attention to the history and culture of our own backyard — to share and perpetuate it for any and all.
With Folkmoot's newly launched "Southern Storyteller Series," it will host four gatherings, encompassing music, food and art — pillars of what makes this area so singular in its cultural and historical beauty. To kick things off, Buddy Melton and Milan Miller will present and evening of storytelling through music.
Lifelong friends and collaborators, Melton is the award-winning lead singer of Balsam Range, arguably one of the biggest acts in bluegrass nowadays, with Miller an acclaimed songwriter who has contributed many melodies to Balsam Range's string of hit songs and albums. The two share a common bond of being born and raised in Haywood County, a kinship at the foundation of why it's crucially important to never forget where you came from, and to never forget where you're going.
"Storytelling in the Southern Appalachian area was an important way of passing down information and history to newer generations," Melton said. "When I was younger, I didn't always appreciate the historical significance. But, as I age, I've come to realize the importance of understanding our past. History tends to repeat itself, therefore learning from the past helps steer our future."
"At this point [in my career], it's become part of my occupation [as a songwriter]. I'm always looking for stories I haven't heard, dissecting how they're told, and listening to the language of the people who tell them. I'm always drawn to stories about real people, their circumstances, and their lives," Miller added. "Sometimes, something as simple as hearing a person's name or seeing the name of a creek or stretch of land on a map can trigger song ideas and set my mind to pondering. Keeping stories alive through songs, books, movies, and oral tradition is a perfect way of learning from our history and understanding different perspectives."
And though the instruments (Melton on fiddle, Miller on guitar) may be the catalyst to whatever the musicians are feeling at a particular moment onstage, or simply the memories conjured with such ease through rhythm and tone, a cornerstone of bluegrass, old-time and mountain music is being able to connect the dots of people and place, explaining how a melody came about, what it means to the songwriter, and how it will be interpreted by the listener.
"Music is supposed to be entertaining and create some type of emotional response — sometimes people laugh and clap along, and other times they may be drying their eyes," Miller said. "A good show should provide elements of all of those emotions. Our job as entertainers is to guide the audience through that process. Every crowd is different, so it's important to learn how to read their response and gauge how much additional information they'll need."
"Having the story behind a song can help provide a deeper meaning and therefore connection to the song," Melton noted. "So, providing facts are fun, but I feel it's important to let the song really tell the story — it's all about making that connection and impact to whoever may be listening."
Want to go?
The "Southern Storytellers Series" will kick off with Buddy Melton & Milan Miller at 6 p.m. Thursday, Sept. 6, at the Folkmoot Friendship Center in Waynesville. Tickets for the "dinner and a show" are $25 per person.
Hosted by Chris Cox, a popular columnist for The Smoky Mountain News, the series will continue with homesteader/author and made-from-scratch culinary expert Ashley English (Oct. 4) and Affrilachian author/artist Ann Miller Woodford (Nov. 3). Both events begin at 6 p.m. and are $15 per person.
For more information and/or to purchase tickets, click on www.folkmoot.org.