Archived News
History through story: Cherokee storyteller seeks to preserve historical memory with filming project
Wednesday, August 22, 2018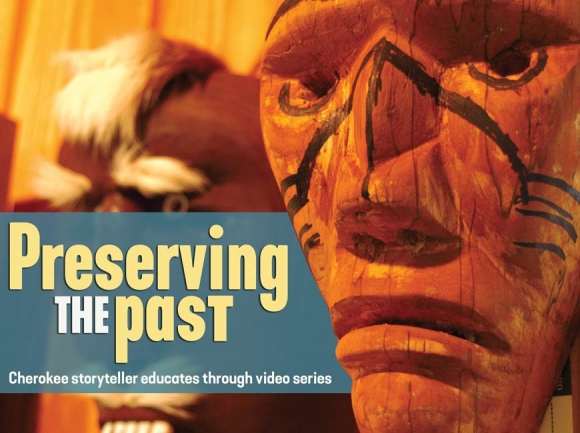 Kathi Littlejohn can get lost in stories. Especially Cherokee stories. Their origins are often moored in worlds long past, but these stories have a tendency to twist through the years to end up knocking on the door of modernity.
"One of my first jobs as a teenager was working at the Oconaluftee Indian Village, which I absolutely loved. I was a tour guide," recalled Littlejohn, who is now 63. "And on bad weather days when it was real slow, it was so much fun for me to sit with the people that were doing the crafts or some of the older guides and listen to stories."
Littlejohn always loved stories, always loved history, but she never thought of herself as a storyteller. Not until the 1980s, anyway, when she was living in Seattle and taking a nighttime course in children's literature. Many of her classmates were schoolteachers, and when she told the class a story from one of the local northwestern tribes as part of an assignment, she found herself getting invited out to the schools to tell more stories. She's leaned into the role ever since.
At home in Western North Carolina, Littlejohn and her fellow tribal members in the Eastern Band of Cherokee Indians are surrounded not only by stories but by the mountains, rivers and seasons that inspired them centuries ago. Too often, though, Cherokee people drive by these places of cultural importance without ever knowing what happened there.
That's a problem Littlejohn is hoping to fix through her latest project, a series of short videos "Cherokee History & Stories: What Happened Here." Funded by a grant from the Cherokee Preservation Foundation and aided by experts in the Tribal Historic Preservation Office, the project seeks to capture on video the sites that inspired Cherokee stories and hosted historically important moments, each one featuring Littlejohn telling her audience what once took place on the ground where she stands.
"I got to thinking about people that have small children, or high school children, and how neat would it be if while they're on their phone, while they're waiting for their child to come out of basketball practice — why couldn't they have just a five-minute history lesson?" said Littlejohn.
The videos are short — they range from just under two minutes to just short of six — each offering a concise summary of the location's history paired with a traditional Cherokee story chosen specifically for that location. The initial grant covered production of 10 videos, all of which are completed and available on YouTube.
"We thought it was important, because not very many people know about the sites or where they are, or what is significant," said Tinker Jenks, who is overseeing the grant for the Preservation Foundation.
The Foundation will likely fund a second round of videos as well, though it hopes the project will eventually gain permanent backing from some other entity. Littlejohn is recovering from back surgery, but that hasn't stopped her from actively planning that second phase, using an interview with The Smoky Mountain News as an opportunity to scout out one potential location — Soco Gap on the Blue Ridge Parkway, the site of a long-ago ambush the Cherokee mounted on an invading rival tribe, the Shawano. In the Cherokee language, Soco Gap is known as "Ambush Place."
Kathi Littlejohn stands at Soco Gap, known as Ambush Place in the Cherokee language due to Cherokee warriors' long-ago ambush of the rival Shawano there. Holly Kays photo
Covered in history
With thousands of years of Cherokee history and an original territory that included parts of North Carolina, South Carolina, Tennessee, Kentucky, Virginia, West Virginia, Georgia and Alabama, there are plenty of stories to choose from. An overwhelming number, really.
Before the removal and European settlement, the Cherokee nation was organized into districts, and Littlejohn decided "instead of running all over the place" to order her videos according to those districts, starting with sites in the valley towns — areas around Murphy, Andrews and Hayesville — and then moving to the overhill areas of Haywood, Jackson and Swain counties.
However, "running all over the place" has proven to be an inescapable part of the endeavor. There is no handbook giving GPS coordinates for the ruins of long-abandoned forts or the backdrops for ancient legends. Many of the sites are now on private property. Finding them is equal parts nose-in-a-book research and plain old driving around and talking to people.
Littlejohn has been studying history — and particularly Cherokee history — for decades, and the Tribal Historic Preservation Office also researches the stories she's filming to ensure accuracy. But, just as important as the scholarly portion of the preparation, Littlejohn said, is the feeling she gets as she prepares.
"If I have a doubt or I'm not getting much of the reference material about it, if I meet someone and then they start adding to it and it just grows — then I know that it was just really meant to be," she said.
She saw an example of that when she went in search of the Valleytown Mission Boarding School, off of U.S. 64 about halfway between Hayesville and Murphy. The filming crew found the spot, but the road was too busy to make a video without tons of traffic noise in the background.
"The name of the road that turns off the main road was Valleytown," Littlejohn said. "We thought, well, we're close by and we can use the drone, so we'll go there."
So they did, pulling into a dirt driveway that they figured would allow them to be out of everyone's way as they shot the video with the boarding school site just behind them. But they'd barely gotten set up when a woman came flying down the road, slammed on her breaks, rolled down her window and let the group know in no uncertain terms that she was in a hurry to get up her driveway and they'd best clear out. Meanwhile, a man in a pickup had rolled into the house across the street, and they figured they'd ask to film there instead.
"That man was awesome," Littlejohn said. "He said, 'Well, sure.' He said, 'You can do anything you want. You ever gone down to the spring? You see my garden spot?' He said, 'That's where the boarding school's church was.'"
Unlike most other Indian boarding schools, Valleytown didn't force kids to speak English or punish them for using their native tongue. To the contrary, its board of directors adopted a policy to teach and preach in the Cherokee language. Its first director, a Welsh missionary named Rev. Evan Jones, became an advocate for the Cherokee people, helping them develop legal strategies to fight the Indian Removal Act that eventually resulted in the Trail of Tears and all the atrocities that accompanied that chapter of history.
The removal couldn't stop Jones from ministering to the Cherokee people. He went with them to Fort Cass in Tennessee, where they were interned before marching west, and eventually traveled the Trail of Tears to Oklahoma, where he and his family settled. Several of the school's students also became active in opposing the removal and ministering to their fellow Cherokees who were caught up in it.
"That whole area is just covered in history and stories," Littlejohn said. "But we never would have found the church if that woman hadn't been so rude."
Sites surrounding the removal figure prominently in the 10 videos Littlejohn has so far completed. But the videos also anchor on sites relating to happier moments in Cherokee history, and to myths and stories that go back much further than a mere 200 or 300 years.
Another video, filmed under the bridge holding Tennessee Street in Murphy, at the confluence of the Valley and Hiawassee rivers, reminds viewers of the size and complexity of Cherokee society before European contact. The valley area in present-day Clay and Cherokee counties, for instance, was home to seven town houses, two stickball fields, four stores, a gristmill and hundreds of Cherokee people. It was, as explorer George Featherstonhaugh wrote in an 1847 journal, "the paradise of the Cherokees."
"For thousands of years, Cherokees raised their crops and their children, fished and hunted, and traded, danced and worshipped — and told stories," Littlejohn says in the video.
One such story is the story of Leech Place, which is what Murphy is called in the Cherokee language.
In the story of Leech Place, a young Cherokee mother goes down to the river with her mother and her baby and is preparing to fish when the water boils, foam washes up and her baby is nearly swept away. Luckily, the woman grabs the baby in time and goes to warn others. The others come and look down into the water, where they can see something huge moving around. The people would come to discover that the giant something was in fact a giant leech with red and white stripes along the length of its body. Every once in a while, an unwary traveler would get swept away in the foaming water and appear downstream with his nose and ears eaten off.
But one young man who heard the story laughed at the danger. He dressed in his finest clothes, painted his face and went to Leech Place, boasting that he would tie red leech skins to his legs as garters. He walked out to the water, and it began to boil. A great wave washed over him, and he was never seen again.
A sense of urgency
Resurrecting these stories on the stage where they originally played out — the grassy fields and flowing rivers of the Cherokee homeland — brings home the reality of the past for Littlejohn, and she hopes it does the same for anyone else watching the videos.
"I'm hoping that by telling the stories and telling the history of the stories, that people would become more sensitive, and instead of hearing about things that might happen to a group of people or a family or an individual, instead of thinking, 'Oh, that could never happen there,' 'Oh, that's not going to happen at our high school,' that yes, it can happen," she said.
To modern ears, the story of the Trail of Tears might seem incredible, in the real etymological sense of not being credible. Thousands of people rounded up, sent to concentration camps and forcibly marched over hundreds of miles to resettle in a far-off land they'd never seen before? Surely not.
Yet, it really did happen, and the effects of that forced migration have rippled through the years to impact the reality of modern Cherokees even now, nearly 200 years later. Especially for a tribal member like Littlejohn, a descendent of those same families who were evicted from their homeland, it's impossible to visit sites like Fort Hembree in Hayesville, where more people died than at any other fort along the Trail of Tears, without feeling the weight of history.
Along with the historical facts of each place, Littlejohn chooses a traditional Cherokee tale for each video. For Fort Hembree, she deliberately chose a story that was a bit funny, about a rabbit who tricked a fox into surrendering a delicious mess of fish he'd caught for supper.
"I can just imagine that at night, holding their children, trying to make sense of what was happening, that they told stories to lift up their spirits and try to make the best of a horrible situation," she said. "I think it made me more determined to keep doing the videos, because we need people to make that connection so that things like that don't ever happen again."
The visits take an emotional toll, and there's one video that Littlejohn is dreading. That's the one she'll one day shoot at Fort Cass in Charleston, Tennessee, the largest camp where removed Cherokee were held before beginning the march to Oklahoma.
"That's gonna be — tough," said Littlejohn, her formerly bright voice shifting to a slower, more melancholy cadence as she spoke of Fort Cass. "Because so many people died there. They had — dysentery and cholera and then they had a drought, and the Cherokee elders asked them to wait until cooler weather and not force them to march with no water. But it just swept through the camps. So, I don't know about that one. It's going to be tough."
"But, it needs to be told," she continued, her voice resuming its usual cheery tone. "I'll get to that one when we get there."
She's determined to get there, and to a number of places as well, as quickly as she can. But she knows it's too big a job to do alone. The history of the Cherokee people is expansive, both chronologically and geographically speaking. And for many of these stories, the clock is ticking.
"All of the people we met who told us the stories were older," Littlejohn said. "I think that kind of gives me a reason to keep pushing, and my own age — I'm 63."
There's also the places themselves. Many of them are privately owned, and while they might be farmland or forest at the moment, there's always the possibility that they'll one day be developed and the vestiges of the past removed.
"I think it won't end with just me and the videos. I hope," she said. "But I do have a sense of urgency."
Watch the videos
Cherokee storyteller Kathi Littlejohn has made 10 videos featuring some of the places behind Cherokee stories and history, and they're all available for free on bit.ly/2wi9Jbl.
The project is funded through a grant from the Cherokee Preservation Foundation with research help from the Tribal Historic Preservation Office.
The fox and the rabbit
Stories are an important part of Cherokee culture, used to instruct, amuse, warn and dream. Each of Kathi Littlejohn's videos includes one of these stories to further illustrate the featured place. Littlejohn tells this story, featuring a gullible fox and a trickster rabbit, on a video shot at Fort Hembree in Hayesville.
You see, Rabbit was the trickster. He was lazy and always trying to get over on all the other animals. He tried everything he could do to get out of working for something, and he played tricks on everybody. One day, Rabbit was walking and spied Fox coming with a fine mess of fish that he had caught for his supper. Thinking about that he wanted those fish. He knew Fox wasn't likely to share with him for all the tricks he'd played on him in the past. So laying down in the path he played dead.
Sure enough, Fox walks up and says, "Oh my goodness, look at this! A freshly killed rabbit! Oh, that would be good for my supper! But I've got these fish. I'd better not." And he stepped around Rabbit and walked on.
When he was out of sight Rabbit jumped up, ran around, got in front of him and laid down on the other side of the path. Fox comes up and says, "Would you look at that? Two dead rabbits. This is my lucky day. But I've got all these fish. I'd better not."
And he stepped around Rabbit and walked on. Rabbit jumped up, ran to the other side and lay down across the path. Here comes Fox.
"I can't believe this! Three rabbits! I've got to get these rabbits. What can I do with my fish?"
So he takes the fish and he hides them in a hollow log and covers it all over with leaves. And he went back to get the first and second rabbit. As soon as he did, Rabbit jumps up, takes his fish, skedaddles home and has a nice fish fry for supper.