Archived News
Ghost Town sale, ride inspections still haven't happened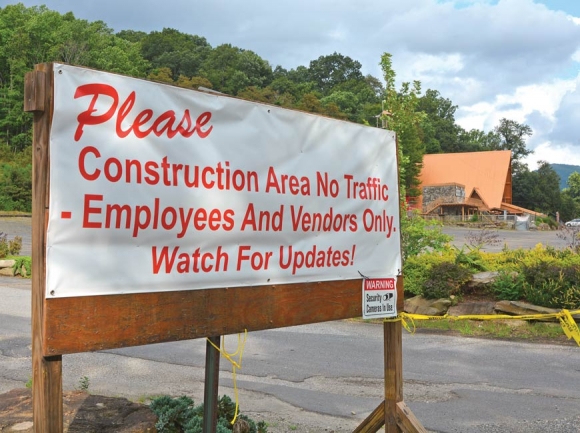 A sign warns off trespassers in the roped-off parking lot of Ghost Town amusement park. Cory Vaillancourt photo
Amid high hopes for a rejuvenated Ghost Town in the Sky amusement park, it's looking more and more like the been down this road before crowd may be on the right path.
Like previous Ghost Town operators over the past 15 years, Valerie Oberle made lots of promises at an event in Maggie Valley on July 3. As of this week, none of those promises has been fulfilled.
Oberle did not return an email seeking comment for this story on the park's status, just as she declined to be interviewed by The Smoky Mountain News for a story July 3, citing an upcoming "media event" to be held in late July. No such event took place.
She also said there would be a limited opening of the park this fall. According to one source who wasn't authorized to speak on the matter, that's not happening, either.
That assertion is backed up by the state authority charged with inspecting the park's aging rides and certifying them as being safe for operation.
"Currently no rides have been inspected nor are any rides certified to operate at Ghost Town," said Mary Katherine Revels, a public information officer with the N.C. Department of Labor, via email Aug. 16.
Inspectors from NCDOL have conducted preliminary testing on the chairlift towers, but "were told to put everything on hold until around mid-September," according to Revels.
Oberle had also announced that a "vintage memorabilia sale" — to unload some of the unsold T-shirts, mugs, glasses and other souvenirs still lying about from previous incarnations of Ghost Town — would take place in conjunction with the Maggie Valley Chamber of Commerce's "Explore Maggie Valley Event" on Aug. 11.
That didn't happen, although Chamber Executive Director Teresa Smith said that Oberle told her she'd set up a table in Ghost Town's parking lot and handed out flyers and old postcards.
And then there's the subject of the park's sale itself; on July 3, Oberle said that due to the nature of park owner Alaska Presley's holdings as well as her own investment partners, "there's been a series of closings that have occurred and we have one more milestone closing with a big investor."
As of press time, the Haywood County GIS system showed that the parcels of land upon which Ghost Town sits have yet to be transferred from the ownership of Lula LLC, a North Carolina corporation registered to Presley's Maggie Valley residence.