Archived Arts & Entertainment
You've got a way all yours: A conversation with Jim Lauderdale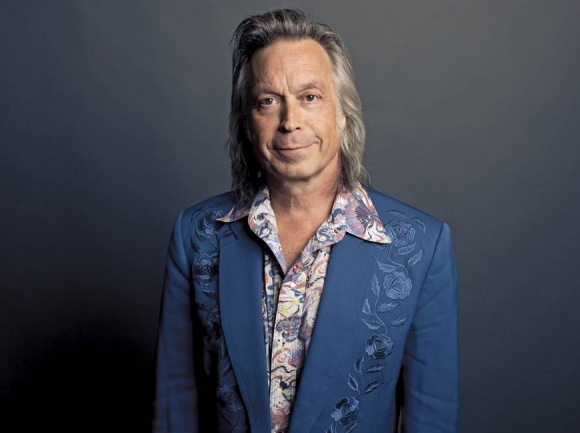 Jim Lauderdale.
Legendary troubadour Jim Lauderdale is a longtime pillar of the fiercely independent singer-songwriter scene in Nashville. He's always gone his own way, this melodic water witch, seamlessly following the ebb and flow of energy and inspiration, knowing exactly when and where to strike the ground in search of untapped creative waters.
When you talk with Lauderdale, you're partaking in a conversation that knows no bounds, no timeframe by which you can exactly pinpoint something or someone. He's as timeless in person as he is onstage, his songs spilling into the cracks of broken hearts and well-earned wrinkles.
At 61, Lauderdale, a native of North Carolina, remains a lifelong rambler, playing every corner of every stage across this country and abroad. This is what he does, was meant to do, and will always do, come hell or high water. For when you're a true troubadour, it's when the rubber hits the road and the nitty gritty rears its ugly head, that's when lightning strikes pen and paper, guitar pick and guitar.
This life ain't for everyone, and ain't nobody like Jim Lauderdale.
Smoky Mountain News: I feel like you're one of the Nashville [musicians] that was there in 1980s that still never sold out. You, Marty Stuart, Ricky Skaggs. People that blur lines.
Jim Lauderdale: I went to Nashville when I was 22 in 1979. Gosh, I was a green horn. But, I did get to hang out with Roland White. I wanted to hang out with him and George Jones. [Roland] and I did a duet record, half of it was bluegrass, the other half was without banjo, where Marty Stuart played guitar on it.
SMN: What do you see right now when you look at Nashville?
JL: Well, you just have to kind of separate the mainstream major label record stuff, which really shrank a lot for a while. Record companies consolidated like airlines do. But, you know, I think that the major label mainstream stuff will always be there. But, there's so many rootsy people that live in Nashville, too, that aren't going that way. It used to be that writers and artists would move to Nashville to chase that dream of having a major record label, but that's all changed.
SMN: What does that say about where you are right now? The fact so many folks are still trying to make it in Nashville?
JL: Well, I've just chipped away at it for so long. It's like my friend, Luther Dickinson, his father was this great producer, [the late] Jim Dickinson. I remember telling Luther, "Gosh, I thought this record maybe would have really moved the needle." Luther said, "Dad always said what you do keeps your footing there, your foot in the door. You might not have this big movement and things, but as long as you're still in there." And I remember David Grisman had a quote years ago, "As long you're able to make a living doing music, that's really all you can ask for."
SMN: How do you measure success these days?
JL: I have to go on the road more and more. For several years, I was having hit songs with major country artists. But, that all changed and my style is kind of more traditional. You know, there's just not that much of a market for what I write. I spent most of my money through the years making records. I'm glad I did, because it gave me the motivation to record. I kind of have to have that concept in my head, of doing a record and the idea of doing it, then a specific series of songs will come up. But, I don't sell a ton of records, so I have to make my living being on the road.
SMN: And yet, you've always been able to do what you liked, and you've always had respect for the history…
JL: I do have a lot of respect for the history. Well, everything keeps changing, keeps expanding. The lines are kind of blurred with those different organizations — the folk, Americana and bluegrass worlds. I think they all kind of need each other. [As a musician], you interact with so many people, see some very common things with people, then some different things. I mean, really, it's all about that interaction with people — the connection. That's really where we're at in the world. We can't isolate ourselves. If you're out there performing all the time, you can't [isolate yourself]. It's good to have that connection.
Editor's Note: You can listen to the audio stream of this entire conversation by going to YouTube and searching "Jim Lauderdale Garret K. Woodward."
Want to go?
Acclaimed troubadour Jim Lauderdale will hit the stage at the Jam In The Trees festival that will take place Aug. 24-25 at Pisgah Brewing in Black Mountain.
Other performers will include The Travelin' McCourys, Jerry Douglas, Shooter Jennings, Elizabeth Cook, Fireside Collective, and many more. Admission is $25 Friday and $50 Saturday, with a VIP pass available for $100. For more information, a full schedule of performers and/or to purchase tickets, click on www.jaminthetrees.com.
This year, Lauderdale released his latest album, "Time Flies," which can be purchased by going to www.jimlauderdale.com.