Archived Arts & Entertainment
This must be the place: Tomorrow's gonna be a brighter day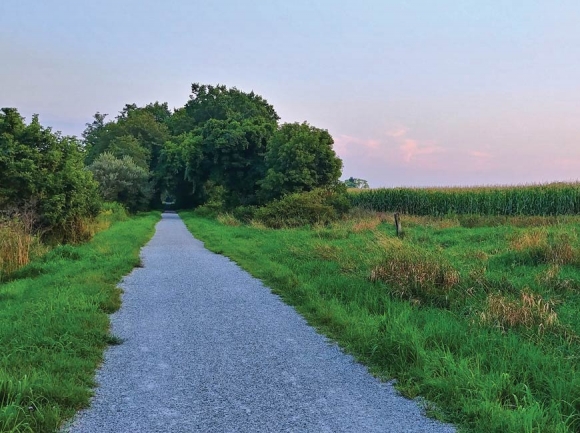 Rural New Jersey. Garret K. Woodward photo
Back to square one.
Dammit. You'd think that after existing on this earth for 33 years, and being a legal adult for the last 15, that I'd get this relationship and/or love thing correct, eh? Somewhere on I-40 West right now is my now ex-girlfriend, bolting across the Mississippi River toward the next, new chapter of her life in New Mexico.
Now I'll be the first to say that the majority of what went wrong in our time together, and probably the (multiple) last straw(s) fell to my side of the conflict. It wasn't easy, but I did hold out hope that our ship would get righted, our trajectory calibrated and corrected.
I didn't used to be so haphazard in my pursuits of the heart, or avoidance of handing my heart over to someone else's fate and possible hidden agendas, of which that could damage and destroy what little faith I had/have left in the whole process of a healthy, loving adult partnership.
My intent has always been for a positive, bountiful outcome. But, it seems — well it's been proven in method — that my intent falls well-short of the execution. I always try to fix something, but, like clockwork, usually ending up digging a bigger hole for myself. Ugh.
So, we had about a year together, give or take the year-and-a-half she was actually here, living and working in Haywood County. The whole thing was pretty unexpected, right out of the gate. She's a world traveler whose blood consists of three ingredients — wanderlust, fierce independence, and a personal quest to never make the same mistake twice.
Passing through Western North Carolina in December 2016, she was looking for a place to crash for the weekend, to see Asheville and the Great Smoky Mountains in all their respective glory. That turned into two subsequent, extensive road trips up the eastern seaboard and through the deep South, only to return back here a couple, immediately living together.
Initially, that good intent amid the impulsiveness really gave way to small-turned-big issues that seemed to more or less linger than actually get solved. Again, my stubbornness in not thinking for two, and misinterpretation of what was actually going on (and what needed to be done), led to the demise of what would otherwise — perhaps in another time and place — have been an incredibly successful relationship.
What the hell, huh? I thought I had this whole love thing down. Heck, I used to be so perceptive and receptive in a relationship, going all the way back to my high school and college days of sweethearts, Sunday drives in the countryside, and random acts of kindness (flowers, cards, forget-me-nots). I mean, I know that skill set is inside me somewhere. I use it in my work as a writer and journalist week-in-and-week-out. But, how come it only emerges in those realms, and not in the ones that are priceless, like love, which fuels the soul in ways nothing else can?
I guess I've gotten so caught up in pursuit of my ultimate aspirations and endeavors that I end up with blinders on, so to speak. I also shut down that part of my heart and soul — the side that matters most — after years of disappointing dead ends to romantic routes I thought I'd be traveling on for a long time, only to be abruptly dropped off in the middle-of-nowhere as the train of secured commitment sped off once again into the distance, leaving me behind.
When asked about the breakup recently by a friend, I told them that I looked at what I had, and had to offer another, as these two piles of pebbles. One side is the plentiful love pile, the other a pile of a few pebbles placed for my eventual hopes and dreams. As I got older, and breakups occurred along the road of life, I would take a few pebbles out of the love pile each time, placing them over in the hopes and dreams pile. Where now, as an adult, the hopes and dreams pile far outweighs what's left over in the love pile. Make sense? Who knows? I'm just trying to keep my head above water like all of you out there.
This week, I returned from a long road trip. Over 2,500 miles. Twelve states in 13 days. Solo trek. The objective was to see several dearly missed friends and family members up North. But, mostly, it was about simply leaving town and rolling along endless pavement, where I feel most at home, lost in my thoughts, trying to find conclusions to the things that kept me awake at night these past few months, things like the what could have been done differently, and if I'm actually capable — deserving — of a lifelong companion.
I'm an optimist, so I hold out hope. I'm not banking on anything, never have. But, I do find that I have shed some emotional skin on this recent trek, skin that was tough — tough to read, tough to love. That honed antenna attached to my heart and soul, which has been used for writing and wandering for so long, is now once again receiving signals from the depths of the cosmos that deals with matters of the heart.
Life is beautiful, grasp for it, y'all.
Hot picks
1 Asheville-based bluegrass sensation Town Mountain will make its debut appearance at 8 p.m. Sunday, Aug. 19, at the Cataloochee Ranch in Maggie Valley.
2 "An Appalachian Evening" will continue with Unspoken Tradition at 7:30 p.m. Saturday, Aug. 18, at the Stecoah Valley Center in Robbinsville.
3 Joe Newberry will host his "Birthday Bash" at 7 p.m. Thursday, Aug. 16, at Isis Music Hall in West Asheville. Indie-rockers The Mobros with opener Armadilla will follow at 8:30 p.m.
4 There will be a celebration for the Appalachian Women's Museum with "Art in Monteith Park," a day long arts and crafts festival, that will be held on Saturday, Aug. 18, in Dillsboro.
5 The 14th Annual Franklin Area Folk Festival, "A Celebration of Appalachian Heritage," will be held from 10 a.m. to 4 p.m. Saturday, Aug. 18, at Cowee School Arts & Heritage Center.