Archived Outdoors
Counting the bears: UTK conducts largest-ever black bear survey
Wednesday, August 08, 2018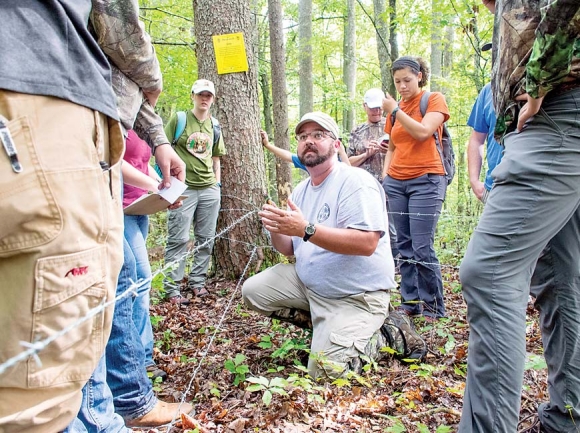 Study field manager Sam Millman talks to a group of students at a trap site. Kristy Keel-Blackman photo
Barbed wire and hundreds of pounds of donuts are the key ingredients in a University of Tennessee Knoxville effort to complete the largest-scale black bear population study ever attempted.
The 16 million-acre study area covers portions of Tennessee, Georgia and South Carolina, but by far the biggest chunk — about 8 million acres — includes portions of 24 WNC counties. Researchers collected data from the other three states last year but are spending the second and last year of the study focused solely on counting bears in North Carolina.
"North Carolina has so much habitat that that one state requires as much effort as the other three states put together," said Joe Clark, Ph.D., the project's lead researcher and a research ecologist with the U.S. Geological Survey, as well as an adjunct professor at UT.
The goal of the study, which is funded by wildlife management agencies in each of the four states, is to come up with the first-ever, region-wide estimate of black bear populations, something that Clark has been working toward for years.
"The bear population in the whole Southern Appalachian Highlands all the way from Virginia, West Virginia, south through North Georgia has been recovering since a low level from 1900 to about 1930," Clark explained. "The Great Smoky Mountains (National Park) was established in the '30s, and as a result of that and the creation of the (U.S.) Forest Service the habitat base became more stable, and the population has been recovering since that time to now and the point that it is fully recovered and overabundant maybe in some places."
Donuts and DNA
Knowing how many bears are where is important information for wildlife and land managers, who need to establish sustainable hunting rules and set regulations to reduce human-bear conflict on public lands. But until very recently, getting a solid estimate — especially across such a large area — has been difficult to impossible to achieve.
"There's never been a really reliable population estimate for the region, and the reasons are many," Clark said. "First of all bears are difficult to count. They're a secretive species. They're fairly uncommon. They're smart. They try to avoid humans."
The advent of DNA testing, however, has helped to solve that problem.
In Clark's study, counting the bears doesn't actually require laying eyes on one. Instead, the researchers set up "traps" — two lines of barbed wire, one at shin height and one at thigh height, wrapped in a circle around three to five trees. A bag of donuts is suspended in the center of the ring, as well as a longer-range scent attractant designed to reach any bears close enough that the trap would fall within their home range.
The idea is that the bear scrambles through the barbed wire, enjoys a donut snack, and leaves behind tufts of its hair, which can then be sent off for testing to determine the bear's sex and individual identity.
"Their hides are so very thick that it really doesn't do them any damage," project lead Jake Humm said of the barbed wire. "I've had cubs do pull-ups on barbed wire. I've had bears scratch themselves on it, on purpose."
There's a longstanding technique in wildlife science known as mark-recapture. In this study design, researchers capture a certain number of individual animals, mark them in some way — with an ear tag or leg band, for example — and then release them back into the wild. The researcher then returns, captures the same number of individuals from the area and notes how many of those are part of the marked population. The proportion of marked individuals in that second group of captured animals can be used to estimate the size of the entire local population.
A trail camera captures a bear reaching for a donut at a snare site. Donated photo
The combination of barbed wire traps and DNA testing is allowing the researchers to do basically the same thing, except without having to actually capture and tranquilize any live animals. DNA testing will reveal whether a sample is from a new bear or a bear that's already visited a trap, allowing the team to estimate population sizes.
Advances in mapping software are also responsible for making the study possible. Researchers can record not only when each animal was "captured" but also exactly where it was captured, allowing them to estimate population density in local areas rather than just in the 16 million-acre study area as a whole.
"We can use these data to create a capture history for each individual, how often they've been captured at each snare, the location of each capture, in order to get an estimate of capture probability and to create an estimate of each animal's activity center, or where they're likely to be on the landscape in any given time," Humm said.
Grand-scale science
Even with all the technology in the world, data collection is a labor-intensive process. This field season, the team has 350 snares set up across 24 counties. Snares are placed in a grid system of clusters, composed of nine 2-kilometer-by-2-kilometer squares. Five of those squares have snares in them — that gives the team leeway in case one square is in the middle of a city, for instance, or somewhere so inaccessible it couldn't be checked according to schedule — and then there's a 16-kilometer gap until the next cluster begins. The pattern repeats throughout the 16 million-acre study area.
Each snare has to be built, installed, checked weekly for six weeks, and torn down. Researchers also have to get permission from individual landowners when the study design calls for traps to be placed on private land. That's been an especially important task during the North Carolina portion of the study, which had about 60 percent of its snares on private land and 40 percent on public land. Last year, those proportions were reversed, said the study's field manager Sam Millman.
"Just this field season I believe we had somewhere in the range of 200 different private landowners for which we had to gain permission," Humm added. "Without the contributions of both public and private entities, we wouldn't be able to conduct research on such a grand scale."
With its four-state coverage area, the study's certainly a big one, but Clark said it made sense to cover all that ground. The area in question is basically one big, connected tract of bear habitat, with animals moving across state lines with regularity. Doing the whole area together gives a more complete picture of the entire bear population, and while it's still not cheap — North Carolina paid about $430,000 to fund its portion of the study — per state it works out to be a lot less expensive than if researchers had gone state-by-state instead. The cost is especially low compared to what it would have been within the recent developments in mapping and DNA testing.
A growing population
Even though the study is coming into the end of its final year, researchers don't have any actual data yet. They'll ship hair samples from both years of data all together, when the second field season ends this month. Test results are expected to come back in the middle of 2019.
While Clark doesn't have any specific guesses for what the population results might be, he thinks the density results will be higher than what's been found in earlier, though smaller-scale, studies.
"In the Smokies, for example, I expect the bear densities to be the highest, and that's probably going to be around a bear per square kilometer, which is really high," Clark said. "But as you get out away from the Smokies I expect the densities will go down to some extent. To what extent I don't know."
North Carolina's current best guess at black bear populations comes from data submitted by bear hunters. After taking a bear, hunters are asked to send in a tooth from the animal they harvested, which the Wildlife Commission can use to determine the animal's age and sex. That data is used to extrapolate the number and age structure of bears in the region.
The latest estimate, using 2012 data, is that 4,850 bears live in the 25 western counties. However, this number is far from perfect, as the estimation method has some serious drawbacks. It can be influenced by trends in hunter success and hunting popularity, and by the likelihood of hunters to send in samples from older bears versus younger ones.
"Anecdotal evidence indicates the sampled harvest is biased towards older bears, because hunters are less interested in receiving age results from younger bears," reads a 2015 report from the N.C. Wildlife Resources Commission.
The Wildlife Commission estimate also doesn't include bear populations in locations where hunting isn't allowed. Perhaps the largest such area is the Great Smoky Mountains National Park, which includes more than 400 square miles in North Carolina. In the early 1970s, the park had estimated about 600 bears living within its boundaries, but populations grew substantially during the early-to-late 1990s, with the estimate growing to 1,600 bears in recent years.
By this time next year, wildlife managers in all four states will know a lot more about how many bears are where within their jurisdictions. And that boost in understanding will pave the way for a whole host of decisions aimed at allowing people and bears to live together more peacefully.
As Millman can attest, that's important, for both species. Two years trekking through bear country have been plenty to show the Delaware native the complexity, strength and beauty of this creature that shares the mountains with us.
"In the beginning I wasn't interested in them. It was just a job, but at the end of this I'm completely amazed," Millman said. "There's so much to them. They're not just the big frumpy bear we see digging in the trash can."