Archived Mountain Voices
Cherokee thought buzzards possessed powers
Wednesday, August 08, 2018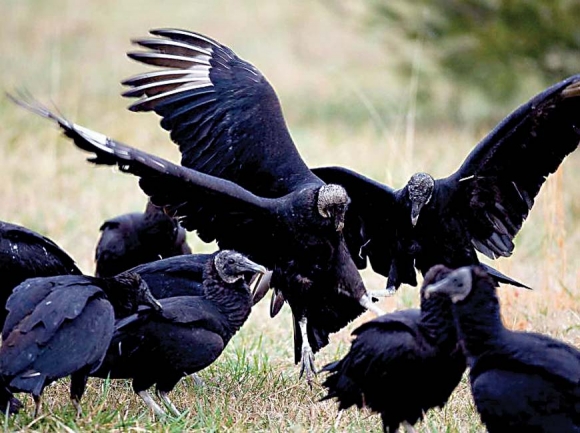 The recent heavy rains here in the Smokies region have been a blessing, especially to those of us who like to observe vultures up close and personal. That's because the big birds have to remain in their roost trees well into late morning in order to dry out before they can take flight. In my opinion, there's no prettier sight in the world than a bare tree full of buzzards.
There's just such a tree alongside the road on the north side of the Tuckaseigee River where it empties into Lake Fontana just west of Bryson City. The other morning I pulled over my truck, focused my binoculars, and watched 20 or so black vultures perched in the bare limbs of a dead sycamore. Their wings were outstretched so as to dry them more readily. In the swirling mist rising from the river, it looked like one of the Armageddon scenes out of a "Road Warrior" movie.
Then the birds began one after another to flap their wings and arose slowly into the air above the river. From there, they glided to a ridge and picked up an updraft that swirled them upward. At one point before they disappeared, all 20 or so birds were spiraling in unison. Ornithologists call flocks of circling buzzards "kettles," and the act of flying in this manner is known as "kettling."
One evening about 15 years ago, Elizabeth and I were treated to a sight that we don't ever expect to see again. I was in the yard outside our home and happened to look up toward the ridge on the western side of our property that borders the Great Smoky Mountains National Park. I saw perhaps 75 vultures kettling above the ridge. Once they reached the desired elevation, they sailed away on a beeline into the park.
As this was the largest "kettle" of vultures I'd ever seen, I called for Elizabeth to come out and see them as well. I'm glad she was there as a witness to what happened next, since I don't think I'd have trusted my eyes alone. Wave after wave of vultures — soaring on wings spanning six feet — appeared over our cove in a steady stream for the next five minutes or so, gliding at elevations of from 200 to 400 yards. In loose groups, they appeared on the ridge bounding the eastern side of the cove, passed over our heads, and caught the updraft on the western rim at precisely the same spot as the first group I'd noticed.
"With them flying is a luxury, a fine art; not

merely a quicker and safer means of transit from one point to another, but a gift so free and spontaneous that work becomes leisure and movement rest. They are not so much going somewhere, from this perch to that, as they are abandoning themselves to the mere pleasure of

riding upon the air …. It is beneath such grace and high-bred leisure that Nature hides in her creatures the occupation of scavenger and carrion-eater!"

— John Burroughs, Winter Sunlight (1885)
I don't know how many vultures had passed over the cove before I became aware of their presence, and I have no clear notion of how many vultures Elizabeth and I observed. But after the parade was over, I turned to her and said, "There must have been a thousand vultures in that flock." She didn't disagree.
Almost all of the birds Elizabeth and I observed were turkey vultures, but there were at least 10 black vultures as well. Turkey vultures are by far the most common species here in Western North Carolina. They're easy to tell apart since the turkey vulture has a longish tail, a silver lining that extends from the tip of its wing along the rear of the wing to its body, and a head with reddish skin. The black vulture has a shorter tail, silver splotches near the tips of its wings, and a head with grayish skin. Both species locate the dead animals or carrion they feed upon by both sight and smell.
The Cherokees were the first ornithologists here in the Smokies region. They paid close attention to all of the birds and worked them into their dances and stories. There's no way to know for sure that they made a distinction between the two species, but I'd bet that they did.
They gave the big birds the general name of "suli." They felt that it played a role in shaping the earth at the time of creation, being responsible for the numerous mountains present in their homeland. This was because the great ancestral buzzard had agreed to fly over the earth and dry the mud with its flapping wings. But when he finally got into the Smokies region he was so tired that his flailing wings touched down, creating valleys. And as he wearily uplifted his wings, he created the mountains. So much for plate tectonics.
The Cherokees knew that the buzzard was formerly a handsome bird with a topknot that ate only freshly killed meat. In one of their stories, the other animals punished the buzzard for its overbearing pride by tricking it into losing the feathers on its head so that it was shamed into eating carrion. In other stories, the bird lost its head feathers in a futile attempt to obtain the first fire.
Because of its habit of eating carrion and its supposed immunity from diseases, the Cherokees thought that buzzards possessed power over contagious diseases and regarded it as the doctor among birds. Buzzard feathers were placed over doorways in many homes as charms. During epidemics entire carcasses were hung up as preventive measures, and, at times, its blood was drunk as preventive measure.
(George Ellison is a naturalist and writer. He can be reached at This email address is being protected from spambots. You need JavaScript enabled to view it..)