Archived Opinion
In this case, the choice is obvious
Wednesday, August 08, 2018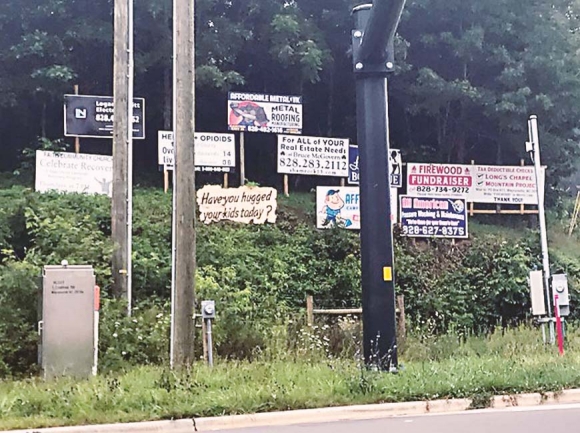 To make a donation to Richard Reeves' firewood for the needy ministry or for Alzheimer's research, send checks to PO Box 611, Waynesville, NC, 28786.
"Take the high road."
It's a simple code for life, but one too few take to heart and even fewer have the courage and fortitude to embrace. It's much easier to go low, to lash out against critics or take unethical measures in order to come out on top.
Those who know Richard Reeves aren't surprised he made just this point as controversy swirled around the cluster of small signs he has erected on the remaining half acre of family land he owns — and pays taxes on — at the corner of Old Asheville Highway and Liner Cover Road near Lowes in Waynesville.
People expected that kind of reaction because Richard has spent the better part of his life doing the kind of work that flies under the radar but makes Haywood County a better place to live. His professional career was as a teacher and principal.
One sign on the lot in question reads "Have you hugged your kids today?" That one went up in 1985 when Richard was a young father and a young teacher.
"I just wanted people to remember to hug their kids and teachers to hug their kids if that's what it took. I was just trying to remind them," he said of the first sign to grace the lot.
Others signs followed, one for his charitable work chopping wood to keep the needy warm in winter. A few were paid business signs, but one of those was put up and the payments sent straight to the Alzheimer's Association while the little cash he got from others was a college fund for his grandkids. Another, at the request of the sheriff, reminded people of the opioid scourge that is ravaging the region.
John Curtis started complaining about the signs on Richard's property and finally got a ruling from the Department of Transportation that they were illegal. Curtis, according to The Mountaineer, has lived here five years and has made eliminating visual pollution his personal calling.
I'm not here to argue about the aesthetics of the signs on Richard's property or whether they are a distraction that some might deem unsafe. I am here to say that Curtis kicked a hornet's nest — or maybe it's better to say he stumbled into one — when his attempt to get Richard's signs removed hit the media (print, television and social).
Supporters of Reeves and haters of Curtis rose up like the image of the parting of the Red Sea, each on a side, Curtis in the middle with a mountain of ill will crashing down upon him. That's supporters of Richard and his indomitable charitable spirit on one side and on the other haters of transplants recently arrived who try to tell locals what's best for them.
That vitriol directed at Curtis from the haters, though, didn't sit well with Richard. He told me Tuesday morning that people need to remember the "do unto others" creed we've all been taught at some point in our lives. He said people from other states — yes, including Florida — have been some of the largest contributors to his firewood ministry and to the Alzheimer's golf tournament he helps coordinate each year. Four of the five volunteers who show up at the woodpile each day split, load and deliver firewood are from places other than Haywood County.
Reeves calls me back and cautions against anyone trying to outfit him with angel wings.
"I don't want to come off like that, like some goody two shoes. I've made plenty, plenty of mistakes in my own life. But I've tried to learn from'em," Richard said.
Curtis, as Richard points out, isn't the issue here. In his own way, he's trying to do the right thing, trying to improve the appearance of the community he's chosen to call home, trying to improve its façade. Richard, meanwhile, is just a genuinely great guy, someone who admits to his faults and diligently works without fanfare on several charitable fronts to help individuals, work that is part of the foundation of the Haywood County community.
That, really, is this story in a nutshell, and it's one people already know. What's more important, the foundation or the facade, the book or its cover, what's on the inside or what's on the outside? Enough said.
Carry on, Richard.
(Scott McLeod can be reached at This email address is being protected from spambots. You need JavaScript enabled to view it.)