Archived Arts & Entertainment
This must be the place: Pebbles and marbles like things on my mind
Wednesday, August 08, 2018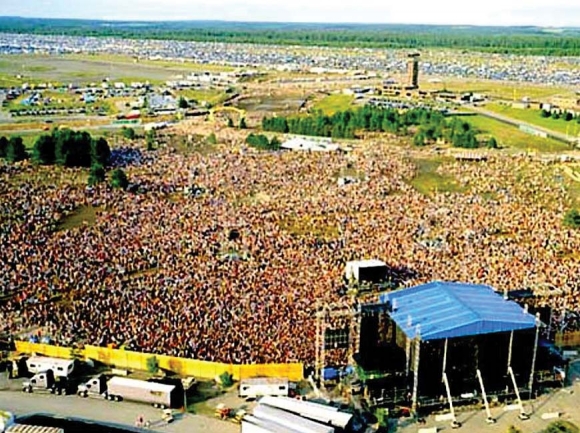 Phish's "IT Festival." Garret K. Woodward photo
Well, 15 years ago this past weekend, I spontaneously bolted from Upstate New York straight to northern Maine to attend Phish's "IT Festival."
A lifelong fan of the beloved jam-rock act, who was raised in the Champlain Valley of New York and Vermont (home base of the band), it was my first time seeing them in all their melodic glory. I was 18 years old that summer of 2003. Just graduated high school, spending the summer working front desk and maintenance at my aunt and uncle's motel in downtown Lake Placid, New York.
And my best friend and I had planned all summer to go to the show. Everyone we knew was going. It was the event of the season. The week leading up to the show, it looked bleak on myself being in attendance. My aunt and uncle were heading out of town and I was in charge of the motel all weekend, the same weekend of the festival. My best friend called and abruptly hung up on me when I said I couldn't go.
I ended up working all day that Saturday, "Day One" of the festival, constantly thinking about how bummed I was to be missing out. But, miraculously, my aunt and uncle came back early Saturday afternoon and said I could have the rest of the weekend off.
Thus, I went down the mountain and back to my hometown of Rouses Point, New York, right on the Canadian border, to hang with whoever of my friends were still in town that didn't go to the show. All that was left was my best friend and another friend.
The three of us got a case a beer and headed for a deserted parking area way out in the backwoods. Drank some beers. Had a bonfire. Blasted our stereo. Around 1 a.m. Sunday morning I turned to my best friend and said, "You know, if we left right now, we could make the Sunday show." He turned to me immediately and said, "I'm calling your bullshit." I shrugged and started up the car. "Get in," I said.
Sneaking back into my parent's house around 2 a.m. I grabbed three things: my ATM card, my hiking boots and my Phish flag that hung proudly in my childhood bedroom. I already had a full tank of gas, so we just simply took off. The drive was about 12 hours, give or take.
Crossed the Vermont state line quickly, New Hampshire a few hours after that. By the time my best friend and I hit Bangor, Maine, it was morning. He awoke as I was rolling through a McDonald's drive-thru. "Where the hell are we?" he said (he had passed out somewhere in Vermont). "We're in Bangor, Maine," I responded. "What the hell are we doing in Maine?" "We're heading to the Phish show." "Oh, yes. Oh, god, yes," he shouted.
From Bangor to Presque Isle (where the festival was), the northern woods of Maine opened up. Complete desolation. It's surreal how remote that area is. We eventually picked up a hitchhiker who looked old enough to buy us beer. He was, and he did.
Pulling up to the festival grounds, which was a decommissioned Air Force base, we parked outside the enormous venue. Did I mention that we didn't have tickets? We just left New York without a care in the world. Said goodbye to the hitchhiker and then prepared to figure out how we'd get into the festival. It was just then my best friend lit a joint as a bread truck passed by.
The bread truck stopped right in front of us. A head popped out. The head goes, "Hey man, you got anymore weed on yah? I just ran out. Need some nug." I knew my friend has some extra nugs in his stash. I looked the bread truck dude right in the face and go, "Tell yah what. We don't have tickets. If you sneak us in, in this bread truck, we'll give you some nug." He said OK.
Opening the back of the truck, it was filled with thousands of hot dog buns. My best friend and I slid underneath a few crates and remained quiet as we rolled through security. Success. We were in.
We shook hands goodbye with the bread truck dude and strolled into the festival camping area. Ran into all our high school buddies, swapping stories about all our wild adventures in getting to the festival, the promise land for us Phish Phreaks. That show, that festival and weekend, that band and those friends around me, nothing was the same after that experience. That was the line in the sand of my adolescence and impending adulthood.
In two weeks following that show, I was to leave my hometown of 18 years, leave my native New York, and head for college 300 miles away, from all that was familiar and safe to me, in Connecticut. I remember standing there in the mud at the festival, watching Phish illuminate the hearts, minds and souls of thousands in attendance.
I remember the insane glow stick war during the song "Pebbles and Marbles," absolute musical chaos and euphoria, and thinking about all I was leaving behind at home in pursuit of whatever the heck it was I was supposed to the do with my life.
I think of that weekend in August 2003 often. I still listen to that band and adore the music. I miss all those people, too, who were, and in many respects remain, the foundation of my existence.
Life is beautiful, grasp for it, y'all.
Hot picks
1 The Mountain High BBQ Festival & Car Show will be held from 11 a.m. to 9 p.m. Aug. 10 and 10 a.m. to 5 p.m. Aug. 11 at the Wayne Proffitt Agricultural Center in Franklin.
2 The Water'n Hole Bar & Grill (Waynesville) will host Viva AsheVegas Burlesque at 9:30 p.m. Saturday, Aug. 11.
3 "An Appalachian Evening" will continue with bluegrass act Volume Five at 7:30 p.m. Saturday, Aug. 11, at the Stecoah Valley Center in Robbinsville.
4 Actress Barbara Bates Smith and musician Jeff Sebens will present "Go, Granny D!" at 7:30 p.m. Thursday, Aug. 16, at The Colonial Theater in Canton.
5 The Swon Brothers will hit the stage at 7:30 p.m. Saturday, Aug. 11, at the Smoky Mountain Center for the Performing Arts in Franklin.