Archived Arts & Entertainment
Nantahala Brewing to open Asheville outpost
Wednesday, August 08, 2018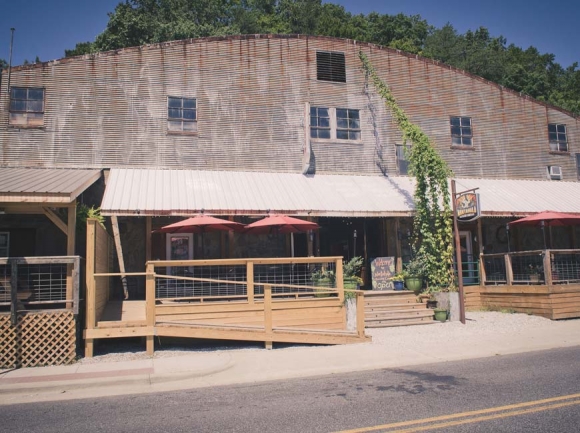 Nantahala Brewing in Bryson City.
Following the announcement of its upcoming Sylva outpost, aimed at a fall opening, Bryson City-based Nantahala Brewing will launch an Asheville location by the end of this month.
Located at 747 Haywood Road in West Asheville, the two-story outpost was formerly The Anchor Bar (and Buffalo Nickel before that). It will feature a downstairs restaurant that will offer a farm-to-table "cosmopolitan country" style menu. The upstairs taproom will also be poised to become a music venue, primarily focusing on bluegrass and Americana acts. On opening day, there will be 20 Nantahala brews on tap.
The Smoky Mountain News recently caught up with Nantahala Brewing owner Joe Rowland, who's also currently the vice president of the Asheville Brewers Alliance.
Smoky Mountain News: Why Asheville? Why now? What triggered this move?
Joe Rowland: When we opened back in 2009, Asheville was mainly known as the sister city to Charleston, South Carolina, and home of the Biltmore Estate. Sort of the mountain version of the town we still call our second home. Not long after, other like minded folks started opening breweries along side Asheville Brewing, Green Man and, of course, Highland Brewing. If we didn't have such a strong connection to Bryson City, we would have been among them. We considered opening our taproom in Asheville before we opened our main taproom and music venue in Bryson City, but at the time we decided to focus all of our efforts in our small town before expanding beyond Bryson.
After we began self distributing in 2010, Asheville became the place we sold the majority of our beer in the five-month off-season, now a three-month off-season in large part due to the Polar Express Train excursion. Over the next few years, as our brewery grew we slowly changed the craft landscape in our neck of the woods and the majority of our beer was consumed within 45 miles of Bryson City, but we continued to see support from retailers in Asheville.
Over the last three years, we grew to become a small production brewery with distribution in North Carolina, Tennessee and Georgia, but the majority of our business is still focused on the retail sales at our two locations in Bryson. Today, we've refocused on our local roots and the places that have supported our brewery since we opened. It's a trend that started out west long before Asheville became "Beer City" and is a direct result of the growth of our industry in Western North Carolina.
Our recent retail expansion to Sylva and this expansion into Asheville are a direct result of refocusing on what got us to where we are today. Also, with the proliferation of craft breweries over the last five years, retail space has been greatly reduced which has made It difficult for all craft brewers to find space for seasonal and speciality brands, a space that we've been in since we opened. Those changes have limited our most popular brands to in-house only brands. We see our outposts as a way to share the more than 75 different brews we produce with a larger audience who already supports our limited distributed offerings.
SMN: A handful of prominent breweries in our area are now launching second locations. Why is this trend emerging? And what does that say about where we're at in the evolution of the craft beer industry?
JR: It's natural to focus on retail when the distribution market condenses, but it's also an important path to increased distribution sales. The more craft drinkers who can connect directly with your brand, the greater connection they will have with your brand across all distribution points. For us, we're lucky to live and brew independent craft beer in one of the last untouched wilderness areas in the eastern United States. Our small town of 1,500 residents (Bryson City) is a true small Appalachian mountain town and sees our share of the over 10 million annual visitors who visit the national park each year and that's driven our growth.
However, it's a very seasonal market and that's a huge challenge when running a manufacturing business. Our distribution expansion has helped address part of that challenge, but making direct connections to our customers in a retail environment we own is the smart choice for the long haul.
SMN: With Asheville opening and the Sylva outpost opening soon, where to from here?
JR: Beyond our direct North Carolina local market, we've seen huge distribution success in East Tennessee and North Georgia. After we get our N.C. Outposts flowing along, we'll look to those areas to put down roots and continue to bring all of our brews to those areas and support our distribution partners in those markets.
Editor's Note: There will be a full feature on the recent changes in the Western North Carolina craft beer industry in an upcoming issue of The Smoky Mountain News.