Archived News
Catch him if you can: David Joy releases highly-anticipated third novel
Wednesday, August 08, 2018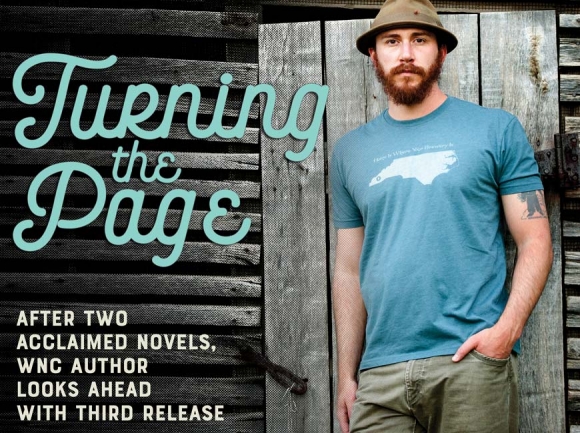 If you didn't know him, you wouldn't even notice him.
Sitting by himself at the counter of the Innovation Station in Dillsboro one recent sunny afternoon, David Joy sips on a heady craft brew, the blonde ale to be specific (his favorite). The sparkling new second location for Innovation Brewing (based out of nearby Sylva), Joy is fiercely loyal to the indepently-owned/operated company, a loyalty akin to the hardscrabble characters of his wildy fascinating and acclaimed novels.
With his glass almost empty, the bartender behind the counter notices before Joy can even raise a finger. "Another David?" she smiles. He nods his head quietly and reciprocates the smile.
Joy is adorned in his trademark camouflage hunting baseball cap, musty old T-shirt, dirty jeans and work boots so big and heavy looking, one wonders if Joy bought them simply just to stay grounded in Jackson County, purposely unable to run over the ridge and far away, even if he tried.
Joy moseys from the counter to a table on the station's patio. Just as he's about to speak, a piercing train whistle reverberates through the small downtown. It's the Great Smoky Mountains Railroad, making another trek from Bryson City to Dillsboro. A never-ending stream of tourists from above/below the Mason-Dixon Line and points west flow out of the train cars toward the Appalachian craft shops, barbecue restaurant and the Innovation Station, only to hop back on the train an hour later and make it back to Bryson City just in time for dinner.
"Is this where the beer tasting is?" a confused tourist slowly creeping onto the patio asks Joy, the only patron within earshot. "Yes sir," Joy replies, pointing toward the taproom.
The tourist had come in search of Appalachian culture, art and culinary delights, something the rest of the country is seemingly more in demand of nowadays, only to not even realize he was just talking to the man that's rapidly becoming the face of Southern Appalachia, at least as far as literary circles are concerned.
At 34, Joy is author of the newly-minted The Line That Held Us, another dark, rollicking journey down the rabbit hole of what happens when your back is against the wall and your only option is to fight to stay alive. The highly-anticipated third offering by Joy follows suit in his ongoing Appalachian noir works (released by G.P. Putnam's Sons), which also includes Where All Light Tends to Go (2015) and The Weight of This World (2017).
The stories are as twisted as a third-generation thicket lining the dirt roads of rural Western North Carolina, characters resembling folks you might cross paths with at the local watering hole, coffee shop or in the midst of a drug deal gone bad, a wide-open spectrum of personalities and conflicts that would be too-crazy-to-be-true if it weren't — sadly — a daily reality for many not only in Southern Appalachia, but also America, in general.
And with recent touted essays in the New York Times Magazine ("At The Crossroads"), Time itself ("Hunting Camp") and The Bitter Southerner ("Digging In The Trash"), the spotlight is becoming increasingly hot and pointed at Joy, someone that if you didn't know him, you wouldn't even notice him.
That anonymity is something Joy holds close to his heart, and yet more and more folks want a piece of that beating muscle in his chest, if only to examine that piece under a microscope to see just what makes it tick, a rhythm of physical and emotional turmoil which could provide the answers to questions we all currently have running through our heads in Southern Appalachia — about our past, present, and uncertain future.
Smoky Mountain News: Where are you right now in your career? I know this is the third book, but in terms of what you want to accomplish with this as a life, where are you?
David Joy: Well, me and a friend were talking about it last night. She was thinking about publishing as like a mountain. And she said a lot of people catch a helicopter and they're able to fly right to the top, real fast. She said for her she felt more like a tank just kind of trudging up this side of the mountain. I told her, for me, it's not the same metaphor. I look at it like a mesa. I got somewhere and I'm hoping it's flat until I die. I've reached a very sustainable place in publishing, I think. The third book is coming out. I've got two books under contract. And I imagine when I finished those books, I'll sell them two more.
SMN: With the creative side of things, whether you're a musician or a writer, there tends to be, subconsciously, a point when you compare yourself to other people, maybe your heroes. Do you do that at all?
DJ: I think the people I admire most weren't hugely successful as far as sales. Donald Ray Pollock is tremendously underread in this country. Larry Brown, tremendously underread. He was never a New York Times bestseller. William Gay. All those people I looked up to for so long, never had commercial success. For me, each book I'm trying to do something bigger. This book I'm working on feels a lot bigger than the others. I think it's growth. With the writers I really admire, the scope expands. I think that's the sign of an artist, in any genre, is that the scope tends to get bigger.
SMN: Three books in four years. Do you look at that [pace] as normal or is there a sense of urgency that the iron is hot?
DJ: I think my normal, natural output wouldn't be much slower than that. I think naturally I'd write a book every two years, where now I'm writing one about every year and a half. In publishing, if you can maintain a book a year, it's a lot easier to stay relevant. Ace Atkins is a perfect example. His books are great. Right about the time one starts to fade you've got something else. It's a lot easier to remain relevant versus if you have one big book and wait around six years.
SMN: What's your discipline? Are you waiting for things to happen or are you mining everyday?
DJ: A lot of times, for me, there's a whole lot of time spent waiting. I don't write everyday. Never have, never will. It just doesn't happen like that for me. But, when I'm sitting there, I'm not doing nothing. I'm reading. I'm thinking. A lot of those stories develop over that time.
SMN: You're mulling it over, like when you're fishing...
DJ: Yeah, exactly, or walk around the farm or driving or in the shower. If I sit down at a computer and try to force something, it's never going to come. If I hop in the truck and drive, I'll pull over to the side of the road and write shit down.
SMN: You've always been a private person, something you take to heart. How is that changing or is it changing? Because there are more people that want more things from you...
DJ: It's still that same balance. I'm an incredibly introverted person. And so that aversion to people isn't so much that I dislike people or that I don't like the company of people, it's that it literally drains me. So, that silent time is where I get my energy. Last week, for instance, Time magazine asked me to write something. I had three days to write an essay. And I already had an essay on my plate, already had two interviews that I was trying to answer, and I was trying to write a novel.
SMN: There's an irony to that. Everyone wants to ask you about your writing, but they're taking up all your time to write.
DJ: Yeah. I think that's true for most writers. Most writers are introverts, most writers would much rather be at home than sitting on a stage talking to people.
SMN: What's going on with Netflix?
DJ: Well, I was talking to a production company, and nothing came of it. And that's the thing, those types of conversations happen every single day. And you get news every single day.
SMN: If it happens, it happens. If it doesn't, it doesn't...
DJ: Exactly. And there's nothing you can do about that. And that's the different mountain. So, once you're at a level, that's largely out of your control. Whether or not a book gets turned into a movie, you can't control that. The first book, you know, we were moments away. Sign the dotted line. I had the contract there, and the money [was] pulled. It was big name people.
SMN: I get the vibe from you that no matter what happens, if all of it stopped tomorrow, you'd still go fishing, still write and still come to Innovation and get a beer...
DJ: Yeah, and I might even be serving the beer. If it all dried up, I can call [Nicole] Dexter (co-owner of Innovation Brewing) up and Dexter would put me to work. And I don't care. That's the other thing. I'll continue to write the books. I don't foresee a moment where I can't sell the books, though, to be honest with you. I really don't. There's two under contract now, and when those two are signed off on, I'll pretty much bet I can sell the next two on spec.
SMN: What has surprised you the most about all of this?
DJ: I think how hit or miss the [publishing] industry is. And how largely it's completely out of your control. That last book, truthfully, didn't do that well, especially compared to the first. Big books come out every Tuesday. I mean, dozens and dozens of big books. And, for the most part, they're all very good books. The ones that take off and the ones that don't is a fluke. The one thing I recognize, is that the only thing I can control is the work. Every book I get a few more readers. And really that's it. I just write the stories. The rest of it is out of my control.
SMN: You look at your characters as a way to educate the rest of America about people either forgotten or dismissed. [In your work], you're bringing life to a segment of the population or a regional population that gets dehumanized.
DJ: Yeah, and I think I do that same thing with the essays. I don't write a whole lot of essays, but when I do, it's because I feel like I can provide a voice for the voiceless. With the "Digging In The Trash" piece for The Bitter Southerner, it was the fact that working class, rural, poverty stricken people are shit on time and time again, and dismissed as trailer trash. They don't have a voice. Well, I can say something about that. Or with that gun essay in the New York Times, it was the fact that sensible gun owners were not being heard from, the only people you were hearing from was the extreme right and the extreme left. Largely, for me, with everything I do, it's trying to provide a voice when I feel there's silence. I want a reader to fall in love with the person they thought they hate.
SMN: Well, isn't the point of art to create dialogue?
DJ: Yeah. I think it's to provide some sort of insight during a moment of dissonance. It's to be a voice of reason when common sense and sensibility is being shattered in every direction. And that's always been the role of the artist, and that will never change. I have a hard time, you know, imagining any true artist who is able to remain silent during times like this.
The works of David Joy
The Line That Held Us (2018)
When Darl Moody went hunting after a monster buck he's chased for years, he never expected he'd accidentally shoot a man digging ginseng. Worse yet, he's killed a Brewer, a family notorious for vengeance and violence. With nowhere to turn, Darl calls on the help of the only man he knows will answer, his best friend, Calvin Hooper. But when Dwayne Brewer comes looking for his missing brother and stumbles onto a blood trail leading straight back to Darl and Calvin, a nightmare of revenge rips apart their world. The Line That Held Us is a tale balanced between destruction and redemption where the only hope is to hold on tight. What will you do for the people who mean the most, and what will you grasp to when all that you have is gone? The only certainty in a place so shredded is that no one will get away unscathed.
The Weight of This World (2017)
A combat veteran returned from war, Thad Broom can't leave the hardened world of Afghanistan behind, nor can he forgive himself for what he saw there. His mother, April, is haunted by her own demons, a secret trauma she has carried for years. Between them is Aiden McCall, loyal to both but unable to hold them together. Connected by bonds of circumstance and duty, friendship and love, these three lives are blown apart when Aiden and Thad witness the accidental death of their drug dealer and a riot of dope and cash drops in their laps. On a meth-fueled journey to nowhere, they will either find the grit to overcome the darkness or be consumed by it.
Where All Light Tends to Go (2015)
The area surrounding Cashiers is home to people of all kinds, but the world that Jacob McNeely lives in is crueler than most. His father runs a methodically organized meth ring, with local authorities on the dime to turn a blind eye to his dealings. Having dropped out of high school and cut himself off from his peers, Jacob has been working for this father for years, all on the promise that his payday will come eventually. The only joy he finds comes from reuniting with Maggie, his first love, and a girl clearly bound for bigger and better things.
Jacob has always been resigned to play the cards that were dealt him, but when he botches a murder and sets off a trail of escalating violence, he's faced with a choice: stay and appease his kingpin father, or leave the mountains with the girl he loves. In a place where hope takes a back seat to fate, Jacob wonders if he can muster the strength to rise above the only life he's ever known.
Want to go?
Promoting his new novel The Line That Held Us, author David Joy will be appearing at the following locations in our area:
• 6:30 p.m. Tuesday, Aug. 14. Sponsored by City Lights Bookstore, the event will be held in the Community Room at the Jackson County Public Library, which is located at 310 Keener Street in Sylva.
• 6 p.m. Thursday, Aug. 30. Sponsored by Blue Ridge Books, the event will be held at Smoky Mountain Roasters, which is located at 444 Hazelwood Avenue in Waynesville.