Archived News
Tribe to expand casino parking
Wednesday, August 08, 2018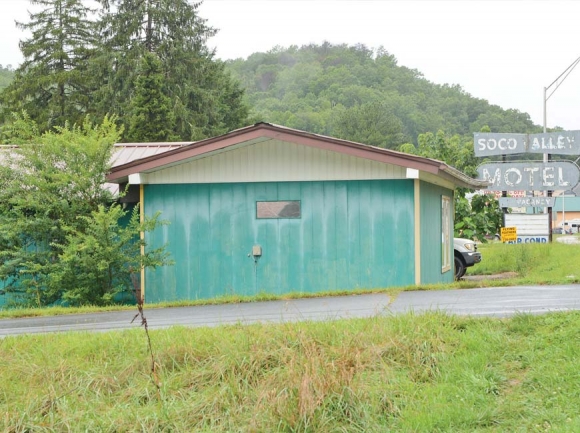 The vacant motel building will be demolished and the property redeveloped. Holly Kays photo
New parking is coming to Harrah's Cherokee Casino following the Cherokee Tribal Council's unanimous vote Aug. 2 to transfer a 4.7-acre tract to the Tribal Casino Gaming Enterprise.
The land, currently home to the vacant Soco Valley Motel, is located across the road from existing casino parking. With upcoming construction and improvements coming to the complex, additional parking will be sorely needed, said TCGE Chairman Rich Sneed.
"We're already parking people off the property and employees, it's tough on an employee to have to be there 30 minutes early to catch a bus to get back to work," Sneed said.
The tribe purchased the land from owners Norma Rae Hardin and Ursula Anne Hardin Maunder earlier this year, paying the appraised price of $3.575 million, according to a resolution passed in Budget Council Jan. 30.
The appraised price reflects land value only, Principal Chief Richard Sneed told Council in January, as the buildings have depreciated to the point that they have no value and must be removed.
"This is land in Painttown, and it goes for high dollar, which it should," Councilmember Tommye Saunooke, of Painttown, said in January.
Richard Sneed said that the tribe would eventually like to buy up more property across from the casino, much of which currently houses run-down or vacant lodging establishments. Hardin and Maunder were the first landowners in that area willing to sell for the appraised value, he said.
"It's just the first step in trying to acquire that property on that side so we can develop it," he said.
The resolution the TCGE Board submitted Aug. 2 to have the property transferred to TCGE ownership stated that transfer of usage would take place as soon as the owners of the tract had vacated the premises and all buildings had been removed from it. However, Council took issue with that second stipulation.
"I would like that removed, that second part, because that's saying the tribe should be responsible for removing all those buildings, and I don't think we should," said Councilmember Tom Wahnetah, of Yellowhill.
"Well, we're responsible for the operation of the casino, that's what our responsibility is," replied Rich Sneed.
"I just don't think the tribe should be responsible for the improvements on the property," Wahnetah maintained.
Vice Chairman David Wolfe, also of Yellowhill, agreed and seconded Wahnetah's move to strike the sentence, with the remaining councilmembers voting to support that move and subsequently voting to pass the amended resolution.
Editor's note: This story was reported using online meeting videos, as Tribal Council's April decision to ban non-Cherokee media from its chambers prevents The Smoky Mountain News from attending in person.