Archived News
Regulations on use of cultural terms discussed in Cherokee
Wednesday, August 08, 2018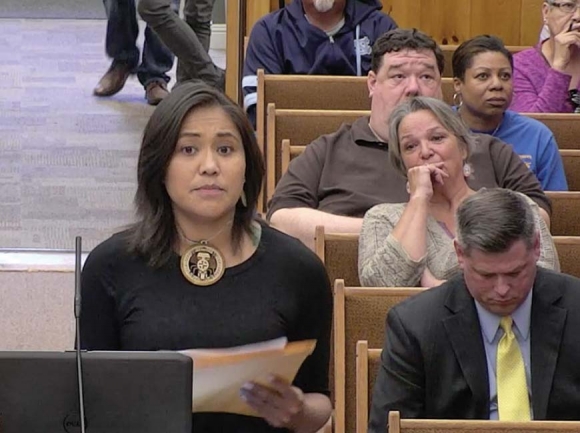 Jatanna Feather speaks to Tribal Council about 7 Clans Brewing and its use of Cherokee names and culture to promote its beer. File photo
A brief conversation in Tribal Council Wednesday, Aug. 1, was the first public discussion on how the Eastern Band of Cherokee Indians might eventually regulate the commercial use of culturally sensitive names since the issue was raised following the launch of 7 Clans Brewing.
"I wanted to bring this for discussion instead of writing an ordinance and putting it on the agenda, because I wanted to get some direction from you," Attorney General Mike McConnell told Council Aug. 1.
McConnell said he'd started work on the ordinance with multiple tribal members including Jatanna Feather, who had led opposition to the name 7 Clans and the company's decision to call its inaugural beer "Mothertown Blonde Ale." However, he said, regulating what businesses can call themselves and their products in a way that meets Council's goals could prove tricky.
"When you give an entity — say, the business committee — authority to say what is offensive and what is not, that is kind of squishy," he said. "It's kind of a moveable target, and the law doesn't like moving targets. It likes to express things directly."
Aside from deciding what is and is not offensive, there's the problem of deciding how the government can respond when something is deemed offensive.
"The only way the tribal government can stop that is to say, 'We will not take an action of the tribal government that supports this,'" McConnell said. "If someone has a business in Haywood County, they name it something you think is terrible, they have a product you think is terrible, the best we can do is complain about it."
Sometimes social pressure is enough to get a company to change its behavior, but sometimes it isn't. Even on the Qualla Boundary, McConnell said, the tribal government can't just tell a tribal member to cut it out if it doesn't like what that person has chosen to call his or her business. However, it could withhold some type of license or other benefit until the offensive name is eliminated.
McConnell again warned that it could prove difficult to write an ordinance that gives guidelines for what constitutes an offensive name. It might be easier, and clearer, to write one that includes a specific list of hands-off names, he said.
"If there are a dozen word names that you think are hands-off unless approved by the tribe, I think that's a more secure approach," he said. "It's a more predictable approach and I think would withstand scrutiny better."
McConnell's work on the ordinance stems from a resolution that Tribal Council passed April 5 directing the attorney general's office to "draft an ordinance that would regulate the use of cultural or traditional business names that appear derogatory in nature," and to deliver an ordinance for consideration within four months.
Tribal members Leah Wolfe and Jatanna Feather had submitted the resolution as the result of anger over the naming of 7 Clans Brewing and the Mothertown Blonde. The seven clans denote the way Cherokee people have defined their place in society going back millennia, while Mothertown is known as the birthplace of the Cherokee people and considered a sacred site — though the company is owned by a pair of tribal members, those opposed to the naming choices found the commercialization of those terms, especially for a controversial substance like alcohol, to be highly offensive.
"The words that they're using are very specific," Feather said during a March interview. "And we use these words to describe our way of life, our history, our culture and heritage and their significance and their parallels to how our spirituality works. As natives we're not taught to misuse those."
Brewery co-owners Collette Coggins and Morgan Crisp saw it differently.
"We are Cherokee, so it's natural that our artwork and branding reflect a love for our culture and engage our customer with a type of storytelling," Crisp said in a press release. "While this is a contemporary approach to sharing culture, we endeavor to respectfully and authentically pique the curiosity of our consumers so that they will ultimately seek out their own personal experience with our vibrant Cherokee people and culture."
The controversy erupted in a three-hour back-and-forth during the April 5 Tribal Council session, which resulted in passage of the resolution directing McConnell to draft an ordinance and included Coggins saying that, while 7 Clans is a private business that has the right to name its products whatever it wants, the brewery would not produce any more Mothertown Blonde after the initial batch sold out. However, she said, the name 7 Clans would remain.
Editor's note: This story was reported using online meeting videos, as Tribal Council's April decision to ban non-Cherokee media from its chambers prevents The Smoky Mountain News from attending in person.