Archived News
No mystery behind hotel incentives
Wednesday, August 08, 2018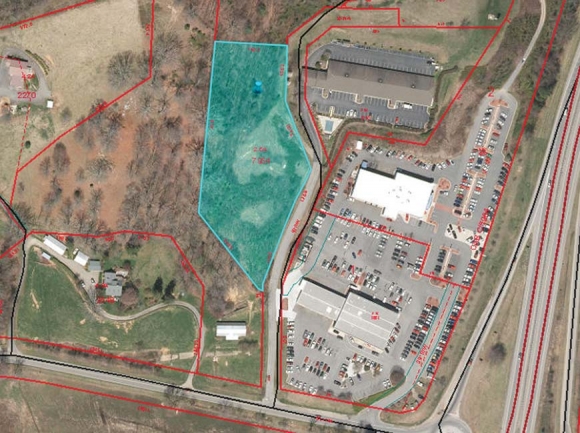 Haywood County and the Town of Waynesville are incentivizing a "flagship brand" hotel just west of the Great Smoky Mountains Expressway and north of Hyatt Creek Road. Haywood GIS photo
As first reported in The Smoky Mountain News more than four months ago, Waynesville's getting a new hotel, and that new hotel is getting lots of tax breaks. The reasons why are no mystery either, according to Haywood County Program Administrator David Francis.
"One of the things that we're talking about is that it's hard to go out there and find that 500 [person employer] and bring them in, so our objective is working with the folks in Buncombe County but also making sure that our business retention and recruitment takes place in Haywood County," Francis said. "When these folks want to invest in Haywood County, we want to invest in them."
Back on April 4, the Town of Waynesville approved unanimously an incentives package that granted an unnamed developer an 80 percent property tax rebate over six years, with an estimated lifetime value of $212,000 or about $35,000 a year.
In North Carolina property taxes can't be forgiven. However, municipal incentive packages can rebate a percentage of those taxes once they've been paid. The total incentive amount is based on the total investment or the number of jobs created and is subject to audit by the municipality.
Parties making requests like this one can be shielded from the public eye by law so as to maintain a developer's competitive advantage — especially when land acquisition or franchise agreements are a factor.
A serendipitous confluence of circumstances, however, narrowed the possible locations down to just one; Waynesville officials noted that the hospitality-related development was on a vacant parcel already zoned for the intended use, but wasn't linked to a town-maintained road.
That's a 2.59-acre parcel on Shiloh Trail, off Hyatt Creek Road, just west of the existing Best Western hotel. On Aug. 6, Haywood commissioners heard Francis present the request of South Carolina-registered Seva Investments LLC, which plans to invest $7.8 to $9.1 million in the construction of a 65-room hotel they call a "flagship brand."
Per the county's incentive policy, passed last year, the developer qualifies for a 55 percent property tax rebate, based upon the amount of investment and the estimated 15 new jobs it will create, which will average $20 to $29 an hour.
Construction of the hotel would generate an estimated $45,630 in new county property taxes, of which Seva will see $25,096 returned for five years, resulting in a net gain in county property tax revenues of about $20,000 each year for the first five years.
Once those five years are up, they'll pay the full $45,000, based on current appraisal value as well as the county's current tax rate — both of which could change.
During that period, the development will also generate an estimated $65,000 annually in sales tax and occupancy tax revenues, according to Francis. These taxes are not subject to rebate.
Commissioners called the required public hearing for Aug. 20, after which they'll vote on the proposal.
Once Seva locks in Haywood County's incentives, they'll likely go back to their franchisor with the whole package and sign the franchise agreement; getting this particular brand added about another million to the price tag, Francis said, because of aesthetic demands of the brand.
Francis said he was especially pleased with the development for two reasons; first, Haywood County prevailed in competition for the project with another county in North Carolina as well as a site in South Carolina. Second, since the owners are already hoteliers in Haywood County, the project not only counts as business recruitment, but also business retention.
Last fall, Haywood County entered into a partnership agreement with the Asheville Area Chamber of Commerce whereby Asheville would market Haywood's available sites alongside its own; this project predates that agreement, but the agreement did prompt some Haywood local governments — including Waynesville and the county — to formalize their incentive package guidelines so developers would know exactly what might be available, right up front.
"Knowing that this kind of incentive might not have been available in the other areas, and knowing that this type of brand they're bringing to Haywood County is desperately needed, I think that made it more attractive as a whole," he said. "I think with all those factors weighing in, it made Waynesville much more attractive."
Construction will probably take 18 months once the permitting process is completed; in the meantime, Francis said there were a couple of other similar projects in the works, where local employers may expand by five to ten jobs.
Be heard
The Haywood County Board of Commissioners will hold a public hearing during its next regular meeting to consider proposed economic development incentives for a hotel development off Hyatt Creek Road.
• Time: 5:30 p.m.
• Date: Monday, Aug. 20
• Location: Haywood County Historic Courthouse, 215 N. Main St., Waynesville