Archived Arts & Entertainment
This must be the place: With a little help from my friends
Wednesday, August 01, 2018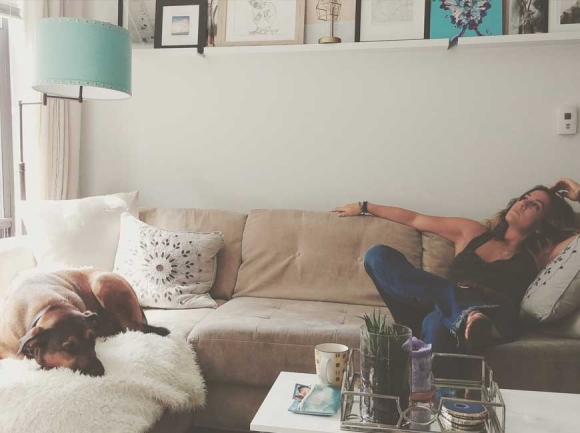 South Norwalk, Connecticut. Garret K. Woodward photo
Bolting up Interstate 95, just outside of Portland, Maine, this past Monday, I finally could smell that smell that conjures innumerable cherished memories, genuine emotions and deep thoughts in my mind — the ocean.
Heading up the coast to rendezvous with my family while they were on vacation on the coast, I kept thinking about the previous few days on the road from North Carolina, and seemingly every day before that in the grand scheme of things.
Leaving Waynesville last Thursday, I headed to southwestern Virginia to cover FloydFest, quite possibly the finest music festival of its size and grandeur in the country. Rolling into the mountaintop venue, a stone's throw from the Blue Ridge Parkway, I set up camp along a tree line within earshot of one of the main stages.
Sitting in my busted camping chair, I was sipping a beer when the couple camped next to me wandered over to say hello, maybe make a new friend. Cassidy and William. She was from Virginia. He was from Florida. Both were working for one of the food booths at the festival, doing so at dozens of similar events each weekend throughout the year, throughout the country. Like a rag-tag band of culinary pirates, they lived out of a converted van, a bed hand-built by William, filled with cooking, sleeping and everyday survival gear. Quite the digs.
We sat in the grass and chatted. Swapping stories of our adventures, laughing at the joyful absurdity of what it means to spend your life on the road and the curious chaos that ensues when you throw caution into the wind, chasing after long-held dreams and spur-of-the-moment happenstances. We held our beers high and saluted our newfound friendship.
By Saturday morning, I was rocketing up Interstate 81 and 78 towards Long Island, to stay with a childhood friend for the night en route to Maine. I hadn't seen him or his fiancé since a mutual friend of ours got married several years ago. We bounced around the Huntington bars, reminiscing about adolescent tall tales and teenage transgressions, amid this sea of Long Island folks that I hadn't been 'round since my college days when most of my friends at Quinnipiac University were either from Nassau or Suffolk County.
Knowing I would be traveling up Interstate 95 through southern Connecticut, I messaged an old friend to see if she was around for a hearty New England breakfast while I was passing through the area. She was. Situating myself at the diner counter in South Norwalk, she strolled in with a big smile, big hug hello. It stunned us when we realized we hadn't seen each other in almost five years, more so all that has happened in our separate lives in that time — relationships, breakups, career highs, career lows, always looking ahead to the future with our heads held high. That half-hour breakfast meetup turned into a five-hour breakfast, "Sunday Funday" beer on the water and stroll 'round the neighborhood, the conversation never once losing a step, for when you're in the presence of a cosmic friendship, time apart doesn't apply to the narrative of two people in a sincere connection of appreciation.
I wouldn't be making it up to Maine in time by Sunday evening, so I reached out to one of my best friends from college. She and her husband live just north of Boston, Massachusetts, where the ocean is "just down the road." A French teacher, she was on summer break. "Come on by, would love to see you," she messaged me. The last time her and I crossed paths she had just bought her current home, wasn't married yet, but hopeful to "meet the one," which she sincerely has done from my time talking and laughing with him that night. Later on, her and I ended up sitting in the living room and simply catching up, never once noticing the clock on the wall when it read 1:52 a.m. (the conversation kicked off at just about 10:30 p.m.).
The following morning, her and I went for lunch before I made the final trek to Maine. We exchanged stories about the people, places and things that have led us to this point in our lives, remembering folks who are no longer with us in this world, and about what colors and brush strokes we want to paint the blank canvas of our lives with. When I said goodbye, I told her, "I'm so damn glad you're in my life," to which she responded, "And I always will be."
As the nose of my old pickup truck aimed towards Portland, Maine, I finally could smell that smell that immediately conjures my place in the cosmos — the ocean and all its timeless glory and astounding power.
That final mile to my parents' rental cottage, a road I'd driven hundreds of times, I thought of my new friends in Virginia, my childhood friend in Long Island, my adulthood friend in Connecticut, and my college friend in Massachusetts. I thought of all of my friends in the wild, wondrous world. I thought of all those friends I've yet to meet, and how excited I was for the day we'd finally introduce ourselves. I thought of them, and of you, the reader, who also has similar friends in similar places, who you probably think of often, perhaps haven't talked to in a while. Reach out and say hello. You'll be glad you did.
Life is beautiful, grasp for it, y'all.
Hot picks
1 "An Appalachian Evening" will continue with bluegrass act The Jeff Little Trio at 7:30 p.m. Saturday, Aug. 4, at the Stecoah Valley Center in Robbinsville.
2 A musical theatre performance by the Triple Arts Company will be held at 7:30 p.m. Saturday, Aug. 4, in the Bardo Arts Center at Western Carolina University.
3 Nantahala Brewing (Bryson City) will host Bird In Hand (Americana/folk) at 8 p.m. Friday, Aug. 3.
4 The Concerts on the Creek summer series will welcome Lance & Lea (Americana/pop) at 7 p.m. Friday, Aug. 3, at Bridge Park in Sylva.
5 The Marianna Black Library (Bryson City) will host Alma Russ (Americana/folk) 7 p.m. Thursday, Aug. 9.