Archived Opinion
Politics and the search for WCU's chancellor
Wednesday, August 01, 2018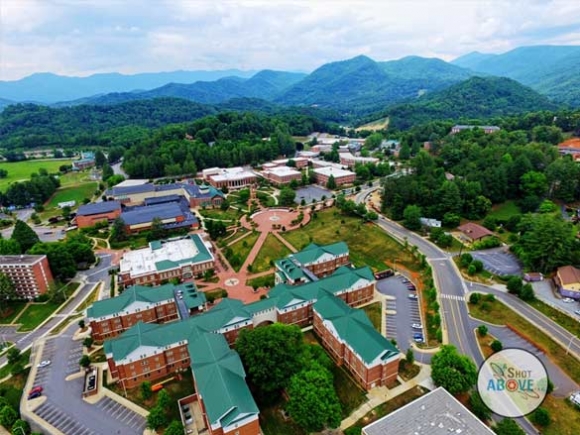 Western Carolina University. A Shot Above photo
As the yoke of political influence grows ever heavier around the neck of the UNC Board of Governors, Western Carolina University's chancellor search has gone off the rails and there is not yet any indication when it will get back on track.
Because much of the process used to replace a chancellor is shrouded in secrecy, those who care deeply about this university and its faculty and staff are left guessing as to what exactly happened. But there are many of us who can't help but suspect the worst kind of chicanery, especially given the brand of politics played by the current legislative leadership. It's a sad state of affairs, particularly if our great university system becomes just a pawn in this ongoing power play.
I've lived in North Carolina most of my life. Our public schools system and our university system have been points of pride for me and many other North Carolinians, and over the years I've argued loudly that they both should be well-funded and protected — as much as possible — from the bloodletting that sometimes is part and parcel of party politics and the UNC Board of Governors.
One of the most insulting parts of this entire debacle is that those who spent months vetting candidates were ignored. A committee of Western Carolina faculty, staff, and trustees, along with community members and a Board of Governors representative, was formed to find a replacement for Chancellor David Belcher, an immensely popular leader who had stepped down from his job while fighting brain cancer.
This group — knowing full well replacing Belcher was a Sisyphean task — went through a time-consuming and exhaustive process and came up with three recommendations for UNC System President Margaret Spellings.
According to one university insider who was talking off the record, the top choice for chancellor was someone many thought might replicate Belcher's popularity and zeal for the job.
But things went awry quickly. At a July 12 Board of Governors meeting, Spellings and the board went into closed session to discuss and hopefully hire the committee's top choice, who had already been vetted by the WCU search committee and Spellings' office. That's the typical process for hiring chancellors, and the Board of Governors in the past has followed the recommendation of the local committee and the system president.
According to a report by the conservative leaning Carolina Journal — which had a reporter stationed outside the meeting room — loud voices were heard inside as the meeting drug out for two hours. Afterward, the board reconvened and announced that the top choice had withdrawn their name from consideration.
Also, newly appointed Board of Governors chair Harry Smith — a businessman from Greenville who was appointed to the Board of Governors board by Senate President Pro Tem Phil Berger and elected chairman in May — announced that the process for hiring chancellors was under review and would be updated.
As it turns out, a GOP lobbyist and former Raleigh mayor who sits on the board, Tom Fetzer, had violated board rules by personally giving the prospective chancellor's name to a private firm and asking them to check out his resume. Fetzer supposedly found some discrepancies in where the nominee had actually lectured compared to what was on his resume. On July 11, prior to the meeting the following day, he emailed that information along to board members.
So the nominee was sunk by one GOP activist who convinced others on the board to follow his lead. And we are left to wonder, was it just because of the letter behind his name come voting day? Could they be that petty?
Frank Grainger, a Cary businessman and member of the Board of Governors, told the Raleigh News and Observer that both board chair Smith and vice chair Randy Ramsey had said at the July 12 meeting they could not support the candidate. That revelation by Grainger to the press brought a rebuke from the UNC system attorney, who asked board members not to disclose anything about that closed session, according to the N&O.
Another board member, Joe Knott of Raleigh, told the N&O that what offended him was that the board of governors "sort of took over the process … that was extremely disrespectful to our president, who is charged with hiring and supervising the chancellors."
It was also, to say the least, disrespectful to the local committee
And so one of the nation's finest university systems is in danger of becoming just another battleground in an increasingly polarized state. This Board of Governors has been accused several times in the past year of micromanaging university affairs and faculty complaints are growing louder. Thankfully Spellings, who was Secretary of Education under George H.W. Bush, has seemingly risen above politics but is finding herself increasingly at odds with the leadership of the Board of Governors.
Meanwhile, WCU will soldier on with what has been described as an extremely competent interim chancellor. When it comes time to start looking for faculty and staff to serve on the next nominating committee, it will be interesting to see how many choose to participate in what could be a total waste of time.
And all we can do is sit back and watch as the GOP power mongers currently running North Carolina do their best to contaminate every corner of state government with political gamesmanship. The only hope is to undo their supermajority come November.
(Scott McLeod can be reached at This email address is being protected from spambots. You need JavaScript enabled to view it.)
UNC Board of Governors
The Board has 28 voting members. Half are elected by the state House and half by the Senate. A student representative sits on the board, but does not have a vote.
Gender: 23 men, six women
Political affiliation: 22 Republicans, 6 unaffiliated, 1 Democrat
Race: 24 white, 4 African-American, 1 Native American