Archived News
Scholarship program aims to keep health workers local
Wednesday, August 01, 2018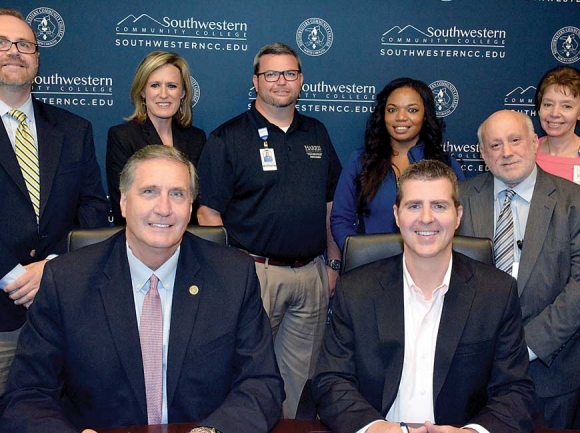 Dr. Don Tomas (front left), president of Southwestern Community College, and Steve Heatherly, president and CEO of Harris Regional Hospital, sign a memorandum of understanding to establish the SNAP program on June 11 at the college's Jackson Campus in Sylva. Donated photo
A new partnership between Southwestern Community College and Harris Regional Hospital aims to help aspiring nurses afford their education while bolstering Harris' ability to maintain a quality staff.
Through the Student Nurse Apprentice Program, known as SNAP, Harris will fund tuition and supplies for two nursing students and two nurse aide students each year. In exchange, the students will commit to working at Harris or Swain Community Hospital after graduation — three years for nursing students and one year for nurse aide students.
"For these students it's an opportunity to have the costs of completing their education completely covered and the benefit of guaranteed employment with a local employer once they graduate, so they already have their job lined up," said Thom Brooks, vice president for instruction and student services at SCC. "For the hospital system it's a benefit to them to plan for their workforce needs to know that they're going to have those needs met and to support the education of the students who are in the program. It's really one of those partnerships we look at that has key benefits for all the parties connected in it."
From Harris' point of view, the partnership will go a long way toward the hospital's ability to do its job in the community.
"Southwestern Community College is our partner in training healthcare professionals who will join us in delivering on our mission of 'Making Communities Healthier'," said Steve Heatherly, CEO of the Harris and Swain hospitals. "We believe our new SNAP partnership will help local nursing students realize their professional dreams and ensure we keep the best clinical staff close to home."
Harris and SCC began discussing the partnership concept earlier this year, with the goal of implementing it by August, Brooks said. If successful, SCC would like to see the partnership expand to include similar agreements for students in other health-related programs at the college. However, Brooks said, the RN and CNA programs seemed logical places to start.
"The nursing fields are always of particular need for employers," he said. "Typically we see these are among the health-related occupations that there are more commonly openings for employment available. My sense is we're starting at an area where there is highest demand for employment and need, and hopefully this will prove to be a successful program. Then perhaps we can talk about other programs in the future."
The application process will be a competitive one, Brooks said, doubling as a job interview and a scholarship interview, since the funds come with Harris' commitment to offer employment after graduation. The hospital will give preference to residents of Jackson, Swain, Graham and Macon counties, and to current staff members enrolled in the RN and CNA programs. If a student were to accept the funds but fail to fulfill the work commitment, that person would have to sign a promissory note and pay the money back like a loan, Brooks said.
"We're really excited about the opportunity that it's going to provide our students who participate in the program and glad to be able to partner with Harris Regional to help meet a workforce need they have as well," said Brooks.
Learn more
To apply for SNAP funding from Harris Regional Hospital, visit www.myharrisregional.com/snap or call 828.586.7102.
For information about SCC's Nursing and Nurse Aide programs, contact Sandra Seibert, administrative assistant for health sciences, at 828.339.4305 or This email address is being protected from spambots. You need JavaScript enabled to view it..