Archived News
Cherokee to seek $280 million in credit for construction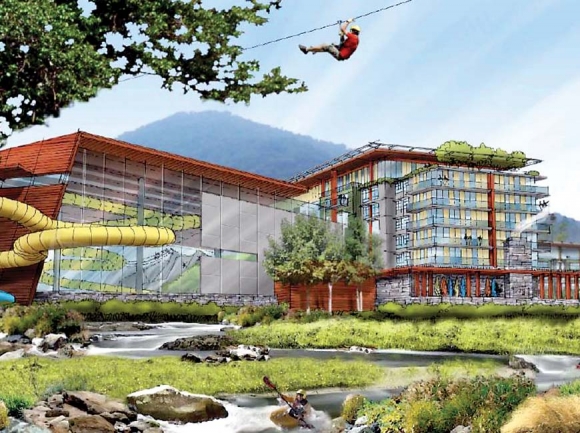 Cherokee started pursuing an adventure park concept in 2012 but wound up setting it aside. Iconica rendering
The Eastern Band of Cherokee Indians will seek $280 million in credit to fund a list of five priority projects following a 9-2 vote during Tribal Council's July 10 Budget Council meeting.
"What this allows us to do is have a financing mechanism where we don't have to individually as we approve these projects upcoming go out to a bank or banks and seek financing individually for those projects," explained Cory Blankenship, secretary of finance for the tribe.
The vote did not actually approve any of the five projects on the list. Rather, it gave Blankenship's office permission to reach out to various banks and find the best deal for a line of credit of this size. The tribe would not borrow any money until Tribal Council approves an individual project, and it would not be locked into borrowing the entire $280 million.
"We don't necessarily go out and borrow $280 million because we have $280 million available to us," Blankenship said.
According to the approved resolution, projects to benefit from the credit facility would include an adventure park, hotel and clubhouse at the Sequoyah National Golf Club, a trout hatchery with a research and education facility, an archives facility and a multi-sports complex. It's likely the $280 million could cover more than just those five, Blankenship said.
Perhaps the highest-profile project on that list is the first one — the adventure park. Tribal Council has been discussing the idea for years and in 2012 approved $92 million to build a complex that would include water slides, rock climbing, zip-lining, splash pads and indoor amenities such as a 302-room hotel, restaurants, retail shops and an arcade. However, the project was sidelined as other, higher-priority projects took precedence.
The idea resurfaced during a March 2016 work session, with Tom Pientka of the Wisconsin-based design, engineering and construction company Iconica sharing plans for a park that would include all the amenities pitched in 2012, but with 400 rooms rather than 302 and an outdoor adventure component with snow tubing, mountain biking and perhaps even a rapid river course.
The Tribal Council seated at the time seemed favorable to the idea, but no concrete steps were ever taken to move forward with it.
While councilmembers were overall supportive of the credit facility idea, several of them expressed dissatisfaction with the way construction projects they've voted on in the past have been executed — or, rather, not executed.
"I guess, Cory (Blankenship), my concern is all this legislation we pass is never carried out or enforced," said Councilmember Tommye Saunooke, of Painttown. "Albert (Rose, Birdtown representative), really worked hard on the data center, and all of a sudden it's just gone away."
Rose agreed that economic development had "dropped the ball" on the data center project, which was to be a revenue-generating endeavor for the tribe. Principal Chief Richard Sneed said the data center project went under because the previous administration had "shelved" it, and when he took office the tribe had found itself in a bidding war with another contender for the project.
Blankenship said the only thing that would be carried out as a result of this resolution would be to secure financing for this slate of future projects. Approving spending for any individual project would require future action from Council.
"This isn't blanket approval of the adventure park," he said. "This is approval to secure the credit facility and the financing."
Vice Chair David Wolfe, of Yellowhill, moved to pass the resolution, with a second from Councilmember Jeremy Wilson, of Wolfetown. Voting in favor of the resolution were Councilmembers Lisa Taylor, of Painttown; Tom Wachacha, of Yellowhill; Bucky Brown, of Snowbird; Richard French, of Big Cove; Wilson, Saunooke, Wolfe and Chairman Adam Wachacha, of Snowbird. Voting against the project were Councilmembers Bo Crowe, of Wolfetown, and Rose. Councilmember Boyd Owle, of Birdtown, was absent.
Editor's note: This story was reported using online meeting videos, as Tribal Council's May decision to ban non-Cherokee media from its chambers prevents The Smoky Mountain News from attending in person.