Archived News
New health foundation to form following Mission sale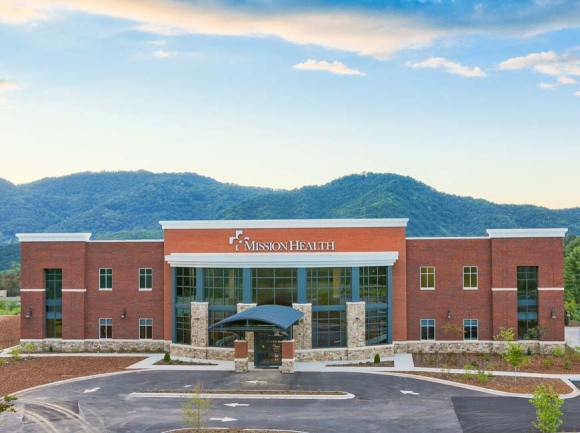 Mission Health is in the process of being acquired by for-profit health care company HCA. Once the transaction is complete, the sale proceeds have to be put into a nonprofit foundation. File photo
Though the sale of nonprofit Mission Health to for-profit HCA isn't official yet, the Mission Health Board of Directors hasn't wasted any time setting up a health care foundation that will receive proceeds from the sale.
The Dogwood Health Trust will be a North Carolina nonprofit, private non-operating foundation with the sole purpose of "dramatically improving the health and well-being of all people and communities of Western North Carolina."
Since Mission Health is a nonprofit entity being purchased by a for-profit corporation, the proceeds from the sale must be placed into a foundation to continue the health care system's nonprofit mission of improving health care access for rural Western North Carolina. A similar process occurred when Duke LifePoint purchased nonprofit hospitals in Haywood, Jackson and Swain in 2014.
While the total purchase has yet to be released, Dr. Ron Paulus, CEO of Mission Health, has said the proceeds from the sale could be an estimated $400 million and could forever change the state of rural health care in the region.
For comparison, the sale of Haywood Regional Medical Center to Duke LifePoint resulted in $18 million in proceeds to be placed into a health-related foundation fund. Haywood County commissioners voted in 2016 to allow The Haywood Healthcare Foundation to manage the funds.
If the transaction with HCA Healthcare occurs, Mission intends to convey the net proceeds of the sale to the foundation following receipt of all necessary approvals and the development of required organizational infrastructure.
"This new region-wide resource would enable significant investments, encourage partnerships and facilitate coordination with others to analyze, understand and address core social determinants of health and wellbeing for the people and communities of Western North Carolina," according to a press release from Mission. "The DHT's goal is to partner with local communities to produce a powerful, positive, long-term impact on the people of Western North Carolina."
Board of directors forming
Mission recently announced the appointment of WNC native Janice Brumit to serve as the founding chairwoman of the Dogwood Health Trust Board of Directors. She was born in Boone and graduated from Appalachian State University and has strong ties to the people and communities of the region.
Brumit has spent the last 30 years serving on local and statewide nonprofit boards, including North Carolina Rural Water, Mission Health Foundation, Community Foundation of WNC, Buncombe County Economic Development Coalition and Asheville Buncombe Partnership for Children.
"Under Brumit's leadership, the foundation board will be fully formed over time and embark upon a deliberate, multi-year process to become fully educated about the history and lessons learned from prior healthcare conversion foundations, obtain all necessary approvals for operation, develop appropriate staff and infrastructure for DHT and carefully assess the strengths and the needs of all populations and communities within our region," the press release stated.
"The board will then prioritize these needs, identify collaborative strategies to address them using our communities' existing strengths and seek partnerships with others to implement its long-range strategic plan. Grant funding for approved initiatives will most likely not begin earlier than calendar 2020."
A broader public announcement discussing more about the foundation is currently planned for Sept. 30. In the meantime, nominations for board members are currently being sought. Criteria established for DHT board members and a formal application process is now available at www.dogwoodhealthtrust.org.
Community input
WNC communities outside of Asheville with a Mission affiliated hospital will want to be proactive to ensure they get a seat at the table, since the foundation will be deciding how the funds are spent annually.
According to the Dogwood Health Trust website, there are certain characteristics and experience sought on the board but it doesn't appear specific geographical appointments will be made.
Some WNC communities where Mission has a presence have shown support for the sale to HCA. In Haywood County where Mission opened a three-story, outpatient facility a few years ago, Commissioner Mike Sorrells and the Haywood County Chamber of Commerce issued letters of support.
"Mission Health has been in Asheville for over a century, serving local populations and serving them well. But the Mission board agrees that the finances of the hospital system are unsustainable and would eventually decline," Sorrells wrote. "Creating a partnership with HCA Healthcare is the right step to ensure that Western N.C. residents have access to a robust healthcare system for years to come."
Sorrells compared Mission's situation to the situation Haywood's hospital was in prior to being purchased by Duke LifePoint. He said the sale allowed the hospital to continue serving the community while having better resources at its disposal through the new reputable health care company. It also created a new pot of funding to improve health care in the county.
"In partnering with HCA, Mission would have a much larger foundation to use in meeting the needs of the community, not only for healthcare but also for necessary services like early childhood education and housing," he said. "A hospital partnership worked for Haywood County Regional Medical Center and it can work for Mission Health. Mission Health has an opportunity to partner with an organization that will continue to support the community — the value of that opportunity should not be overlooked."
While Haywood leaders appear optimistic about the purchase, leaders in the more outlying Mission communities are a little more skeptical about the transition. Angel Medical Center in Franklin and Highlands-Cashiers Hospital were simply told they'd be part of the acquisition without being given time to research other potential partnerships.
"I'm thinking HCA will be a great fit for the larger units in Asheville, but my concern is will HCA be a good fit for the smaller community hospitals in Franklin and Highlands," said Highlands Mayor Patrick Taylor.
Focusing on things within the community's control, Taylor said the Highlands-Cashiers Hospital Foundation board is in the process of trying to figure out its future once the HCA purchase is complete. Once the Mission affiliates become for-profit, the hospital foundation will no longer be able to financially support Highlands-Cashiers — the foundation will either have to change its mission or dissolve.
"We have a strong and active foundation board at Highlands-Cashiers. At this point I'm hearing a lot of positive things about the new foundation covering all of WNC, but our big question is what will be the future of our foundation as this merger moves forward?" Taylor said. "Our foundation has supported our hospital and even covered financial shortfalls. So we're just now asking what's the future of our foundation and how will it relate to the new Dogwood Foundation."
Whatever the future may hold for the local foundation, Taylor said he was already in the process of trying to identify qualified residents on the plateau to apply for the Dogwood Health Trust Board of Directors to ensure his community has a voice.
"The larger populated areas such as Buncombe and Asheville will have larger representation on the board and that's understandable, but I think the outlying communities will be concerned about having representation at the decision-making table," he said. "I think it will be very important because we're talking about a lot of resources being available."
The Franklin community is having more difficulty believing in the benefits of an HCA buyout after a tumultuous year dealing with the impact Mission's decisions had on their community hospital.
"As for the (Dogwood) foundation — if it sounds too good to be true, it probably is," said Franklin Mayor Bob Scott. "After dealing with Mission for over a year — starting with the closure of labor and delivery at Angel Medical — I am suspect."
Mission announced in March 2017 that it would be closing the labor and delivery unit at Angel Medical Center in Franklin as of July 2017. The community was outraged about the closure and the short notice given since pregnant women would now have to travel 25 minutes over Cowee Mountain to get the Harris Regional or drive over an hour to get to Mission Hospital in Asheville to deliver.
Dr. Paulus stated at the time that the closure was a hard but necessary financial decision because the unit was losing up to $2 million a year.
Mission attempted to lessen the blow by also announcing its plans to construct a new $43 million Angel Medical Center in the coming years. AMC is currently located near downtown Franklin, but Mission is proposing to build the new hospital along U.S. 441 at the intersection 1 Center Court, Franklin, at the intersection of Hunnicut Lane.
Mission received its certificate of need through the N.C. Department of Health and Human Services to build a new facility, but it will also need a special permit approved through the town of Franklin.
When AMC President Karen Gorby recently came before the town council to give an update on the HCA purchase, Mayor Scott asked if the town leaders would have a chance to meet with HCA officials. He said the one time he was made aware of HCA officials being at the hospital in Franklin he was only given 30 minutes notice and couldn't make it.
Councilmember David Culpepper asked Gorby if she had the ability to be unbiased in sharing any possible disadvantages the HCA purchase could bring to the community.
Gorby said there was no downside to the community and told Scott she would ask Mission's public relations director if it was a possibility.
However, the town's attorney, John Henning Jr. was quick to caution the mayor and the board about overstepping their bounds with Mission or HCA because he didn't want the board members' opinions to give the impression of any bias.
"We need to be careful how the board positions itself," he said, adding that Mission would be applying for a special-use permit for the hospital construction. During a quasi-judicial hearing, the town council will make the determination based on whether the project aligns with the town's Unified Development Ordinance. "If you make it clear you're against it — you can't sit and vote on that issue."
Scott said he disagreed with Henning's statement that he isn't allowed to express his opinion regarding Mission or the impending sale of its hospitals to a for-profit entity.
"My job is to protect the people who don't have a voice and unless you're some kind of well off establishment-type person I don't know that you have a voice with Mission," Scott said. "I'm very concerned about it — it stands to have huge economic impact on Franklin and efforts to recruit doctors here."
Scott said he doesn't feel like Mission understands the kinship the people of Macon County have for Angel Medical Center since the community helped raise money to get the hospital open back in the 1970s — long before it came part of Mission in 2013.
"I have tried to go through Mission to get to HCA. Why have they not been here to talk about it and get to know the community and see what the feeling is and tell us what they have to offer?" Scott asked. "I'm frustrated. What's frustrating is the attitude of Mission and I know people in other small towns Mission serves feel the same way I do."