Archived Arts & Entertainment
Long as I can see the light: A conversation with Doug 'Cosmo' Clifford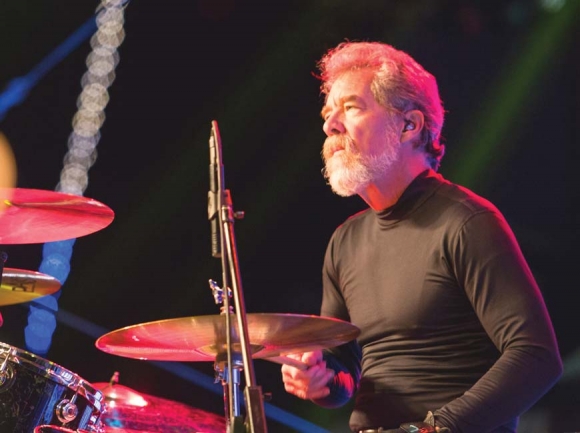 A founding member of Creedence Clearwater Revival, Rock & Roll Hall of Fame drummer Doug 'Cosmo' Clifford.
They just don't make'em like they used to.
That adage is the pure, honest truth when applied to the music of Creedence Clearwater Revival. In a staggering career of massive mainstream success that only lasted five years (1968-1972), the rock juggernaut produced endless pop culture radio staples aimed squarely at doing two specific things — making you get up and dance, all while opening your eyes and ears to social progress and injustice in our world.
And though the music of CCR recently crossed over the half-century mark, the message remains the same within the melodies. Each CCR song is not just a time capsule. The tunes look to serve as a warning to the 21st century, perhaps even a ray of hope, to those who'll continually discover the power, bravado and rebellious nature of the group until the end of time.
The Smoky Mountain News recently caught up with CCR drummer Doug "Cosmo" Clifford. The Rock & Roll Hall of Famer currently tours as part of Creedence Clearwater Revisited, a beloved longtime offshoot of the original band, which also features original CCR bassist Stu Cook.
Both turning 73 recently, Clifford and Cook are still out there, still fighting the good fight by taking their art to the street, to the stage, to the masses. The songs are timeless, but the message posed to where we are today is one of urgency — things are bad, and it'll most likely get worse before it gets better, so what are you going to do about it? Roll over, or stand up and fight for what's right?
Smoky Mountain News: This year is the 50th anniversary of CCR. What do you think about that number in how it applies to not only the band, but also time in general and your life in music?
Doug Clifford: Well, it's an amazing thing, actually. In order to do that, we have to be multi-generational, which we are. We have three generations of fans now, more younger fans than older fans. In a pop medium that's pretty amazing, so I thank my lucky stars.
SMN: What is the legacy of CCR? What's your take on it?
DC: I think it's kind of a multiple thing. Back in the day, we were writing a lot of powerful songs about what was going on, in the [Vietnam] War, social change, segregation, things of that nature that were crumbling, the draft, and the inequities thereof — who's fighting, who didn't. In terms of that, we had strong messages. But, in order to be able to get to the masses, where it really counts, where people vote and can make change, the music had to be upbeat, kind of the opposite of what the message was. Juggling that, keeping it lively, music that when you hear it you can't not move. It was an interesting combination. The style of rock-n-roll we played, which was generally about cars and girlfriends, not so deep subjects, [but] we were able to blend messages with good time rock-n-roll.
SMN: Sadly, a lot of the social issues that you wrote and sang about are still around today...
DC: It's exactly true. When [Creedence Clearwater] Revisited is playing, Stu [Cook] gets on the mic for the introduction of "Who'll Stop The Rain" and he says, "Fifty years ago this song was about what was going on in the world, and unfortunately it's still the same today." It's true. It makes you really wonder. Especially nowadays, wow, taking several steps back in many, many areas where things should not be where they are.
SMN: Are you optimistic about the future?
DC: Well, I am an optimistic person. So, I have to be, otherwise you're giving up, I think. But, it's going to be an uphill battle — there are so many things going on. There's climate change. You really ought to go to the library or on your computer and dig deep, because that's one that affects not just people in America, but people around the world. Places at sea level are changing. Look at the weather, look at the fires and the drought conditions. I'm in the mountains right now and there's a fire right down the road. So, we're looking over our shoulder at that. There are so many things — it's hard to explain how we got here.
SMN: Where is the music today, in the mainstream and on the charts, that's creating a socially conscious message?
DC: It's funny you said that. Because Stu and I were talking about the same thing on the last road trip. God, it's the perfect venue right now for material. Where are the messengers? What's happened to our brethren? Why aren't they getting out there and seizing the opportunity to make change and awareness a factor?
Editor's Note: To listen to a full audio stream of this conversation, go to YouTube and search "Doug Clifford Garret K. Woodward."
Want to go?
Creedence Clearwater Revisited and Night Ranger will hit the stage at 7:30 p.m. Thursday, Aug. 2, on the South Terrace at the Biltmore Estate in Asheville. Tickets start at $65. For more information and/or to purchase tickets to this show or an upcoming show at the Biltmore, visit www.biltmore.com. For more information on Creedence Clearwater Revisited, visit www.creedence-revisited.com.