Archived Arts & Entertainment
This must be the place: Happy 50th birthday, Dirty Santa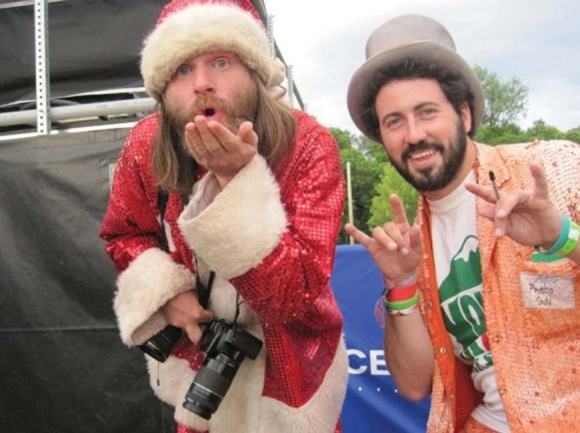 And there I was, at a dive bar in the 800-person high desert town of Victor, Idaho, with the backdrop of the Grand Teton mountain range, playing horseshoes and sipping on a lukewarm can of Rainier beer. It was the early summer 2008. My friend, Billie, was watching a few of us play, when she asked me what I had planned now that the weather had gotten warmer.
"Well, I want to cover some music festivals," I said. "But, I don't have a photographer, someone who'll just jump into my truck and head out on the road at a moment's notice."
"You know, Garret, my friend, Andrew, is a photographer looking for a writer to cover festivals with," she suggested. "You two should meet and figure something out."
I immediately turned to her, "Where is he?" "Inside," she replied, leading me into the depths of the dive bar where this shaggy guy was sitting at the bar, also sipping on a lukewarm Rainier. His name was Andrew Wyatt. I was 23 at the time. He was 39, from just over the Teton Pass in Jackson, Wyoming.
We sat there and exchanged stories. I told him I was from Upstate New York, had just graduated from college in Connecticut a year prior, and was working as a journalist for the local paper, eager to pursue this crazy dream of becoming a writer. He was from south-central Virginia, his father a Southern Baptist preacher, a profession Andrew himself went into, only to become a preacher who found himself in the Tetons holding mass, ultimately realizing one day that his true passion in life was to become a photographer. So, he left the church and bought a camera, and was pretty much disowned by his family for that decision.
From that point on, we were tied at the hip. In an effort to get attention and market ourselves in the haphazard music industry, he wore a Santa suit while taking photos in the heat and dust of the festivals (hence his still prominent nickname "Dirty Santa") while I wore a top hat and orange jumpsuit. That summer of 2008 we covered several festivals up and down the Rocky Mountains, culminating with a trip to Burning Man in the middle-of-nowhere in the Black Rock Desert of northwest Nevada — the center of the universe, in many respects, in terms of art, culture and freedom of expression.
Following Burning Man, I moved back to New York right when the economy tanked. But, before I left Idaho, Andrew and I made plans to get back on the road next summer and do it all over again. And right around May 2009, we picked up where we left off, covering a now-defunct festival in the Ozark Mountains of Arkansas. I drove from New York, with Andrew heading down from Wyoming. This time, however, Andrew had packed his Jeep with everything he owned, in hopes of "living on love" with this woman in central Pennsylvania following the trip to Arkansas.
About a week or so into the Pennsylvania rendezvous, Andrew called me up. I was already back in New York. He goes, "Garret, it didn't work out between her and I, and I got to get out of here, man. You're the only person I know on the East Coast." He had just enough money left for a tank of gas, which is about what it took to go from central Pennsylvania to Upstate New York.
For the better part of the next year, Andrew and I lived together. Eventually, Andrew got his own place in my hometown, soon becoming a fixture in the local music scene, beloved by all who found themselves in his presence. My old friends from high school and college quickly became his friends.
From 2009 to 2011, we scraped together what little money we were making covering these festivals and doing other odd jobs, throwing it all towards gas and supplies to get to the next event. Keep the dream alive. Keep pushing on down the road. Our travels led us to festivals all over New England and the Eastern Seaboard. Dozens of festivals, hundreds of concerts, thousands of new acquaintances.
By the summer of 2011, Andrew felt it was time to move on. He was eager to get back out West, back to the Rocky Mountains, where perhaps opportunities would present themselves. We held a goodbye party for him, a packed house of friends from seemingly every corner of the North Country. We shook hands goodbye. Well, more like "see you later." About a year later, I also chased after opportunity when I accepted this position as the arts and entertainment editor for The Smoky Mountain News.
That goodbye party was the last time I saw Andrew. We've made vague plans over the last seven years to meet up, to "get back on the road and cover festivals like the good ole days." Nothing has really materialized, though. Like all of you out there, we each kept living our lives on separate trajectories in the cosmos. In recent years, Andrew even got married. I called him to congratulate him on the good news. We caught up on life and swapped some tall tales about our adventures here, there, and seemingly everywhere.
I'll be heading back to the Tetons next month. I haven't been back there since 2009. I miss all those friends I made out there when my career was in its infancy. I miss Andrew. And we're hoping to cross paths at some point on this western excursion. But, for now, let's all wish Andrew "Dirty Santa" Wyatt a very happy and healthy 50th birthday.
Life is beautiful, grasp for it, y'all.
Hot picks
1 Lazy Hiker Brewing (Franklin) will host The Colby Deitz Band (Americana/rock) at 8 p.m. Saturday, July 28.
2 The Concerts on the Creek summer series will welcome Summer Brooke & The Mountain Faith Band (bluegrass/gospel) at 7 p.m. Friday, July 27, at Bridge Park in downtown Sylva.
3 Nantahala Brewing (Bryson City) will host The Snozzberries (rock) at 8 p.m. Saturday, July 28.
4 Grammy-winning guitarist Bill Mize will perform at 7 p.m. Thursday, July 26, at the Marianna Black Library in Bryson City.
5 Celebrating its first year in operation, Mad Anthony's Taproom & Restaurant will host a party from 11 a.m. until close Saturday, July 28, in Waynesville.