Archived Outdoors
Adventure for all: Outdoor camp for youth with special needs builds friendships and confidence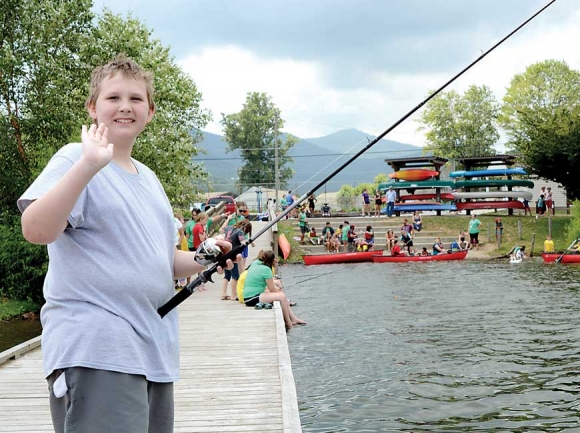 A camper waves from the dock at Lake Junaluska after an afternoon of fishing and canoeing. Holly Kays photo
Intermittent breeze ripples the water atop Lake Junaluska as the sky vacillates between sun and cloud, but the wind can't quite carry away the excited shouts and chatter of the 60 kids and teens strung out along the dock, casting lines in the water or paddling its surface in red canoes.
"There goes Maggie!" somebody shouts, pointing to a little girl whose head just barely rises above the top of the canoe as she reclines between two teenage volunteers and another young girl, who supports Maggie carefully from behind.
"Hi Maggie! Woo-woo, Maggie!" shouts a kid standing on the docks. "There's Maggie!" yells another, as more kids and adults join in to cheer Maggie on.
Creating Camp Ability
Maggie, like 27 other kids on the dock that day, is a camper with Camp Ability, a day camp that invites kids with special needs in Haywood and its surrounding counties to come spend a week playing outside, making friends and learning about Jesus.
"We have campers here who have been turned away, some kids who can't even participate in the school system because of their behavior, or they've been turned away from other camps," said Diane Gahar, who created the camp in 2009.
A speech therapist, Gahar saw the need for a summer experience that could include all kids, including those with disabilities that would normally prevent them from having that quintessential summer camp experience. So she joined forces with an occupational therapist assistant and created Camp Ability, which is now in its eighth year. This summer included two weeklong sessions, each full of activity — horseback riding, games, swimming, tennis, drumming and more.
"This makes kids' summers really meaningful," said Jamie Shackelford, co-director of Camp Ability partner Outdoor Mission Camp, as she lounged at the end of the dock with a camper named Luke. "Luke has been at Camp Ability since he was just a little boy. Right? I remember him at about 12, it seems like."
Asked how old his is now, Luke held up his hands, showing two fingers on one and zero on the other.
"Twenty. A two and a zero, that's 20," said Shackelford. "That's good communication. He does a great job with communication if you slow down and listen to him and watch how he signals things."
Serving kids age 5 through 22, Camp Ability typically keeps a roster that's 60 percent returning campers and 40 percent new campers, though this year it's closer to a 50-50 split, Gahar said. A good many kids aged out of the program last year.
An Outdoor Mission Camp volunteer plays clapping games with a camper while waiting for the bus to pull up. Holly Kays photo An Outdoor Mission Camp volunteer plays clapping games with a camper while waiting for the bus to pull up. Holly Kays photo
Fueling friendships
Camp Ability isn't just about giving kids with special needs the chance to have fun outside. It's also about fueling friendships — between kids with special needs, and between campers and their same-age peers who don't face those challenges. A key component of the program is the buddy system, and that's where OMC comes in. The camp works to recruit buddies for each session of Camp Ability, matching each volunteer with a camper. Buddies and campers stick together all week long, with buddies learning how to take cues from their partners and help them get the most possible out of their week at camp.
Shackelford saw the magic of the process firsthand several years ago, when she volunteered at a camp for disabled adults in Wisconsin.
"I was a buddy with the campers, and the campers were my age," she recalled. "I was 49 or 50 and my camper was 49 or 50. I spent the whole week with this woman. It was impactful. When I came home I said, 'What's happening in our community that's similar?'"
She found Camp Ability, and the partnership took off from there.
"The buddy system is really awesome," said Rossi McDonald, whose 10-year-old son is a camper at Camp Ability. He comes with his 8-year-old sister, who is developmentally normal but provides a comforting presence for her older brother.
"It's a safe place for kids that are a little different," McDonald added. "They don't get bullied. There's a lot of acceptance, and they feel like they can be who they are instead of feeling awkward."
Her son doesn't necessarily look different from other kids his age, but he struggles with social skills. Having a place where he can come, be himself and let go of some of the anxiety that comes with never quite fitting in is a restorative experience.
And, as with any kid — regardless of whether or not a disability is thrown into the mix — campers are sometimes more apt to step outside their comfort zone following encouragement from peers and mentors than they'd be willing to do at the behest of their parents.
"It expands their possibilities and experiences, whereas with Mom and Dad they're like, 'No, I don't want to do it,'" said Jennie Boothroyd, whose 11-year-old daughter came as a camper, with her 16-year-old sister volunteering as a buddy. "Even my normal-developing teenager is the same as Regan in that respect."
A two-way street
The benefit goes both ways — from the buddies to the campers, and from the campers to the buddies.
"They can teach you a lot about yourself, things you didn't really realize before," said Clyde resident Tristan Goode, 15, enjoying some end-of-the week ice cream back at New Covenant Church, where the camp is headquartered.
"It helps that they make you smile," he added as a camper grabbed the mic at the front of the room and launched into an enthusiastic rendition of "Winnie the Pooh."
This was Goode's second year at Camp Ability, and he already knows he wants to come back next year. The experience has given him so much insight into the ways that these kids have their own unique gifts and abilities, he said. For instance, this year he was paired with 14-year-old Bradley, who had no trouble "completely destroy(ing) me" in a game of Yu-Gi-oh.
Bradley gave him some new perspective on his own life, too, Goode said. Throughout the week, Bradley would encounter various activities that he'd never done before, and didn't really want to try. Watching Bradley overcome his hesitations and go for it, Goode was inspired.
"I had been kind of holding off on some things I didn't really like to do," he said. Seeing Bradley take the leap made Goode realize he should do likewise.
"These kids, they are more smart than me," added Melisa Enriquez, 17. "They are very gentle and smiley and sometimes we need to be more like them. They enjoy the little things."
Enriquez traveled from her native Guatemala to spend her entire summer in Maggie Valley as part of OMC's wilderness discipleship training program, called the Sherpa program. Molly McGreevy, 20, of Murfreesboro, Tennessee, was in Enriquez's shoes last year, when she was a Sherpa. This year, she could return for only one week out of the two-month season — and Camp Ability was her pick, hands down.
"It's really awesome to see them bond with others but also to bond with their buddies, and for the buddies to be able to step beyond that threshold of 'it's not for me, it's for these kids, and for one week I'm going to put them first,'" McGreevy said. "And that's one thing that's a testimony for me. That's what Christ did for us. Christ put us first."
Learning to put someone else first is what it's all about, Shackelford said — taking joy in another person's uniqueness, staying attentive to their needs and struggles, and beginning to lead by following.
"Certain personalities are designed for that, it seems like as adults," she said. "But to learn that is important for all of us, to learn how to serve in a way that builds others up."