Archived Arts & Entertainment
Sunday Soiree brings flavor to Folkmoot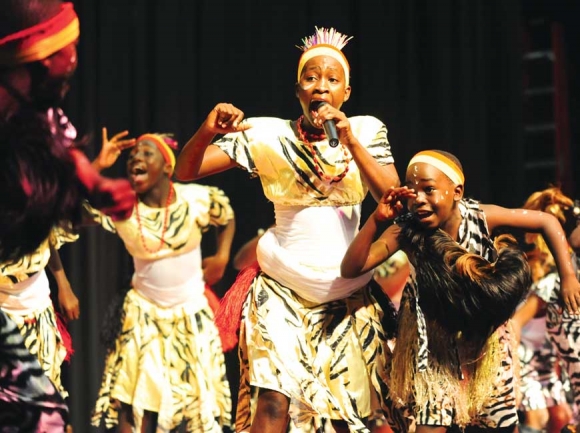 Patrick Parton photo.
Last year's inaugural Sunday Soiree featured the usual festive Folkmoot fun — drinks, dancing and heavy hitters on the stage, including Grammy Award winner Secret Agent 23 Skidooo and perennial favorite Empire Strikes Brass — but this year's event looks to take it up a notch by focusing on the food.
Founded in Asheville in 2011, The Blind Pig Supper Club is a group of professional chefs, bartenders and servers that also includes artists, farmers, and musicians — all of whom, according to the groups' website, share "a fondness for good food, art, music and a bit of adventure."
They'll be hosting a "friendship dinner" at this year's Soiree, featuring foods found in the homelands of this year's fest guests, including the Czech Republic, Ghana, Italy, Jamaica, Mexico, Northern Cyprus, Thailand and Venezuela.
What often gets lost in the overall picture of this thing called Folkmoot is that it's an organization dedicated to fostering "the vibrancy of many cultures into one community." Nowhere in its mission statement does it even mention dance.
What it does mention is cultural exchange; other than language, food is the primary vehicle by which culture it transmitted across generations and exchanged across ethnicities.
Folkmoot Executive Director Angie Schwab said she was particularly excited about Blind Pig's participation in this year's fest.
"It's going to be great," said Schwab. "What they do is so cool."
Call it a catering company with a social conscience; through what they call "Community oriented pop-up concepts," the group also works as a fundraising organization and catalyst to community building.
"Since 2011, The Blind Pig has produced over 150 unique supper concepts that have brought together thousands of individuals to our tables," reads the group's website. "We have been effective in networking and building lasting relationships through what we do."
The Blind Pig also donates directly to a diverse list of organizations including Manna Food Bank and Boys & Girls Clubs, and also runs a campaign of pop-up fundraising dinners that fight poverty and homelessness.
Even though all the fuss seems to be about food, Folkmoot hasn't lost its focus on what's built the festival over the past 35 years — song and dance performances that offer insight to other cultures.
This year, visitors to the Sunday Soiree will see performances by a number of young people, including Weaverville fiddle phenom Lillian Chase. Just 14 years old, Chase appears comfortable and confident in both bluegrass and classical settings, and has already performed at Merlefest.
Reigning Junior Miss Cherokee Dvdaya Swimmer is another young prodigy, probably best known for stunning vocal performances, including her rendition of "Home" from Disney's "Beauty and the Beast," sung in her native Cherokee Language. Swimmer is also a great-granddaughter of Cherokee Beloved Woman Amanda Swimmer.
Rounding out the regional attractions are the Tuscola High School Jazz Band with skilled performances of American standards, and the Asheville-based Urban Arts Institute, which promotes artistic expression — dance, especially — in Asheville's urban community.
The Sunday Soiree takes place at 5 p.m. Sunday, July 22, in the green space beside the Folkmoot Friendship Center at 112 Virginia Avenue in Waynesville. Tickets cost $65 for adults, $30 for children and are available online at www.folkmoot.org or by phone at 828.452.2997.