Archived Arts & Entertainment
Honoring the past, welcoming the future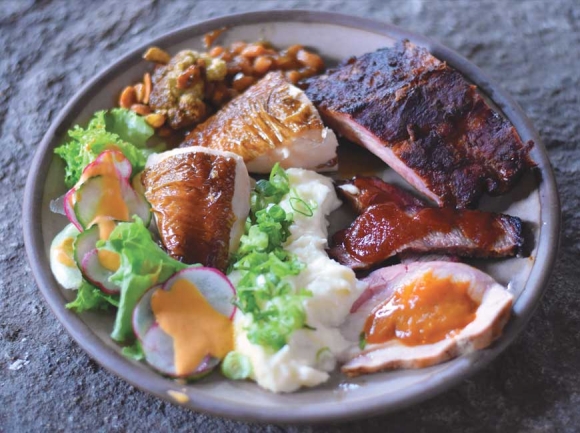 A dinner plate at the recent 'Barbecue Night' at The Swag. Garret K. Woodward photo
High atop a mountain overlooking Haywood County, Annie Haslam Colquitt sits across a dining room table at The Swag. A rainstorm has just swept through, with a cold breeze floating through the open front door. She gazes around, her eyes slowly drifting out the windows onto the deep woods of the Great Smoky Mountains National Park bordering the property.
"There's just a feeling in this place that's so special," she smiled. "It's removed from any sort of stress of everyday life, the hustle and bustle. When you come here, you're coming to a home — a warmth and hospitality that's unique to the mountains."
Consisting of several cozy cabins orbiting the large guesthouse, The Swag had been owned by Dan and Deener Matthews since 1969. At first, it was the couple's private abode, but soon became a world-renowned lodging experience. And when word emerged this past winter that the Matthews were looking to finally sell The Swag, Annie and her husband, David Colquitt, both in their early 30s, jumped on the once-in-a-lifetime opportunity.
"It was a hard decision for Dan and Deener to make because they love this place, they've poured so much of themselves into The Swag," Annie said. "They bought the land when they were in their 30s and ran in into their mid-to-late 80s. We could only be so lucky if we get that kind of lifetime here. It's such an amazing thing to think about — for us, for our kids, for our family."
But, the decision to sell The Swag was made that much easier knowing that the new owners came from a family of dear friends of the Matthews.
"My grandparents have been the best of friends with Dan and Deener for decades. They've come up here on several occasions," Annie said. "My dad also used to visit The Swag when he was in high school. David and I came here (in 2011) for our honeymoon, too."
Annie's grandfather is James "Jim" Haslam II, founder of the Pilot Corporation, which owns and operates numerous convenience stores and travel centers throughout the United States and Canada. Her father, James "Jimmy" Haslam III, is the current CEO of Pilot, based out of Knoxville, Tennessee. Her mother, Dee, is the owner of the Cleveland Browns (an NFL team). And her uncle, Bill Haslam, is the current governor of Tennessee.
In terms of the longtime traditions of The Swag, the Colquitts aim to keep the property as is — physically and emotionally.
"The core things will definitely stay the same. It's about staying connected to nature and preserving that. We're not interested at all in selling the green spaces here. We will remain stewards of the land," Annie said. "This is a place where people come to connect and reconnect, and we will always retain that genuine sense of community — between staff and guests, staff and staff, guests and guests."
Though The Swag is a private, reservation only inn, anyone can come up the mountain for just dinner or the popular Wednesday picnic. By doing this, visitors are welcomed to wander the property and immerse themselves in all of its natural beauty.
"You can also reserve a lunch or picnic ahead of time if you're hiking through in the park," Annie said. "It's such a great experience that most people don't even know it's an option."
Aside from the weekly dinners and picnics, The Swag will continue to offer an array of programs for its guests. Each week, an artisan or naturalist will hold a specific residency, where guests can partake in several activities — going for a hike, learning about wildflowers, paint a landscape or perhaps hear some live Appalachian music. As well, The Swag's Executive Chef Jake Schmidt will also hold cooking schools semi-regularly.
And on a recent evening (aka: "Barbecue Night"), The Swag is once again filled to capacity with folks from near and far, all coming together for a hearty, gut-busting meal from Chef Schmidt and his incredibly talented kitchen. Faces are mingling with other faces, known and unknown, the building glowing not only from the dining room lights, but also the jovial souls inhabiting the beloved space.
"I love the mountains, love the Smokies. It's the natural beauty of this place drew us in. It's the community of the longtime guests and the employees who have worked here for years, and the bonds between them. It's humbling and inspiring," Annie said. "I feel like every time we come up here, get out of the car, look around and walk the property, I can't believe how lucky we are to be part of this story — to call this place home."
Want to go?
To learn more about The Swag, any of its upcoming events, dinners, classes and/or reservation information, visit www.theswag.com or call 828.926.0430.