Archived News
STAR Ranch rescues 'miracle mare'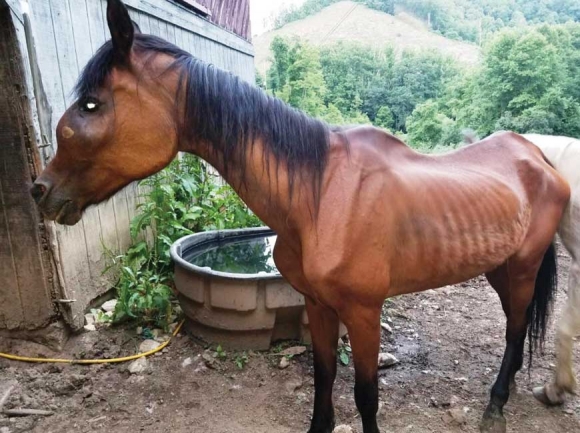 Scarlett, a 22-year-old mare who needed surgery to remove a large mass on her face, is recovering nicely after being rescued by STAR Ranch several weeks ago. Donated photos
STAR Ranch Horse Rescue in Haywood County has had many success stories through the years, but a recent horse rescue effort has Karen Owens believing in miracles.
By all accounts the rescued horse shouldn't have survived with all the problems she had. In addition to being extremely underweight, she had a massive knot on her head that required an operation. Owens, president and founder of STAR Ranch, knew the horse might be too far gone to help but she didn't give up on her.
Now the "miracle mare" is healing well at the ranch.
"If I hadn't seen it I wouldn't have believed it," Owens said.
In early June, Owens received a call from a concerned resident about a nearby horse that appeared to be malnourished and sick. Owens reached out to the owner who was trying to get the mare the medical help she needed.
"He was doing his best on limited funds and had been put in a bad situation when the original owner of the mare, known as Scarlett, had left her on his property when he had purchased it," Owens said.
STAR Ranch offered the owner $500 to help pay for Scarlett's surgery at the University of Tennessee, Knoxville. Owens went to UT on June 18 for the surgery and met Scarlett for the first time. While the pictures she'd seen of the mare made it obvious the horse was in trouble, she said she was unprepared for what she saw.
"Scarlett had embedded halter marks on her head. Her hooves were terrible and she was 300 pounds under weight. The odor emanating from her was necrotic," Owens said.
Scarlett was about to undergo surgery while standing up, and Owens knew she needed to be beside her in the operating room. The veterinarians numbed Scarlett's skin, blocked her nerves and literally sawed a hole into the horse's head as she stood there for more than two hours. Scarlett stopped breathing shortly after her surgery due to swelling in her head. The surgeons then performed an emergency tracheotomy.
The experienced surgeon at UT said the large knot was most likely cancer and not a cyst. He hadn't seen anything like it in his 50 years of experience. Tissue samples were removed from her head and sent off for biopsy. The tissue was also placed under a microscope for a quick analysis, but still the assumption was cancer. Owens said the surgeon and attending vet recommended euthanasia.
"No one wanted her to suffer," she said.
Though he wasn't optimistic, another surgeon said to wait four days for the test results to come back and manage her pain in the meantime, so that's what they did.
Desperate for some hope, Owens posted a message on the STAR Ranch Facebook page asking everyone to take a minute and pray for Scarlett on the day of her surgery — 65 people agreed to do so.
Everyone was floored when the results came back showing no cancer cells. Scarlett had a strange bacterial infection normally found in cows as well as a nasty fungal infection, which led to her weight loss. But at 22, Scarlett still has a lot of life left in her to fight the infections.
STAR Ranch picked Scarlett up at UT four days after surgery to bring her home. With the surgery and the tracheotomy tube still in, STAR Ranch asked the owner to surrender the horse since she would need intensive after care for a while.
A respiratory therapist from Mission Hospital came to the ranch every day to change and clean her trach tube.
"Scarlett was surrounded by people who loved and cared for her," Owens said. "Thankfully a STAR Ranch hand lives in the barn and was able to check on her the first night she came home to make sure the trach tube was in place and that she was breathing OK for the first 24 hours, around the clock, every hour."
After a few days when the surgical site stopped draining through her nose the trach tube was removed and she began to breathe normally. Now the trach hole is covered to heal and her breathing is almost normal.
A Go Fund Me page was set up for Scarlett as expenses for the surgery at UT had more than doubled. Owens said $565 was raised in 30 minutes and 2,100 hits on the STAR Ranch Facebook page indicated Scarlett had a fan club.
The miracle mare had beaten all the odds and was eating. All Scarlett's volunteers remark about her 'big brown eyes' and how compliant and sweet she is. Scarlett is now up to 800 pounds with only 150 more to go.
"Not many horses would stand still for all the treatments Scarlett has had to have. She is one in a million," said STAR Ranch volunteer Caryn Williams.
"This is proof of the power of prayer, twice," said Browen Talley, one of Scarlett's biggest fans. "There really is no other reason she pulled through all these dire prognoses. She has gone from basically no chance, to a good life."
Once she's fully recovered, Owens said she is open to putting the miracle mare up for adoption if the right family came along, but with the life she's had up until now Owens wants to ensure Scarlett goes to someone willing to give her the love and attention she deserves.
Scarlett is the 130th horse to come to STAR Ranch, which is now in its 12th year. The ranch is located at 970 Rabbit Skin Road, Waynesville, for anyone who would like to financially help the organization continue its mission.
Visit www.star-ranch-rescue.com, www.gofundme.com/after-care-for-scarlett or call 828.400.4940 for more information.
Lend a hand
• STAR Ranch will host a fundraiser featuring Jeff Foxworthy impersonator Jamie Simpson from 6 to 9 p.m. Saturday, Aug. 4, at Elevated Mountain Distilling Company in Maggie Valley.
• Catered by Maggie Valley Rendezvous Restaruant
• Tickets $35 at the door or call 828.400.4940. $5 to sample the distilleries spirits.
• Proceeds will assist STAR Ranch pay for bails of hay. The ranch uses about 2,500 bales of hay a year.
• For more information, visit www.facebook.com/starranchrescue.