Archived News
Administration shuffled in Haywood County Schools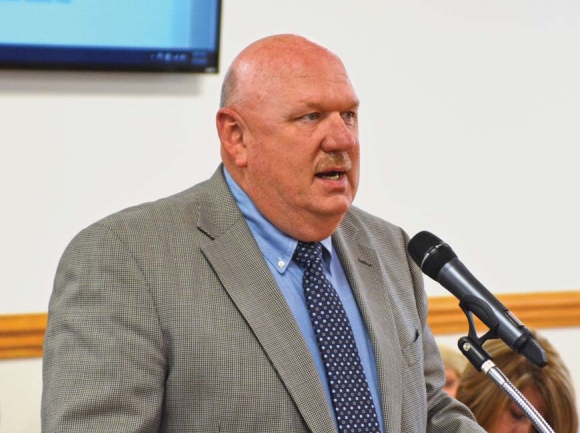 Haywood County Schools superintendent Dr. Bill Nolte.
Haywood County Schools superintendent Dr. Bill Nolte wasted little time in announcing the administrative support team that will help him maintain and improve upon the school district's eleventh overall statewide ranking.
Nolte presented recommendations to the Haywood County Schools Board of Education the night of July 12, after an 80-minute closed session.
"I want to thank the board for your support in putting, I believe, a strong senior administrative staff team in place that should carry us for the next five to 10 years," Nolte said upon receiving board approval.
Leaving his job as Waynesville Middle School principal to become the associate superintendent for support services is Dr. Trevor Putnam, who will also manage facility use. He'll also chair the policy committee, oversee random drug testing and serve as athletic director. He'll see a base pay increase from $74,719 to $82,004, plus a stipend increase from $4,325 to $8,000.
Also moving up in the ranks is Jill Barker, who had been Pisgah High School's principal. She'll now serve as the assistant superintendent for curriculum and instruction and be responsible for enrollment, faculty curriculum and instruction, student transfers, remediation budgets, teacher allocations and some public information duties. Barker's base pay increases from $71,014 to $77,597 and her stipend increases from $7,245 to $8,000.
Mark Sheppard will assume the role of transportation director, charged with managing transport operations, driver's education and determining road quality during inclement weather. Sheppard's old job of student services director has largely been subsumed into Putnam's new position. Sheppard will see his base pay increase from $66,000 to $74,000 while his $3,500 stipend remains unchanged.
Todd Barbee moves to Waynesville Middle School to fill the role of principal at the system's largest middle school, leaving Canton Middle School. His base pay increases from $66,408 to $72,611, but his $4,325 stipend also remains unchanged.
Kim Jackson is the new technology director, tasked with supervision of system infrastructure as well as library and media services; her old position of assistant technology director will likely go to a data specialist, according to Nolte. Jackson earned $63,756 last year, but this year will earn $71,757 in base pay, while her $3,500 stipend remains unchanged.
Clint Conner is the new Pisgah High School principal, leaving his principal's job at Clyde Elementary School. Conner, who earned $77,806 plus $3,500 last year will now earn $87,298 plus $7,245.
Carol Fox will leave her assistant principal role at Tuscola High School and her $64,350 base pay to serve as the new principal of Canton Middle School, where she'll earn $71,400. Her $4,450 supplement pay will decrease slightly, the $4,325. Those numbers don't paint the whole picture, however, as Fox used to be an 11-month employee.
Another 11-month employee who'll now be working year-round is Byron Burnette, who assumes the principal role of Clyde Elementary School. Burnette leaves his assistant principal position at Pisgah High School, which paid him $50,578 plus a $4,450 stipend. Now, he'll take home $69,311, with a smaller stipend of $3,500.
Those salary figures do not include other stipends and/or longevity bonuses that push many administrators' total compensation packages — not including benefits and other fringe benefits — up into the $80-90,000 range.
In a press release sent by HCS later that evening, Nolte said his only regret was not having "enough openings to place everyone who is qualified and ready."
Days later, on July 16, a few more status changes of HCS employees were announced. Todd Trantham, who leaves the transportation department for the principal's job at Tuscola High School, added three people to his staff.
"Jacob Shelton came from a position that was shared between Tuscola and Waynesville Middle School," Trantham said of Shelton's assistant principal role at both schools.
"I had Graham Haynes as a student when I was at Tuscola about a decade ago," said Trantham. "Graham was an excellent Waynesville Middle School teacher and became an assistant principal there. Lisa Thompson, a great curriculum person, she served as half-time LEAD teacher, half-time assistant principal at Junaluska Elementary. We've got a great team and I'm excited."
Trantham's salary wasn't immediately available as of press time, nor was that of Travis Collins, Tuscola's former principal who has since left the county for a job in a neighboring district.
Many of the upper-level administrators are homegrown; Putnam, Sheppard and Burnette attended Pisgah High School, while Barker is a graduate of Tuscola. Barbee, Conner, Fox and Jackson all attended high school elsewhere in North Carolina.