Archived News
Shining Rock moves on land purchase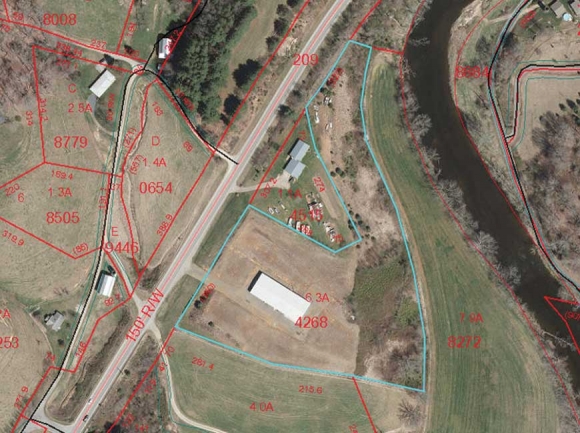 Haywood County's only public charter school intends to purchase property off Crabtree Road. Haywood GIS photo
Just three days after holding a closed meeting during which members of the Shining Rock Classical Academy voted to contract with a local Realtor for brokerage services, the Haywood County public charter school has made an offer to purchase property.
"Right now we're just securing future growth," said Anna Eason, chairwoman of Shining Rock's board of directors. "We'll go into due diligence, make sure the property is viable for the school."
According to a contract for purchase provided by SRCA, the parcel at 3750 Crabtree Road is 6.294 acres. Eason said the property's current owner, R & C Green Enterprises, LLC, had originally intended it to be a small industrial park.
County records show the parcel, located on the east side of Crabtree Road just north of Interstate 40, is assessed at $414,300. SRCA's offer is for $851,000. North Carolina Secretary of State records indicate R & C Green is managed by Ronald J. Green.
After the $29,500 earnest money is paid, SRCA will fork over $225,800 in cash and, according to the contract, procure a $595,700 loan over 20 to 30 years at 2 to 6 percent interest.
Assuming everything goes through, SRCA will acquire the acreage along with a 9,000 square-foot building that used to be a garage.
SRCA's current home on Dellwood Road is owned by the Lake Junaluska Assembly and consists of several modular classrooms. Eason said off the top of her head that there were three modular classroom buildings on the 2.8-acre plot, containing about 25,000 square feet of space, not including the office.
But Eason added that there are no plans to move from the Dellwood Road location at the moment; without substantial construction, the Crabtree Road parcel has nowhere near the instructional space SRCA currently has, much less the space it thinks it needs — School Director Nathaniel Duncan said last week he thought enrollment at the county's only public charter school would increase from about 400 last year to about 460 this year.
Eason also said that assuming the purchase is successful, there are no plans to do anything with the building or the land in the near-term, and certainly not before this coming school year.
Closing on the property is projected to take place in late August.
"This is the first step in securing our future growth," Eason said. "I'm really excited for what's to come."