Archived Arts & Entertainment
This must be the place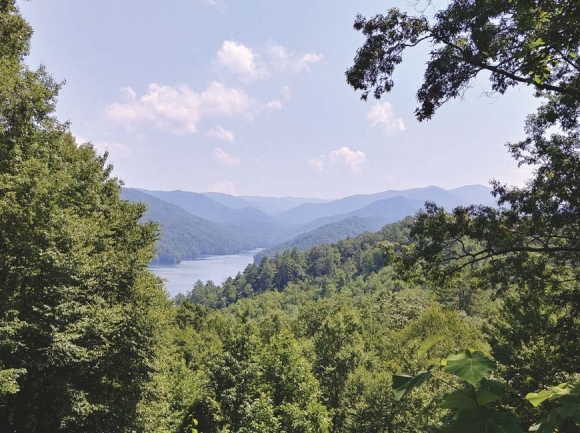 Fontana Lake.
I still don't really know what day it is.
And I don't think I'm alone with that sentiment. With the Fourth of July falling on a Wednesday last week, my sense of time and place seems to have been completely thrown out the window, still nowhere to be found by the time we put together this issue.
As I'm writing this column at my desk this past Tuesday morning, the space I'm currently inhabiting seems foreign to me. After several days of frolicking around Western North Carolina and East Tennessee, the four walls around my chair and air-conditioning seems more like a cage with all this sunshine and bluebird sky we're awakening to each day, teasing me just outside my office window.
So, there I was, the morning of July 4 — Independence Day — in the depths of Nantahala Brewing in Bryson City. The prior evening, I had attended another installment of the brewery's annual "Week of Rock" (aka: 10 days straight of live music in honor of America's birthday). I stepped out of the darkness of the brewery and into the blinding sunshine. Even at 9 a.m. the picturesque small downtown was packed to the gills with vehicles trying to find parking, folks pig-piling out into another glorious day in the mountains of Western North Carolina.
By 9:45 a.m. I knew I had to sweat out the shenanigans of the previous night. Heading to the Tsali Recreation Area on Fontana Lake, I threw on my running shoes and hit the dirt trails. Mountain bikers pulling their gear off vehicles with license plates from seemingly every part of the country, all here to enjoy our backyard. Three miles into my run I started to feel normal again.
Back at my truck, I stripped down to just my running shorts and jumped into Fontana Lake. Swirling around the small cove, I stared off into the distance, thinking about all of those I love, where they are today, what they're doing, and if they're happy in the grand scheme of things. I gazed upward into the sky with a mindset of gratitude.
Exiting Tsali, I stopped where the entrance meets N.C. 28. I looked left. I looked right. Bryson City or head further down N.C. 28 towards the Tail of the Dragon and into East Tennessee? I'd never cruised the legendary Tail of the Dragon, let alone stood atop the Fontana Dam and taken that route into Tennessee. Roll the dice. Seek adventure. Tail of the Dragon it is then.
Bolting down N.C. 28, I pulled over at the intersection and snapped a picture of the N.C. 143 sign. That number has been kicking around in my head for a long time, more so lately after recently seeing the new Mr. Rogers documentary "Won't You Be My Neighbor?" (for Rogers, 1-4-3 is the number of letters in "I love you"). I figured in this day and age we all could use some 143 in our lives, that roadside marker signaling to me that love amid humanity only gets stronger in dark times.
Looking over the edge of the Fontana Dam (480 feet high), I marveled at the ingenuity and engineering skill needed to build such a structure with precision. It's another milestone achievement in our vast and wondrous country, and also another chapter of a very long and tumultuous story between the U.S. government and the mountain folks of Western North Carolina and East Tennessee.
Pulling into a gas station (Deals Gap Motorcycle Resort) at the start of the Tail of the Dragon, I stood out like a sore thumb amid hundreds of leather-clad bikers milling about — bright neon blue running shorts and flip-flops, stretching my legs a tad before jumping back in the old pickup truck. Destination? Knoxville, Tennessee, where my best friend and his wife lived. Who better to spend my impending Fourth of July evening with, eh? Onward.
N.C. 28 turned into N.C. 129 as my truck meandered down the Tail of the Dragon — 318 curves in 11 miles. The endless shifting of the steering wheel left then right then left again, rolling along the desolate mountains of Southern Appalachia. Crossing the state line into Tennessee, the road went down and down (and down), where I soon found myself riding alongside several bodies of water. The beauty of Mother Nature flying by my windshield, the windows rolled down with that sweet scent of summer filling my nostrils.
My mind felt at ease — if but for a moment — on that stretch of hard pavement surrounded by the wonders of the universe. It had been awhile since I had felt that sense of internal peace, longer since that grin in the rearview mirror stretched from ear-to-ear. The summer has only begun, with so many unknown adventures ahead, just around the corner, eager and ready to surprise you at any given time.
I don't know what the future holds — for myself, for this country, and the world at-large. But, I remain optimistic. I truly do. Beauty isn't coincidental on our planet. It grew up around us, and we also create it with our own hands. We have more in common with each other than we think, or are told. So, to you out there in cosmos reading this, soak in that sunshine and smile to those known and unknown around you. Be kind. Just be kind, dammit. It's all we have in this existence.
Life is beautiful, grasp for it, y'all.
Hot picks
1 Acclaimed singer-songwriter Amanda Anne Platte & The Honeycutters will return to the Cataloochee Ranch at 8 p.m. Sunday, July 15, in Maggie Valley.
2 The Smoky Mountain Community Theatre will present its summer production, "Rumors" by Neil Simon, at 7:30 p.m. July 13-15 and 20-23 in Bryson City.
3 The Cashiers Plein Air Festival will be held July 17-21.
4 The Marianna Black Library is will present the traditional music and storytelling of Lee Knight at 7 p.m. Thursday, July 12, in Bryson City.
5 Currahee Brewing (Franklin) will host Gold Rose (Americana/rock) at 7 p.m. Saturday, July 14.