Archived News
Shining Rock looks to the future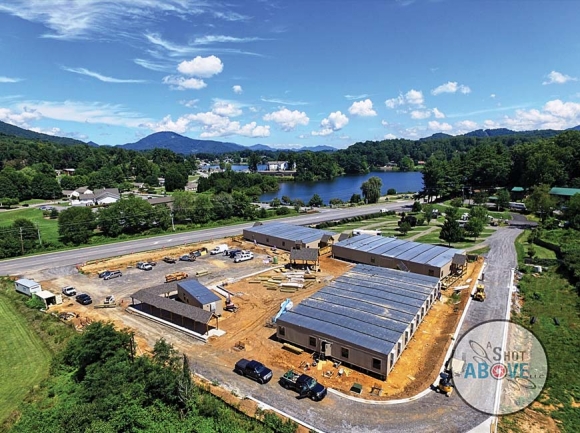 Shining Rock Classical Academy has contracted with a broker as it projects to eventually outgrow its current campus composed of modular units. A Shot Above of WNC photo
Haywood County's only public charter school is forecasting increasing enrollment for the coming year and has always had expansion in mind, but after a special called board meeting earlier this week, Shining Rock Classical Academy is getting serious.
"It's always been our goal to either have a permanent home or a high school," said Anna Eason, chair of the board of Shining Rock. "So we're always looking for property, for the future."
Since opening four years ago, the school has utilized modular components to house students and administrators, on a lot near Lake Junaluska at 1023 Dellwood Road. The 2.82-acre parcel is owned by the Lake Junaluska Assembly.
After a 90-minute closed session on July 9, members of the SRCA board voted unanimously to offer a contract for broker services to Ron Breese, a Haywood County realtor with Re/Max.
Even without finding itself a permanent home or expanding into high school instruction, SRCA in its current location will likely begin to run out of space at some point, especially if School Director Nathaniel Duncan's suppositions are correct.
"There's a boom across the county, as we've talked to Haywood County public schools and Haywood Christian Academy. We'll probably be close to 460 this year," said Duncan of projected enrollment totals.
Duncan is entering his first full year as director at the school, which accepted former founding director Ben Butler's resignation last October; Duncan was hired in late January of this year.
Last year, the school settled in right around 400 students after adding a few new enrollments and losing a few students who, for whatever reason, decided they no longer wanted to attend.
"I would say that 460 will wiggle itself back this year so that adds some [room]," he said.
But, Duncan also said he was adding a fourth kindergarten class for the upcoming year.
"The goal cohort as we move forwards is 63 [students] per grade level," he said.
That means about 15 or 16 students per class.
"What the idea is after this," he said, "is that as those kindergartners become first-graders, I will add another first-grade teacher to march those kids forward."