Archived News
Outside prosecutor to review Knibbs shooting case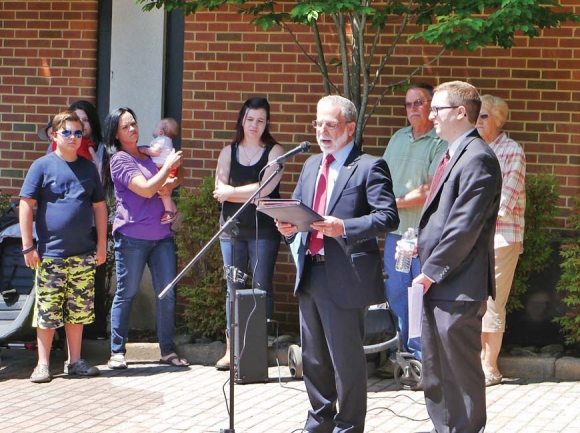 More than 100 people attend a support rally for the family and friends of Scott Knibbs. Macon Media photo
An outside prosecutor has been called in to review the State Bureau of Investigations' report regarding an officer-involved shooting that left Scott Knibbs dead inside his Macon County home.
In a recent press release, 30th Judicial District Attorney Ashley Welch said she received the SBI report two weeks ago and after careful review decided to have a second pair of impartial eyes on the case file.
"I have decided to request neighboring District Attorney to review the investigation out of an abundance of caution and out of respect to all parties involved in this matter," she said. "District Attorney Greg Newman of District 29B has graciously agreed to manage any and all prosecutorial decisions in this case."
Welch also stated that prior to receiving the SBI report, she met with the Knibbs family along with their attorney Mark Melrose to listen to their concerns about the case. It's been a high-profile case with strong opinions on both sides. Melrose has been a vocal advocate for his clients and organized a rally at the Macon County Courthouse on May 8 — just a week after Knibbs was shot and killed by a Macon County Sheriff's deputy.
As a defense attorney Melrose has a little more freedom to express his opinions of the case to the media, but at a recent criminal justice forum, Welch said a DA has to be careful not to talk about the case while it's still under investigation. While Melrose has been critical of Macon County Sheriff's Office and has stated Welch wasn't immediately responsive to questions from the Knibbs family, Welch said there's little she can say to respond to his accusations at this time.
"I can't. I'm not allowed to get up and say this person is guilty, etc. … they'd take all our law licenses away," she said at the forum. "People don't realize when you're a prosecutor there's a higher level of ethics."
The SBI report is not public record at this time. The only accounts of the April 30 shooting are coming from Melrose's interviews with the family members present that night and a brief press release from the sheriff's office. Deputy Anthony Momphard had responded to a neighbor dispute call just before midnight April 29 between from Knibbs' neighbor, who claimed Knibbs had placed wooden boards in the roadway that contained nails.
Melrose claims Knibbs did place boards in the road to slow down his speeding neighbors who were endangering the safety of children playing outside but that the boards didn't contain nails.
Melrose said Knibbs and his wife were in bed asleep when they awoke to noise outside their window. Thinking it was the neighbor trying to cause more problems, Knibbs retrieved his shotgun and headed to the front door to see what was happening outside. He didn't make it outside before he was shot through the window multiple times by the deputy outside.
According to the sheriff's press release, Momphard fired his weapon because Knibbs wouldn't drop his gun and exhibited aggressive behavior toward the deputy. However, Melrose said Knibbs had no idea it was a deputy outside his home. He said there were no blue lights or patrol vehicle in his driveway and he didn't hear any law enforcement officers give him any instructions before he was shot four times through the window.
Based on the family's account, Melrose said Momphard then busted through the front door and shot Knibbs two more times while he was down on the floor.
Knibbs' wife, his 13-year-old son, his 22-year-old daughter, and his 5-month-old grandson were all in the home at the time of the incident.
Momphard, who is currently on paid administrative leave until the results of the investigations are complete, was a new deputy with the department. Before coming to work for the sheriff's office, he was a U.S. Marine who served two tours in Afghanistan.
Knibbs worked in construction and was married to his wife, Missy, for 25 years. According to Melrose, he had no criminal record and graduated from Basic Law Enforcement Training at Southwestern Community College in the 1990s.