Archived News
New housing planned for WCU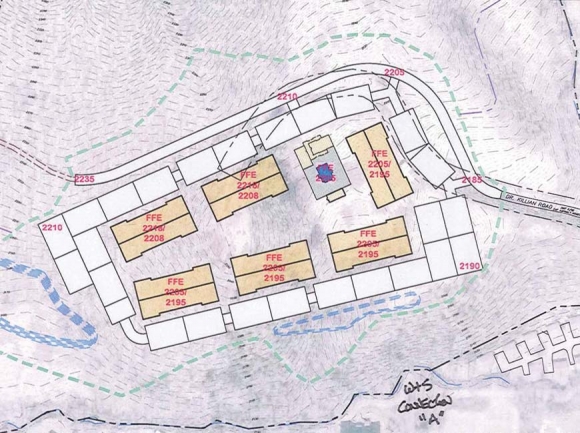 WCU selected a conceptual plan from Zimmer Development Company from a field of many applicants for the project, four of whom were invited to present their ideas in person. Donated graphic
With no end in sight to rising enrollment, Western Carolina University is hoping a public-private partnership with Wilmington-based Zimmer Development Company will help meet the housing needs of future upperclassmen.
"We like to house our freshmen and underclassmen (on campus), and then kind of part of our scheme is once you become an upperclassman you kind of naturally move off campus," explained Mike Byers, WCU's vice chancellor for administration and finance. "So making sure that there's enough places to live, enough inventory in the environment, seemed appropriate."
The 500-bed housing complex will be constructed off of Blackhawk Road and Dr. Killian Road, across N.C. 107 from the main WCU campus on property that is part of the university's Millennial Campus. WCU leases Millennial Campus property to the WCU Endowment Fund, which has more flexibility in the types of contracts it can enter into. The goal is to improve the university and the opportunities it offers students and faculty through public-private partnerships.
Under the agreement, the WCU Endowment Fund and Zimmer will enter into a long-term sublease for a yet-to-be-determined fair market value. After agreeing on a design concept with WCU and the Endowment Fund Board, Zimmer will build the housing complex and manage the property. The complex will likely offer the apartment-style housing that upperclassmen seek in off-campus living but that the university makes it a point not to provide in its on-campus housing.
"We aren't going to manage this property," said Byers. "We aren't going to fill the beds. We aren't going to bill the students. It will be just like any off-campus apartment complex. They'll just happen to be leasing the property from us."
Many "very good" developers submitted their qualifications for the project, Byers said, with four invited to come present their ideas. Zimmer emerged as the "best fit" due to the effort they put into studying the site and how their plan would fit in with the university's master plan. The "all-star" team they'd put together to work on the project, including local acts like Vannoy Construction and Civil Design Concepts, also proved impressive, Byers said.
With the N.C. Promise tuition reduction program coming online this fall, enrollment will rise, and while it's too early to say for sure how large the 2018-19 freshman class will be, as of now it looks like the number of students will outstrip initial projections of a 300-student increase over last year, Byers said. Every spring, the university's enrollment office sends thousands of acceptance letters with the understanding that many applicants have applied to more than one school and will decline admission. Exactly what percentage of accepted applicants will ultimately enroll is always something of a guessing game, and as a school becomes more or less competitive with other similar institutions, that proportion can shift.
WCU is currently in the midst of completing a dormitory renovation and replacement plan on campus, constructing a 600-bed residence hall on the upper campus and then demolishing and replacing two aging dorms, Scott and Walker. However, the replacements for Scott and Walker will have fewer beds than the existing buildings, meaning that by the end of the renovation and replacement plan WCU will have no more beds than it does currently. Taking into account these on-campus plans and planned housing projects from private developers off-campus, WCU concluded there would be a "pretty major deficit of beds" in the Cullowhee area if it didn't move ahead with the Millennial Campus project.
WCU's plans will likely force the Tuckaseigee Water and Sewer Association to move up its timeline on a planned water and sewer expansion project in the Little Savannah area. The existing water and sewer systems there are already reaching their limit, and adding 500 beds would push them past it, TWSA Executive Director Dan Harbaugh wrote in a memo to the TWSA board.
In the current capital improvements plan, advanced planning for the water/sewer expansion is set to begin in fiscal year 2019-2020, with construction in fiscal year 2020-2021. However, with WCU hoping to see the housing complex operational by July 2020, TWSA is considering moving that timeline up by one year. The board discussed the issue during a July 10 work session and will likely vote on revising the capital improvements plan timeline during its July 17 meeting.
Planning and construction for the water and sewer expansion is expected to cost just over $1 million. How much of that tab TWSA will pick up and how much it will ask the developer to cover is still under discussion.
The student housing complex is but one pending project on WCU's Millennial Campus property. While the university's Health and Human Sciences Building is the only completed project on the Millennial Campus, a few more are in the works.
WCU is still hoping to see a medical office building constructed there, a project envisioned as a 30,000-square-foot facility filled with tenants who would use their space for various medical practices while also collaborating with WCU faculty and staff to enhance learning and teaching at the university. The project was initially expected to be complete as early as fall 2017, but while still a "very likely project," it's in a "holding pattern" for now, Byers said.
"There's an anchor tenant that our developer's been talking to that would lease about half the building," he explained. "That anchor tenant needed more time before they could commit."
Once the tenants are lined up, the building will take just under a year to build, so "on any given day (the project is) at least a year out," Byers said.
Another Millennial Campus project will finish up a bit earlier. A 185-foot FM radio tower is under construction atop 3,680-foot Brown Mountain and should be done by the end of 2018. Once complete, the tower will house the WCU radio station at its new, wider-ranging frequency, 90.5 FM. It will also house reception for Jackson County Emergency Services, and WCU plans to seek out cell service providers wishing to co-locate there. Affixing cell antennae to the tower would extend service up N.C. 107 past WCU, much of which is currently a dead spot for cell coverage. FCC requirements dictated that WCU begin broadcasting from the new frequency by the end of May in order to keep it, a requirement that WCU fulfilled by erecting a temporary pole.
During its March meeting, the WCU Board of Trustees voted to designate the Brown Mountain tract, among several other pieces of property, as part of the Millennial Campus, with an eye to improving the university's ability to take advantage of public-private partnerships going forward.
Other parcels that have newly joined the Millennial Campus include Reservoir Ridge, where the university hopes to place a cell tower to replace the one atop soon-to-be-demolished Scott Residence Hall; land on either side of the Cullowhee Dam and 6 acres behind Tuck's Tap and Grille to be used for the redevelopment of Old Cullowhee; 36 acres off of Norton Road to be used for public-private partnership student housing development; various areas around Whitmire Stadium, as public-private partnerships could be instrumental in future construction and other improvements; and Noble Hall, to allow for continued retail activity in parts of that building.