Archived Opinion
Thoughts on water and traditions during the holiday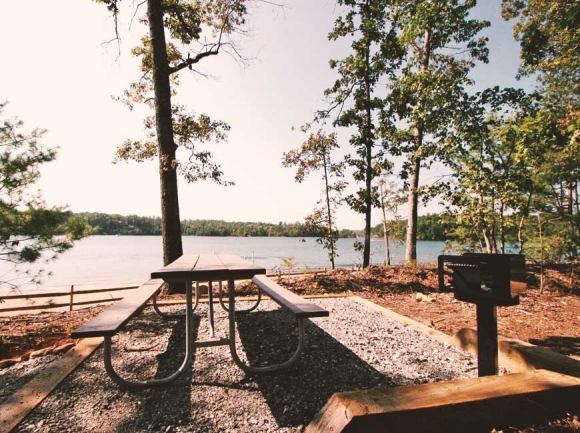 Are you a lake person or a beach person? I always thought I was a beach person, but now I'm not so sure.
I've written about my childhood beach trips before and with it being July Fourth week, nostalgia is more paramount than ever. As a little girl, Independence Days were always, always spent at Ocean Lakes Campground in Surfside Beach, just south of Myrtle.
With our family frequenting the campground often and my sister and me being tiny dancers/baton twirlers, we were routinely asked to perform at certain events and functions within the campground. And during the holiday week, we had fun playing up the patriotic theme. Very clear in my memory is me wearing a little sailor costume while leaping and cartwheeling around to "In the Navy" by The Village People followed by my sister tap dancing to "Yankee Doodle."
Other festivities included a golf cart parade where everyone decorated their battery-powered vehicles with red, white and blue flags, streamers and balloons. We then typically grilled hamburgers or ate BBQ and finished the night by watching fireworks over the ocean. Very quintessential, indeed.
We sold our place at Ocean Lakes during my early college years, so it's been a long time since I've spent a July Fourth at the beach. In fact, it's been quite a while since I've been to the beach at all. When my mom was alive, we enjoyed a family beach trip every summer. We usually went to the Outer Banks or Folly Beach. I love both destinations equally. Since her passing, we haven't made a family trip to the ocean.
I miss those beach trips and want to resurrect that tradition someday.
Lately, I've had several opportunities for some lake fun. Living in the Smoky Mountains, lakes are obviously more accessible than the seashore so it makes sense that many Western North Carolinians enjoy weekends and holidays at the lake. It's just not something I've experienced until recently.
Within the past two months, I've visited Lake James twice and this week, the boys and I are traveling to Lake Norman with close friends to celebrate the holiday. Admittedly, while I've always called myself a beach person, I may be shifting a little.
There's something uniquely serene about kayaking or hanging one's feet off the dock while kids laugh and play in the still water. And after a week of work and parenting, it's beyond relaxing to feel the wind in my hair and water on my face as we zip around on a boat.
I feel it's important for children to experience traditions, especially during a holiday or summer vacation. Until this year, our July 4th tradition was watching the parade at Lake Junaluska, spending the day at the pool and watching the lake's fireworks from Long's Chapel.
But with this being the first full summer since the boys' dad and I separated, I want to do something different and perhaps start a new tradition. Whether it's missing my mom or missing the family unit, I've found that traditions that can be painful when a key person is no longer present.
I don't know if a trip to Lake Norman will be our new July 4th tradition forever but it very well could be. I'm really looking forward to grilling out, watching the sunset over the lake, renting a pontoon boat and relaxing with good friends and my sweet boys.
Back to the question of being a beach person or a lake person, I've decided my answer swings back and forth depending on the circumstances. The older I get and the more that life affects me, I realize it's neither a sand castle or a paddle board that brings a sense of joy. It's the people I'm with and the feelings that come with enjoying time on the water, whether it's the ocean or a lake.
I hope you and yours have a happy Fourth of July. No matter your plans, take some time to slow down and enjoy those you love.
(Susanna Barbee writes this column and wears many other hats at The Smoky Mountain News, Smoky Mountain Living, and Mountain South Media. This email address is being protected from spambots. You need JavaScript enabled to view it..)