Archived News
Vehicle tax hits roadblock in Canton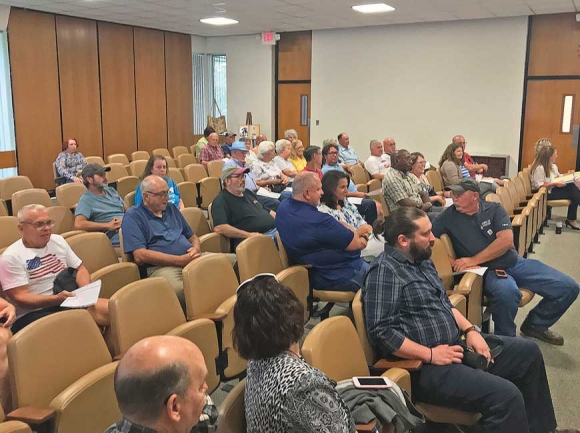 Nearly 40 people turned up to Canton's Town Board meeting June 28, many of whom were opposed to a proposed vehicle tax. Cory Vaillancourt photo
After two consecutive town board meetings during which Cantonians expressed strong opposition to a proposed vehicle registration tax, one thing was clear — residents want better roads, but don't want to pay for them.
Authorized by statute in 1986, the tax would have allowed Canton to assess a fee of anywhere from $5 to $30 and spend the first $5 for any lawful purpose. Statute mandates the rest be dedicated to street repair.
By town estimates, that would have raised about $60,000, all of which, according to Town Manager Jason Burrell, would have gone towards streets.
However a 30-minute presentation by Burrell on June 28 failed to convince the 14 people who addressed the town board of the necessity of the tax; those so opposed said generally that people on fixed incomes or with multiple cars didn't want to pay for roads that drivers from outside Canton also use, and that perhaps a bond issue, sales tax or Powell Bill fund balance could be used to finance repairs instead.
In an unusual but intentional procedural maneuver, a motion to approve the proposal, which would have charged most vehicles registered within town limits a $30 tax due upon registration, was brought forth by Alderman Dr. Ralph Hamlett and seconded by Alderwoman Gail Mull.
Had they not done so, the proposal would have died right then and there without further board comment, however, their prescient actions brought the proposal to a discussion phase, and a then vote.
"I made the motion and people thought, 'Since he made the motion, he's in favor of it,'" said Hamlett during the meeting. "Well, I'm not."
Hamlett then explained that he opposed the measure in part because of the tax's disproportionate impact on lower-income households.
"This to me seems to be a regressive tax," he said. "A regressive tax is a tax on people who can least afford it, versus a progressive tax, which taxes those who can best afford it."
Mull thanked those who'd come to speak, said they'd influenced her opinion, and joined Hamlett in voting against the proposal.
Alderwoman Kristina Smith thanked Burrell and town staff for the effort spent in researching and developing the proposal.
"We asked Jason to think of new ways that we could develop new revenue for the town, and he brought this to the table. It's our job as a board to evaluate," Smith said, before joining Hamlett and Mull in the 3-0 vote against the tax. Canton Mayor Zeb Smathers only votes in the case of a tie, and Alderman James Markey was on vacation.
Where to now?
Alderman Hamlett, a Democrat and associate professor of government at Brevard College, went on to paint his actions as but a small part of a larger anti-tax stand in Canton, which that same night also passed its FY 2018-19 budget.
That budget holds Haywood County's highest municipal tax rate steady at 58 cents per $100 in assessed property value, where it's been for more than a decade.
The vehicle tax, which had been incorporated into the town's proposed budget, seemed only to add insult to injury for many, including Hamlett.
"I'm not well-off, but we can afford it," he said of the vehicle tax. "But we would not afford it with a smile, because we're taxpayers like you, and this 58 cents bothers me."
Canton remains burdened with some of the more antiquated costs associated with municipal governance during the last century, including four separate money-losing recreational enterprises, as well as ever-increasing health care and pension costs, but has seen some small growth of late.
That growth and a renewed focus on economic development have Canton just squeaking by, replacing and repairing infrastructure as needed without raising taxes, but also without taking large strides forward.
"I made a promise when I was first elected that I would not raise taxes," Hamlett said. "I don't intend to start now, unless of course it becomes an absolute necessity. I'm not convinced it is at this time. I think we're burdened enough."
Elsewhere in Haywood County, the the Town of Maggie Valley has had a $5 vehicle fee on the books several years now, and the Town of Waynesville passed its own version of the vehicle tax — albeit for only $15 — along with its 2018-19 budget two days prior to the Canton vote, with minimal public opposition.
Given that Canton's proposed budget had anticipated the revenue from the vehicle tax being available during the 2018-19 budget year, the board directed Burrell to fund the expenditure tied to the now-nonexistent revenue stream from Powell Bill fund balance, thus averting an approximate 1.25-cent property tax increase or the elimination of paving work planned as a result of the tax.