Archived News
Sentence delivered in 2015 Smokemont murder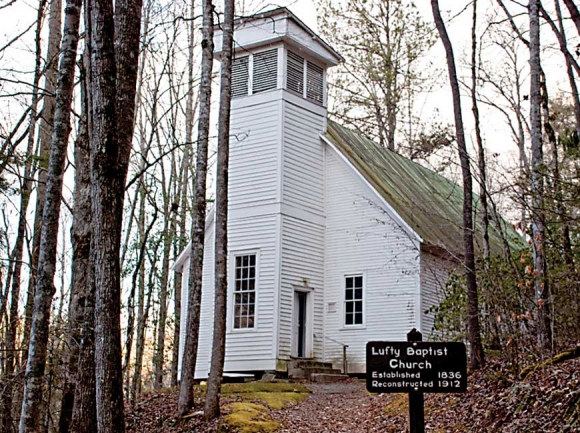 A Cherokee resident will spend four years in federal prison for his involvement in the 2015 stabbing death of 25-year-old Tyler Gaddis, of Whittier.
Johnathan Hill pled guilty to one count of accessory after the fact to second-degree murder, with U.S. District Court Judge Martin Reidinger delivering the sentence on June 15. Upon his release, Johnathan Hill will have two years of supervised probation.
According to court documents, Johnathan Hill was not the one who stabbed Gaddis — that was Forrest Dakota Hill, 22 at the time of the crime, and also a Cherokee resident. Dakota Hill pled guilty to second-degree murder in 2016, and on Aug. 16, 2016, was sentenced to 200 months, nearly 17 years, in prison. Dakota Hill will have five years of supervised probation upon his release.
Gaddis was killed in the early morning hours of Sunday, March 29, 2015, in the Lufty Baptist Church within the Great Smoky Mountain National Park, also known as Smokemont Baptist Church.
Smokemont Baptist Church is located about 3 miles from the Oconaluftee Visitor Center. Built in 1912, the church remained in active use until becoming part of the national park in 1935 and has been restored since. It's typically left open for visitors to enjoy.
Authorities were alerted to the crime when a caller who identified himself as Raven York — authorities would later find out the caller was actually Johnathan Hill — called the Cherokee Indian Police Department through 911 that same day. Cherokee police and EMS responded to the scene and found Gaddis dead. Because the church is inside the park, Cherokee notified the National Park Service, which then turned the investigation over to the Federal Bureau of Investigation.
According to a complaint against Dakota Hill filed June 19, 2015 — which alleged first-degree murder, not second-degree as he eventually pled to — Dakota Hill set out to kill Gaddis because he was angry that Gaddis had given a woman Dakota Hill was seeing the low-down on lies he had told her.
The woman Dakota Hill had been seeing told investigators she had met him on a dating site under the name "Andrew," about two weeks before the murder. Over the course of the brief relationship, Dakota Hill asked her to borrow money after learning she'd recently been paid and told her that Tabitha Renee Brown-Ledford — who the complaint identifies as Dakota Hill's "wife/girlfriend' — was actually his sister. Gaddis then told the woman that Dakota Hill was lying about his name, that he was in a relationship with Brown-Ledford, that Brown-Ledford was carrying his unborn child and that Dakota Hill intended to rob her of her recently received pay.
After that, the woman tried to distance herself from Dakota Hill, but he "hounded her," according to the criminal complaint, and hours before Gaddis was found dead she met with Dakota Hill and Johnathan Hill, confronting Dakota Hill with the information that Gaddis had provided.
The conversation left Dakota Hill angry. According to the complaint, he told Brown-Ledford that he was going to assault Gaddis, and told Johnathan Hill, "I'm really heated about this," and "He is going to get his."
According to the complaint, Gaddis, who was homeless, sometimes stayed in the Cherokee hotel rooms where Johnathan Hill, Dakota Hill and Brown-Ledford lived. That night, Johnathan Hill and Dakota Hill picked up Gaddis, with Dakota Hill saying he "wanted to go on an adventure." Johnathan Hill told law enforcement that the three drove up to the church, and once inside Dakota Hill grabbed Gaddis and repeatedly stabbed him with a knife in the doorway under the church bell tower, calling to Johnathan Hill to help.
According to Johnathan Hill's statements to law enforcement contained in the complaint, Dakota Hill then picked up Gaddis' body and slammed it down to make sure he was dead. The blade remained inside Gaddis' body, but Dakota Hill threw the handle out the window as they drove back to town. Johnathan Hill called 911 from Gaddis' phone, and Dakota Hill took the phone, broke it and threw it out the window. The two then burned the clothes they'd worn during the murder and switched hotels. Johnathan Hill flattened the tires of the car and left to contact law enforcement.
Statements from an unnamed witness in the complaint indicate that Johnathan Hill was more complicit in the murder than implied in his initial statements to law enforcement.
"Dakota Hill told Witness 1 that he and Johnathan Hill took Gaddis to the Smokemont Church with the intention of killing him," the complaint reads. "Johnathan Hill lost his nerve at the church, Dakota Hill began stabbing Gaddis and could not stop, stabbing him repeatedly to the point that he lost track of how many times he stabbed Gaddis. Johnathan Hill cried at the scene because Gaddis was begging him to help him while he was being stabbed."
According to court documents, Gaddis had nine stab wounds to the chest, back and neck, with another seven to eight wounds on his right wrist and hand, likely incurred while trying to defend himself.
Witness 1 told law enforcement that Dakota Hill and Johnathan Hill worked together to pick up Gaddis' body and slam it down to ensure he was dead. After the murder, Witness 1 said, Brown-Ledford admitted that she knew the two men would assault Gaddis and helped them bleach away the blood from the vehicle. No charges were filed against Brown-Ledford.