Archived News
Quilters celebrate 10 years of honoring veterans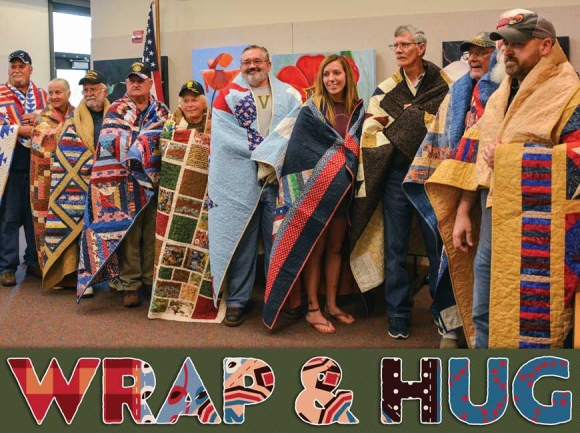 Carlie Nichols has vivid memories of growing up during the Vietnam War — specifically she remembers how poorly Vietnam veterans were treated when they returned home from combat.
"My father was in the military for 23 years and I vividly remember the way our veterans were treated when they came back from Vietnam," she said. "I was in college and I remember saying to myself, 'God forbid something like Vietnam ever happens again — I will not do nothing.' Back then, there really wasn't an avenue to do something that I felt would be positive."
Nichols had the same feeling of helplessness after 9/11, but this time she found something meaningful to do for the troops. After reading an article in Love of Quilting magazine about a woman who started making quilts for soldiers while her son was deployed, Nichols said, "I can do that."
She made her first Quilt of Valor in 2006 and sent it to the Blanchfield Army Hospital at Ft. Campbell, Kentucky, and in 2008, she formed her own Quilts of Valor group through the Smoky Mountain Quilters Guild.
Ten years later, the Quilts of Valor bee is still going strong and has made 900 quilts for veterans touched by war in Western North Carolina.
Roger Lowery, a U.S. Army veteran and a Purple Heart recipient, receives a Quilt of Valor and a hug from the group's president Carlie Nichols during a recent presentation at the Franklin Library.
Quilting with purpose
What better way to provide some peace and comfort to war veterans than by wrapping them up with love and honor? That's the mission of Quilts of Valor: "To cover our service members and veterans touched by war with comforting feeling quilts of valor."
The nonprofit is not a partisan organization. Nichols said the group "is about people, not politics." Whether a quilt is being presented to a Vietnam veteran or a veteran who has recently returned from Iraq or Afghanistan, the Quilts of Valor members want them to know their service and sacrifice are respected.
Most recently the quilting bee held an event at the Franklin Library to present 15 veterans with Quilts of Valor. Maybe a quilt wouldn't mean much to some people, but the pride and appreciation emanating from the veterans' faces made it clear it meant something to them.
"I think for some it's the first time they've been recognized, especially our Vietnam veterans," Nichols said.
They ran their hands over the stitching and admired the patriotic colors on their original piece of art and comfort. One veteran spotted the only hand stitched quilt out of the bunch and automatically reached to claim it. A father and daughter who both served in the military hugged each other and posed for pictures while wrapped up in their quilts.
Hallie Davison, a sergeant in the U.S. Army Women's Reserve, enjoys her 'Nature Walk' themed quilt.
While most of the quilts were patriotic red, white and blue or Americana colors maroon, ivory and navy, Hallie Davison, a sergeant in the U.S. Army Women's Reserve, chose a more non-traditional Quilt of Valor named "Nature Walk" that had a variety of wildlife blocks.
Roger Lowery, a U.S. Army veteran and a Purple Heart recipient, couldn't take his eyes off his quilt after the presentation. He was one of five VFW members nominated by fellow VFW member Max Hooper.
"I really love it," Lowery said. "It's one of the greatest things that's happened to me in a long while."
Part of the presentation includes the "wrap and hug" tradition in which the quilters wrap the quilts around each of the veterans and give them a big hug. It's a simple but powerful moment. Nichols can't recall how the wrap and hug tradition got started, but she said it just always seemed like the right thing to do if the veteran was welcoming of it — and they usually are.
"I'll try to say this without sounding too weird," Nichols began, "but we believe there's power in quilts. We know this because we've heard stories of veterans having their first full night of sleep with a quilt of valor over them."
Veterans stand for the 'wrap and hug' tradition during a recent Quilts of Valor presentation.
Veterans awarded with a Quilt of Valor are told the quilts are not to hang on a wall — they are designed to be used. What is it about a quilt that brings so much comfort and joy to these veterans?
"I think it's the fact it's made especially for them by someone — it's not mass produced," Nichols said. "Even if it was made on a sewing machine, there's still handwork in all the quilts we make and each label and letter we give is handwritten."
Each Quilt of Valor also comes with a lifetime guarantee. If a veteran's quilt gets lost or damaged, the quilting bee will replace it with a brand new quilt.
Getting started
Nichols didn't know how many members of the quilting guild would want to be part of the Quilts for Valor bee at first. She figured it would be a handful of women and they could quilt around her dining room table at home. However, more than a dozen people showed up for the first meeting.
"We started out slowly using our own fabrics. Originally the president of the guild mentioned setting a goal of 100 quilts a year and I thought she was crazy," Nichols said. "The guild provided some funding for us at first and now we're self sufficient and we are doing about 100 quilts a year — and most of them have stayed in Western North Carolina."
In the beginning, Nichols had no idea just how many veterans were located in WNC or how many would be eligible for a Quilt of Valor. But as the quilters developed a working relation with many of the veteran groups in the area — including the VFW and American Legion — they discovered there's no shortage of worthy servicemen and women in the area.
Friends and family and fellow veterans nominate veterans to receive a Quilt of Valor and the quilting bee starts working away until they have enough quilts made for a presentation. Nichols said she also tries to keep a few quilts on hand for when special requests come through with a quick turnaround.
"We try to keep a few quilts in reserve for special occasions — we can't just whip them up overnight," she said.
The quilting process is much faster nowadays with more technology and tools at their disposal. Nichols said she remembers when using a sewing machine to quilt was considered cheating, but that's not the case anymore.
"Quilting has been a tradition in the mountains for many years. In the '70s there was a great quilt revival — when that happened sewing machines had become computerized and highly technical and it became an acceptable thing to use instead of doing it by hand," she said. "The hand quilting is becoming a lost art now, but we have a few members who still do it that way but it takes so much longer."
Busy bees
The Quilts of Valor members operate like a well-oiled machine. When they meet at the Shepherd of the Hills Lutheran Church in Sylva, they come to work. Some are sewing blocks on their sewing machines. A few ladies are binding the quilt tops to the batting and others are making the handmade labels for the quilts or writing the handwritten letters that accompany each quilt.
All the members shout with excitement when they see their "star quilter" Lisa Towe walk through the door toting a large heavy bag of quilt tops.
Janet Steinke of Maggie Valley, who's been a member for a year, pulls out each top one by one admiring the different patterns and designs Towe has come up with in the last few months. Just since March, she's sewn nine quilt tops to be completed by the group.
"You can see how many quilts go out of here — this is such a robust group, which is why I joined," Steinke said.
Every member works at his or her own pace. Nichols, who uses an industrial sewing machine at home, can finish a quilt in a week if she pushes it.
Linda Kocur, a member since 2013, still prefers to hand stitch the tops to the back binding, which can take 8 to 10 hours to complete.
Quilts of Valor members show off a new quilt top that will likely be presented to a veteran in Cherokee later this year.
"The talent in this guild is incredible," she said.
Today, the bee has more than 40 members and usually about 15 show up to any given meeting. Members come from Franklin, Sylva, Waynesville and Maggie Valley to be part of the effort.
Susan Skuda of Waynesville is a second-generation Quilts of Valor member. Her mother Rosalie Nieznalski was a former president of the guild in the 1990s and helped the group get its official nonprofit status.
"I joined to boost membership numbers, but the more I had to be up here to take care of my mom, the more I came to visit here and hang out at the quilting meetings," she said.
Now her mother is in a nursing home facility in Florida and Skuda is still a member of the Quilts of Valor bee. She still uses the sewing materials her mother handed down to her and does everything from binding others members' blocks and sewing on the labels.
"This is something near and dear to my heart. We have a history of veterans in my family, my brother and nieces serve in the Air Force," she said.
Skuda sewed fleece blankets one year for her niece's unit overseas. She washed them and dried them with dryer sheets before mailing them to the six women.
"When they opened them, they said they smelled like home," Skuda said.
All the members have seen the impact their work has on veterans and each has a personal story that motivates them to continue their mission.
Robbie Roberson has been a member since the guild formed Quilts of Valor 10 years ago and was the only male among the group of women meeting in Sylva last week. He used to be a woodworker, making furniture out of large pieces of oak, but a heart attack and some other health problems left him unable to lift more than 30 pounds. So he decided to pick up a family tradition and started quilting.
"My mother and my grandmother were quilters — I still have their quilts and some of the patterns from my mom," Roberson said. "I have 12 grandchildren and three great grandchildren so I've probably made over 50 quilts for all of them through the years."
Every quilt includes a handmade label with the veteran's name, military branch and dates of service.
Roberson also has family serving in the military and served himself, though he said he doesn't qualify for a Quilt of Valor since he wasn't touched by war during his time in the military.
"I come from a long line of military in my family. I'm even named after a veteran who didn't make it back home," he said. "Right now I'm making a quilt for a Marine who married my granddaughter and is deployed."
Kocur has been sewing and making her own clothes since her mother showed her how to use a sewing machine. Her father was a Marine during World War II and many of her friends served in Vietnam.
"The fact we can honor these veterans who have sacrificed so we can be free — so we can continue to be free — that's a powerful thing," she said.
Kocur enjoys doing the labels stitched to each quilt and writing the letters to the veterans who receive them.
"My husband always asks why we don't just type up the letters but it's just not the same — it means more to take the time to hand write it," she said.
Pam Pittman of Sylva just recently attended her first Quilts of Valor meeting now that she's retired and has more time to devote to the hobby. She comes from a family of quilters who taught her to quilt by hand.
"I learned in the '70s before the conveniences we have now. Over the years my technique has developed," she said. "I've had many hobbies but I just love fabrics — it takes some creative skill here and I like the detail it takes to make a quilt."
Being part of the Quilts of Valor group is about more than just a hobby for Pittman. She's the wife of a Vietnam veteran and her father and father-in-law also served in the military.
"Knowing these guys and spending time with them you see how much they gave — so we should do all we can to honor them," she said.
Lend a hand
Fabric runs about $13 a yard and it takes about 9 yards to make a quilt plus the cost of tools and thread, which means a $120 donation could fund one quilt.
To learn more about the Smoky Mountain Quilters Guild or to make a donation to Quilts of Valor, visit www.smokymtnquilters.org or mail a donation to Smoky Mountain Quilters Guild, P.O. Box 1381, Franklin, N.C., 28744.