Archived Arts & Entertainment
Music to my ears: A conversation with Ricky Skaggs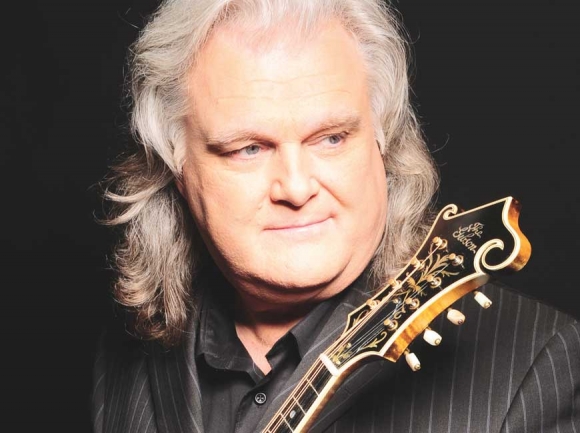 Ricky Skaggs.
At 63, Ricky Skaggs has spent just about 58 of those years completely enamored and immersed in that singular "high, lonesome sound" at the heart of bluegrass music.
Given a mandolin at the age of 5, a year later he was onstage playing alongside Bill Monroe, the "Father of Bluegrass," only to find himself at age 7 on a nationally televised variety show plucking with the likes of Lester Flatt and Earl Scruggs. As a teenager, he opened for, and eventually was invited to join Ralph Stanley & The Clinch Mountain Boys, following that up a few years later with stints in The Country Gentlemen and J.D. Crowe's The New South.
In the decades since, Skaggs has performed and recorded with seemingly every big name in bluegrass and country music — a melodic common denominator, in many respects. And as his hair has grown into a flowing white mane, so comes the notion of Skaggs becoming one of the few remaining musicians who not only played with the pioneers of bluegrass, but also learned the unknown depths of wisdom and knowledge so key to the continuation of the genre — something he aims to share with any and all who cross his path.
Smoky Mountains News: You've spent most of you life in the bluegrass world. What is it about the "high, lonesome sound" that stills calls to you?
Ricky Skaggs: That's it, it's the "high, lonesome sound" still calling. Those mountain harmonies, those sliding notes and those notes in-between notes, those old fiddle tunes. And it's not always so joyous. When you heard Ralph [Stanley] sing a funny song or a happy song, it was like an old preacher in the mountains. But, that's why we loved him, because he carried a piece of the mountains, a piece of the spirit of that music. He was king of the mountains. It's the heart and the spirit of it that keeps me going back to it all the time. When I was at Ralph's funeral, I talked about a well of creativity, a well of the spirit, of music, that hovered over those mountains. And you can still draw from that well. If you love it, you'll go back to it. I just love that about the fathers [of bluegrass — Bill Monroe, The Stanley Brothers, Flatt & Scruggs] — and now I'm a father in the music.
SMN: Or like a living bridge to those fathers...
RS: Yeah, I think that's right. That's a good title — the "living bridge." Because if they want to take that trip and go back to that part of the mountains, we're a good walkway to get back there. But, we can [also] throw down with Bruce Hornsby, Ry Cooder and Jack White. I think that's one of the things those guys love about us is that we carry that heart, that mountain old sound. A lot of it is Celtic, a lot of it is gospel.
SMN: You grew up so young in the industry around all those [bluegrass fathers]. What do you make of that role when people look at you as a statesman [of bluegrass]?
RS: Well, it's kind of hard to believe that it's here, because I felt so young for so long. I think there is something about the age, maybe it's the grey hair, but people kind of look at me now as a father in the business, a father in the music. But, I'm a kind, gentle father that's approachable. I don't bark and scare people off.
SMN: What has a life in music taught you about what it means to be a human being?
RS: Well, I think I've had to learn how to treat people, how sensitive people can be. Now, I'll talk about Jesus to a mixed audience in a minute. I don't have any trouble at all, because I'm not trying to tell people anything other than [that] God loves them. A lot of people say, "Well, just don't talk about religion and politics and you'll be just fine." Well, unfortunately, religion and politics are something we have got to live with and we've got to deal with — it's part of everyday life. That's one of the reasons I think that we have what we have [in society today] because good people sat back and did nothing. People take things by storm and with avengence. My grandpa always used to say, "Son, you get more with sugar than you can salt." I try to not sugar-coat something, but I try to love people where they are. I'll always be who I am. But, I've learned that most people, they really want to be loved, want to be accepted — they gravitate towards love and acceptance. And there's a lot of hurtin' people out there.
Editor's Note: To listen to the entire audio stream of this conversation, go to YouTube and search "Ricky Skaggs Garret K. Woodward."
Isaacs welcome Skaggs, Gatlin Brothers
Renowned group The Isaacs will host a two-day musical extravaganza with Ricky Skaggs & Kentucky Thunder and Larry Gatlin & The Gatlin Brothers at the Smoky Mountain Center for the Performing Arts in Franklin.
The Skaggs performance will be on Friday, July 6, with The Gatlin Brothers on Saturday, July 7. Both performances begin at 7 p.m. with tickets starting at $30 per show.
There will also be music workshops, bus tours, Q&A forums and more on both days also available for purchase. For more information and/or to purchase tickets, visit www.greatmountainmusic.com.